Forté Carter: Veteran Independent Musician and Her Take on Personal Style
By
Kaylene Peoples
| July 6th, 2011 | Category:
Indie Hotspot
,
Indie Hotspot Feature
|
1 Comment »
Interviewed by Kaylene Peoples
Responses by Forté Carter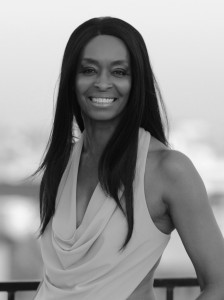 You have a couple of albums out and one is doing pretty well in South East Asia I understand for your single "Love Slave." What is your background as an entertainer?
When I was 14, I had my first performance.  After that I performed in high school all the way through as an adult.  I have entertained pretty much everywhere around the globe.
This is a very important question that I want to ask you.  This is a very focused interview about style and image as an artist.  How did you come about cultivating your visual style?
Well, I love fashion.  Sometimes I jump around.  In R&B I think I really like wearing clothes similar to Beyoncé.  For the jazz, I really like classy.  The sequins are okay, but I really love the ball gowns.  Dressing up like they used to do a long time ago with gloves and hats.  I think the image is really important.  Nowadays we don't have that.
You recently had a photo shoot with photographer Arun Nevader and makeup artist Shehada at Agenda Loft.  You had some really cool looks going on in that shoot.  How did you come about creating those looks?
For the R&B, I love jumpsuits.  From the 70s with the hoop belt, which is good for dancing.  The ball/princess dresses were for the jazz and the elite crowd.  Audience members dressed formally, men in tuxedos and women in evening gowns.
There was one dress you wore in particular that was corseted and your waist was so tiny.  I was so jealous and it was so medieval-like but fairytale at the same time with the pale blue.
I love those types of dresses.  It's like a princess theme.   I love that era.  To tell you the truth though, when you put those on, sometimes they're hard to sing in.  You wonder how they made it back in the olden days!  They literally take your air, your breath from you.
As an independent artist who performs a lot, what advice could you give to other independent artists who are striving to get their stuff out there by performing regards to personal style?
I think what artists should do, even before singing, is make sure their business is correct.  What I mean by that is to be organized.  Be very selective when picking the songs, and just really know the business end of it as well.  Don't just go out there and sing, but be well-rounded.  And you'll be a much happier artist.
Yes, because you actually book your own gigs, and you organized your group. That's a lot of work for one person.  How are you able to juggle it all?
I'm a great multi-tasker.   I'm able to juggle.  I like to be hands on when booking a gig.  It's one thing when someone else books for you, but since I am an artist and I have a business edge, I want to make sure that everything is taken care of.  And maybe I should let somebody else do that, but there have been times when someone else has done it for me and I walked in, and things weren't as comfortable as I would have wanted them to be.  So now I just take that little extra time I have and I make sure that everything is in order from A-Z.  I speak with the club owners or the person booking the gig.  I have a relationship with them.  And I know that when I go and I take my contract, that everything is checked off and turn out the way I want it to.
Anything else you'd like to add?
Things are changing.  More people need to think about writing real songs.  Anybody can just take a sample nowadays and I personally don't want to hear that.  Write from your heart.  Tell your story because that's what real people want to hear.
Indie Hotspot photo shoot at Agenda Loft photographed by Arun Nevader and makeup by Shahada Karim