Symphony for the Dance Floor, Daniel Bernard Roumain – Jonathan Mannion
By
Michael Reed
| July 6th, 2011 | Category:
Entertainment
|
Comments Off

on Symphony for the Dance Floor, Daniel Bernard Roumain – Jonathan Mannion
World Premiere February 5, 2011,  Arizona State University Gammage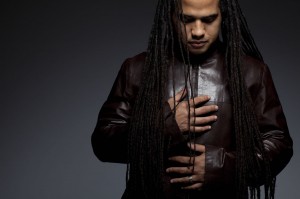 What happens when a creative mind does not fit into a conventional category? When a team of outrageously talented artists get together to dream in sonic brilliance, poignant imagery, and beautiful motion? You get Symphony for the Dance Floor, Daniel Bernard Roumain's category-defying dance party cum symphonic statement, which had its world premiere February 5, at ASU Gammage, the Frank Lloyd Wright designed theater on the campus of Arizona State University.
To describe the experience of attending Symphony for the Dance Floor, it is important to give just a little background on the genesis of the project. Through a mutual friend, violinist/composer Daniel Roumain's work was introduced to the renowned photographer Jonathan Mannion, best known for his work with Hip Hop and sports icons like Jay-Z, 50 Cent, Kobe Bryant, and Lance Armstrong. Both artists fell in love with the other's work, and Symphony for the Dance Floor was born. Roumain's music inhabits various spots along the continuum from Hip Hop to western classical music with other cultural influences in between. You can't help but get caught up in Roumain's musical passion, humor, rhythms, and signature composition. Mannion's photography—especially the work that is not of famous people—is poetry; it just stops you in your tracks. Mannion has a beautiful eye for drawing out the intensely human, poignant, tragic and joyful nature of being alive in the contemporary urban world.  Often throughout Symphony for the Dance Floor the two artists engage in a conversation between image and music that reminds us why live performance speaks to us at a depth of emotion that nothing else can—in this case, live performance of a truly gifted violinist, a DJ who goes way beyond predictable club fare, a remarkable photographer, and equally talented dancers and choreographer. What makes this work so exceptional and will have you wanting to come back again and again (we will get to that part soon) is that the audience is so completely a part of the action/performance that one forgets that one is "at the theater." The conventional sense of being behind the "fourth wall" that separates artist from audience goes completely out the window in the best possible way.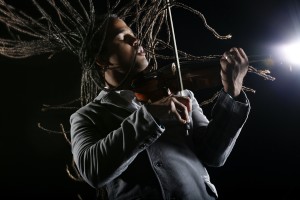 A huge part of the euphoric feel of being a part of Symphony for the Dance Floor and not a spectator of it comes from the considerable talents of choreographer Millicent Johnnie. Ms. Johnnie, a former dancer with Urban Bush Women and now a Dallas based choreographer, created a dance element for SFD that was at once a seamless theatrical partner with Mr. Roumain's music and Mr. Mannion's photography and a driver of the piece at other times. She brings us into a Hip Hop dance club feel and transforms it back to a hip concert in the blink of an eye. The beauty of the show is its effortless ebb and flow from an almost imperceptible focus on imagery, shifting to the brilliance of Mr. Roumain's music and stage presence, then on to the visceral, sensual and completely engaging dancers. The show's DJ—DJ Scientific aka Elan Vytal—has developed a musical communication and performance style with Mr. Roumain that is every bit as in synch as the finest string quartet. Mr. Elan accompanies and complements Mr. Roumain's violin with wildly innovative manipulations of Hip Hop, Funk, R&B, and other beats that keep the audience grooving to the club feel they get from the moment they walk on stage to sit practically on top of the performers.  All of the seemingly disparate performance elements of Symphony for the Dance Floor had to be brought together in a thoughtful and compelling way for the piece to avoid the fate of countless forgettable movies with all-star casts. Director DJ Mendel was the man who had the vision and skill to bring the show together in a way that married artistic integrity and brilliance with an impromptu dance party feel.  So now you may be asking, "How do I see this B Boy cipher in a symphonic hall, this amazing Daniel Roumain in person?" Shhh . . . it's not official yet, but keep your eyes peeled if you are in New York City in October 2011. You may find it on DBRmusic.com.
Don't miss it!