Fatigues to Fabulous – Honoring Women Veterans at Lincoln Center September 8, 2011, During Mercedes Benz Fashion Week New York
By
Kaylene Peoples
| September 11th, 2011 | Category:
Fashion
,
Human Interest
|
Comments Off

on Fatigues to Fabulous – Honoring Women Veterans at Lincoln Center September 8, 2011, During Mercedes Benz Fashion Week New York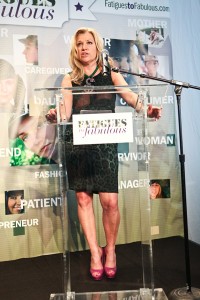 I always enjoy attending Mercedes Benz Fashion Week in New York and have consistently attended for the past several seasons, but never before have I been so moved as I was on September 8, 2011, at the South Courtyard at Lincoln Center.  As I was in between shows (I had just seen Richard Chai's Spring 2012 collection) I discovered there was a presentation by the nonprofit Fatigues to Fabulous.  Free-flowing champagne surrounded by sponsored displays from DKNYC, and we all waited anxiously for the presentation to begin.   The room filled quickly and a representative from the organization spoke about the efforts to create awareness for women veterans.  Many brands are joining their campaign.
A mini runway show took place on the platform featuring the following veterans:  1. Jennifer Crane, a combat veteran of the United States Army, was dressed by Charlotte Ronson; 2. Christina Dibble, a veteran of Iraqi Freedom, was wearing a dress from the Kardashian Kollection from Sears; 3. Anne Marie Faison, who served 20 years in the US Army, wore Carmen Marc Valvo; 4. Sarah Franson, a Naval Flight Officer, wore Bill Blass; 5. Serena Hayden was US Army Public Affairs Specialist and was dressed in Calvin Klein; and 6. Meredith Perry Smith, D.D., who was in the Navy and was deployed with Marine Light Attack Helicopter Squadron-169 (The Vipers), was dressed in Donna Karan.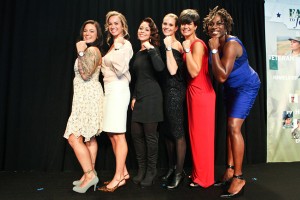 Each told her heart-wrenching story.  One was pregnant in the military, another experienced great loss, and most shocking, another was raped by a fellow soldier.  There were testimonies of the difficulties each woman faced post-service.  For example, a well-decorated and highly educated journalist could not find employment for six months after her tour of duty.  The narrations of hidden Post Traumatic Stress Disorder (PTSD) that went undetected and untreated were the most shocking.  The United States government would not recognize these issues and therefore no compensation or medical aid was provided.  During the presentation I learned that women have different symptoms for PTSD than their male counterparts, and though they were just as profoundly affected by the atrocities of war, they wear their badge of PTSD differently—their scars are hidden, but their wounds are deep.
The presentation closed with a moving performance by Ann Marie Faison, who sang "Amazing Grace."
For more information on how to honor women veterans, visit http://fatiguestofabulous.com.  To benefit the Society for Women's Health Research and Give an Hour™, sponsors for this event were DKNYC and HSN, Cisco, Booz–Allen–Hamilton, Johnson & Johnson, Neutrogena, Nicholas Feuillatte Champagne, Greenroom Salon, American Airlines, St. Petersburg Clearwater Marriott, Sears, and East Six Invitations.