The Cypress Inn – Doris Day's Pet-Friendly Getaway in Carmel-by-the-Sea
By
Marilyn Anderson & Dennis L. Lanning
| September 10th, 2011 | Category:
Romance on the Road
,
Travel
|
Comments Off

on The Cypress Inn – Doris Day's Pet-Friendly Getaway in Carmel-by-the-Sea
ROMANCE ON THE ROAD…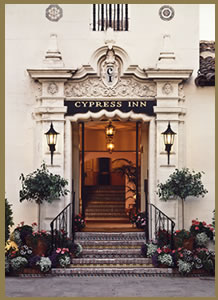 Sitting in the lobby of the people-friendly and pet-friendly Cypress Inn in Carmel, California, you can't help but feel nostalgic for Doris Day. Although not physically present, her aura fills the halls and walls of this lovely hotel, which she co-owns, in downtown Carmel.
Her music fills the air in the public spaces; posters of her many movies cover the walls; and the flat screen TV in Terry's Lounge plays her movies during the day. This is all part of the charm and warmth of this sweet little hostelry that cherishes animals and coddles humans. If you love Doris Day like we do, it's a reminder of why she was such a big star and remains an icon of talent and thoughtfulness.
The Innkeepers, Doris and her partner, Dennis LeVeet have made an obvious effort to make the hotel as comfortable as possible for their guests. The big main room is filled with soft furniture, reading areas and a huge fireplace that was appreciated during our stay in cold, damp weather. The dining areas, including the lounge, bar and main dining room, are similarly furnished and you have the feeling of quiet intimacy wherever you go.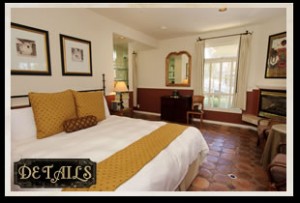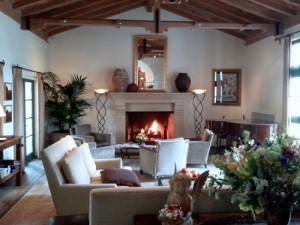 Our room, number 112, on the first floor was a corner location with direct access to the street, yet a few steps from the lobby. We had a super comfy king bed, armoire with TV, fireplace and big bathroom with Jacuzzi. This was a bright and airy room, giving us the Carmel streetscape while enjoying the comforts of home. Each room is equipped with wet bar, mini-fridge and decanter of sherry, to help you, um, relax, after a hard day of, um, relaxing. If you are hungry, they have thoughtfully provided a complimentary bowl of fresh fruit and snacks.
Because of the weather, because we had done our sightseeing in Carmel before, and because we found the hotel so darn comfortable, we spent considerably more time than usual in our room and in the public spaces of the hotel. Each time we went to the lounge or living room, the mix of canines and humans was always fun to see and enjoy.
Each night's stay includes breakfast from the generous buffet, handsomely laid out in the bar. Choices include fresh fruit salad, scrambled eggs,

potatoes, yogurt, granola, coffee, delicious pastries and more. Do not miss the opportunity for a healthy and sumptuous start to your day. It takes energy to walk down to the beach and do all that shopping along Ocean Ave, so proper fueling is required. There is an Afternoon Tea available at extra charge which includes tea sandwiches, homemade scones with jam & cream, cookies and a large selection of teas. This is a favorite of many guests to Cypress Inn.
If you travel with a dog, you know how complicated and expensive it can be to find decent quarters for you and your best friend. At the Cypress Inn, it's simple. There are a few simple rules, such as never leaving the dog alone in the room, and then you are checked in. Make sure you sample treats for both of you from the generous treat jars at the registration desk.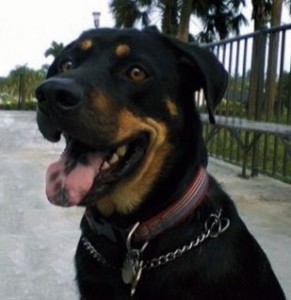 Your room will be complemented by water bowls, treats and a neat doggie blanket that you can put on the foot of your bed for when Fido decides it is time to sleep with you. Our dog, Boomer, always starts in his own travel bed on the floor when we turn the lights off, but somehow finds his way into our bed after we fall asleep. The doggie blanket does its job.

"Dog-Very-Friendly" is the operative term at the Cypress Inn. The lobby is full of dogs of all sizes and pedigrees, sitting peaceably while their humans do their thing. Boomer accompanied us to dinner in the casual Terry's Lounge, where we supped on several excellent small plates from their tapas menu, including crab cakes, mushroom strudel wrapped in a delicate pastry, and smoked trout salad. Having just come from Sonoma, we accompanied our plates with one of the wines we had brought, a 2008 Zinfindel of fine vintage. As a guest of the hotel, there is no corkage fee.  It was a lovely evening for the three of us; Boomer was especially fond of the smoked trout and crab cakes!
Even if you don't have a pet, you'll love the Cypress Inn. A solo guest told us she found that the presence of people with their dogs added to the "humanness" of the experience. Dogs are a conversation starter and an easy way to meet others. As seasoned travelers, we can attest to the fact that we met more people here in a short time than at most other hotels where we've stayed.  The Labradoodle, Collie, Dachshund and two Shih Tzu's we met on our last day agreed with Boomer – they all wanted to bark out a collective thanks to Doris Day and the Cypress Inn!
The Cypress Inn
Lincoln & 7th (P.O. Box Y)
Carmel-by-the-sea, CA 93921
800.443.7443
http://www.cypress-inn.com/