BROADWAY WILL NEVER BE THE SAME! – THE BOOK OF MORMON
By
Michael Reed
| October 19th, 2011 | Category:
Entertainment
,
Theater Reviews
|
Comments Off

on BROADWAY WILL NEVER BE THE SAME! – THE BOOK OF MORMON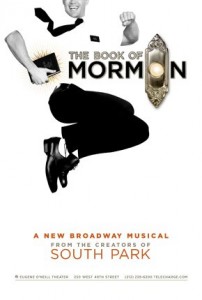 What is the ideal American musical supposed to be? What do we hope for when we lay out those big bucks to have a great Broadway musical experience?  At this point in our country's theatrical evolution, perhaps there are as many notions of what a contemporary American musical should be as there are American musicals.  In recent years on Broadway there has been such nontraditional fare as Passing Strange, Spring Awaking, Next to Normal, Fela, The Scottsboro Boys, and Bloody Bloody Andrew Jackson.  All of these shows were either groundbreaking, provocative, dark, unexpected, extremely moving, innovative, controversial, or varying combinations of the above—all welcome additions to the evolution of Broadway. What none of these shows could be accused of being is the classic, madcap, gee I can't stop toe-tapping, I've got a song in my heart musical.  They all possessed, at least to some extent, heavy subject matter with the associated heavy mood, and not an abundance of light moments (perhaps with the exception of Bloody Bloody Andrew Jackson).  We were happy to have our new deep and serious cousins of the old time song and dance musicals occupy some real estate near Times Square, but sometimes we had to watch cartoons afterward to avoid depression.
Enter stage left those crazy, wacky South Park kids, Matt Stone and Trey Parker . . . enter center stage of the socio-religious-cultural cacophony that is the United States . . . The Book of Mormon.  For those of you who have seen The Book of Mormon you'll understand when I say "WOW!"  For those of you who have not seen it, GO NOW!  A caveat for some to the latter statement might be that you do your research on the show first.  Then go and see for yourself.  Whatever one's reaction to seeing The Book of Mormon might be, it is safe to say that there has never been anything like it on Broadway. It's also safe to say it is the hottest show on Broadway and has entered the national conversation outside the theater world like few other shows in history. On one hand the show offers a classically structured story of beginning, middle, and end, catchy sing-"along-able" tunes, a boy meets girl story, conflict, resolution; a fantastic book (or libretto for you opera types in the crowd) and those big showy production numbers. It's everything a card-carrying, Ethel Merman-loving, musical denizen would adore, right? Well, to quote one of the show's cast in the eyebrow-raising number "Hasa Diga Eebowai," kind of.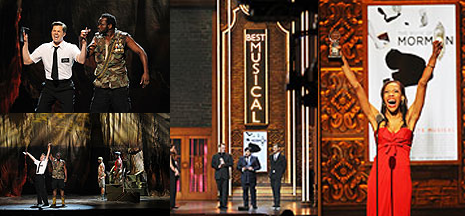 This is where the WOW! part comes in. What the men of South Park, along with the very talented lyricist Robert Lopez (Avenue Q), have created is an extremely clever, very naughty, hilarious, brilliant, and entertaining musical commentary on everything from faith, American ignorance of the world, loyalty, hope, and friendship to the tragedy of everyday life in some parts of the world. The cast, led by Josh Gad, Nikki James (Tony [tm] winner for leading actress), and Andrew Rannells, is irresistible and hugely talented. The show's sometimes shocking and always interesting juxtaposition of its subject matter and bouncy, happy-go-lucky musical tone is accomplished with something bordering on genius. The Book of Mormon is outrageous and poignant . . . and you can't seem to get those catchy show tunes out of your head! Oh yeah, there are some Mormons in it, too, and they turn out to be pretty resilient and adaptable if not very conventional, kind of like our beloved American musical theater landscape. May it keep growing and reinventing itself . . . and even occasionally, get American water cooler chatter to focus on real things beyond the latest reality show.  I highly recommend going and finding out for yourself what all the fuss is surrounding The Book of Mormon. You'll be happy that you did, and you might even leave with a song in your heart and a bounce in your step.