BLACK FOR LIGHT: Exploring the New Black Masks
By
Shahada Karim
| December 6th, 2011 | Category:
Beauty
|
No Comments »
It's a novel idea: using a black colored mask to reveal your skin's inner "glow." We set out to test the top sellers in this category, and here's what we found.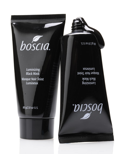 Boscia Luminizing Black Mask
Price: $34
Location: www.sephora.com
What it claims: "An innovative peel off mask that boosts clarity and radiance. Removes dirt and impurities while refining the look of pores. Reveals a smoother, brighter complexion."
What we found: This mask is pretty easy to apply. The company recommends that you leave the mask on for 20 minutes, or until the mask is completely dry. We think that maybe they ought to adjust that time to 30 minutes, or until the mask is completely dry. It's nearly impossible to remove the mask if it's not dry, because the gummy consistency does not dissolve with water alone.
Once dry, we found that peeling the mask off requires Herculean strength, as the mask does not lift away from the skin so easily. And if you're careless enough to catch a stray hair in the mask . . . well, let's hope you're okay with losing a strand or two.
We are happy to report that the mask does live up to its "illuminating" claims. Our skin was tighter and brighter after peeling off the mask. And there was not a pore in sight.
Rating: 4 out of 5 stars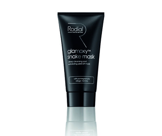 Rodial Glamoxy Snake Mask
Price: $90
Location: www.spacenk.com
What it claims: "An innovative black peel off formula that visibly improves skin radiance and texture. Brightens, purifies and deep cleans pores to remove excess oil, dirt and impurities."
What we found: The first thing we noticed was the smell: strong, pungent, and rather unpleasant. The good news is the smell fades as the mask dries. It takes an ample amount of product to cover the face (one tube is good for about five sessions), but the mask dries completely in about 20 minutes.
Once dry, the mask is very easy to remove. It comes off in nearly one piece with almost no pull on the skin.
The bad news is we didn't notice that much difference in our skin. It was a bit smoother, but not noticeably brighter or tighter. Recommended use for this mask is once weekly. It may require a few more applications before we notice any real difference.
Rating: 3 out of 5 stars
Givenchy Black for Light Mask
Price: $81.50
Location: www.sephora.com
What it claims: "This unique black foam with a light texture has a triple effect on the skin's luminosity . . . it illuminates, unifies, and revitalizes the skin."
What we found: These individually packaged masks (nine per box) are accompanied by what looks like a miniature foundation brush for application. The product is easy to apply, and smells distinctly of fresh flowers.
The mask is not meant to dry, and it has a cooling effect on the skin for the duration of wear. The company recommends you leave the mask on for 10 minutes. But we couldn't bear to part with the sensational feeling of having it on our skin, so we left it on an additional 20 minutes.
The mask rinses away easily with tepid water, and we're excited to report that the results are instant. Our skin was refreshed and "plumped" in appearance. It also featured a lovely glow, which we can only assume is the result of using this mask.
Rating: 5 out of 5 stars