DECEMBER 2011 FACE OF THE MONTH: XIAN MIKOL
By
Ishira Kumar
| December 10th, 2011 | Category:
Face of the Month
,
The Mission
|
1 Comment »
Her Start as a Model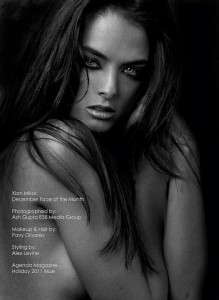 Our December Face of the Month, Xian Mikol, was only fourteen and out shopping with her mother when she got scouted. While she knew she wanted to pursue a career in entertainment, modeling had never crossed her mind. Her mom was supportive, thinking it would be a good way to get a foot in the door. Explains Mikol,"It was a good start, and I really started to enjoy it."
After seven years with her original agency, she met her current manager, Marina Masowietsky, who encouraged her to switch to a new agency, Pinkerton. "Since being with them and having Marina by my side, I've taken on a whole new view of my career, and I now see it as the ladder I need to climb, instead of just this tunnel where I couldn't just see the end." Having achieved success in the world of modeling, Xian is now focusing on her true passion, acting. "It's a better way to show your personality and the different sides of yourself. As a model it's hard to be a voice in front of the camera.  You're just a face and a body. When you're out of style, you're done."
The First Assignment
Xian's first job modeling was for Abercrombie, which she describes as a crazy introduction to the industry: "I was fourteen, and I got to go on a trip with like forty hotties. My mom came with me 'cause I was underage." Shooting with legendary photographer Bruce Webber was quite the experience for this young model.  He told her she looked like a young Elizabeth Taylor. "It was so glamorous, and we had a masseuse and a chef! I never had a job like that again."
After turning 16, Xian decided to break away from home, "My mom was like my manager, doing my contracts, driving me everywhere. But then I got my license and I was too cool for that!" A week after graduating high school, she made the move from Irvine to Los Angeles. "And then it started getting hard, of course. Because that's always what happens."
Personal Style
Xian considers herself to have simple tastes. "I'm not the biggest designer queen.  I love leather and studs. But I shop at Target!" She's all about accessorizing, and loves jewelry and shoes. "Bold earrings and huge heels. I need both those things." Most of her shoes have heels at least 5 inches high, but she feels guilty about buying things she doesn't need. "I like hand-me-downs, ripped up men's jeans and shirts. I'm kind of a boy. I only care about my rings and shoes." Once, when given a pair of Louboutins as a gift, she was moved to tears.  It's no surprise that Xian is a huge fan of eye shadow and mascara—after all, her favorite feature about herself is her eyes.
Best and Least Favorite Shoots
Most memorable?  One for Cartier. The gems came accompanied in a briefcase handcuffed to a guard. "He was licensed to carry a gun! I was just glad I wasn't Winona Ryder!" Another, she remembers, was for Donna Karen with Kate Moss. "It made me feel amazing. I was sitting in her trailer while she had breakfast—bacon and Heineken! I was just a shadow in the background, but it was awesome."
Some of her least favorite shoots are when the clothes don't fit, or the models don't get along. The worst was when she did a cover for a fitness magazine. "The photographer was weird. He was playing the Disney light parade music all day, and all he let me eat was a power bar all day. He said he didn't want me bloated. I was 15!  I love my food, and once you deprive me, I turn into a psycho bitch."
Career
Xian has traveled the world modeling, but prefers Los Angeles. She's been to Paris, China, and New York, but was pressured to lose weight. "I have two younger sisters who are really impressionable, and I never wanted to be unhealthy to model.  It's not my dream. Acting is. So I moved back to Los Angeles." She looks up to actress Zoe Saldana because of her impeccable career and ladylike demeanor. "You never see her acting like a fool." And when she studies actors, she prefers to study men like Robert Downey Jr. and Jack Nicholson. "They are so honest." In the modeling industry, she is obsessed with famous androgynous model Andrej Pejic, called "the most beautiful man in the world." "This is the most judgmental industry, and it can accept a man as a woman.  I love it,"explains Xian.
See the Xian Mikol editorial photographed by Ash Gupta 838 Media Group.
Hair & Makeup by Pavy Olivarez
Styling by Alex Levine