Fitness Gift Guide – 10 Gifts to Ring in a Fitter New Year
By
Anthony Heredia
| December 7th, 2011 | Category:
Fitness Couture
,
Gift Guides & Gift Suites
|
No Comments »
It is almost 2012 and who wouldn't love to begin a new year with new fitness toys to motivate the upcoming bouts of exercise. There is nothing more motivating than results, and the only way to obtain results is to love what you are doing enough to stay dedicated. Fun and innovating equipment can make all the difference between dragging yourself through a job and sprinting across the neighborhood like a grinning cheetah on the hunt. Give these tools to those who need that extra kick in the butt; and while you are at it, pick up a few of these for yourself, too.  You won't regret it.
Vibram Five Fingers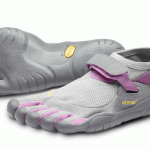 What is the best piece of footwear you can buy for a great run, you may ask. Your bare foot is actually one of the best tools for great performance.  Too bad that pesky asphalt gets so hot. If you want a happy medium between burning feet and running shoes that feel like boots, you should take a look at Vibram shoes, which bring fitness to a whole new level with incredible enhanced foot control.
Price: $85
Buy at www.vibramfivefingers.com
Distributor's Description:
Voted "Most Popular" for its versatility. The KSO remains among our most popular styles for women for its unbeatable comfort and versatility. It features a thin, abrasion-resistant stretch polyamide and breathable mesh upper that wraps your entire forefoot to "Keep Stuff Out." A single hook-and-loop closure helps secure the fit. The non-marking 3.5mm Vibram® TC1 performance rubber outsole is razor-swiped for enhanced flexibility and a sure grip on wet or dry surfaces.
Powerbreath Plus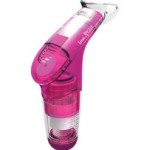 So when you begin working out for that first time after a long time, what is the first obstacle that slows you down, out of breath? Your body can only operate as fast as it can process oxygen, so why not power up those lungs to motivate your performance. Do sit-ups with your lungs!
Price: $75
Buy at www.gaiam.com
Distributor's Description:
Breathe easier! Reduce breathlessness, improve sports performance and feel healthier in four weeks with this drug-free device. Clinically proven POWERBreathe® strengthens your breathing muscles with a simple regimen of 30 breaths twice a day. Available in three models: Wellness (green) for infrequent exercisers or people with respiratory problems; Fitness (blue) for regular exercisers; Sports Performance (red) for serious or competitive athletes. Now with an improved ergonomic design. 3½"L x 1¾"W x 6″H. UK.
Gain Balance Ball Chair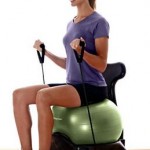 Now why would you want to sit in your normal boring office chair when you can work out your core while you sit at work? The balance chair forces you to engage your core while you sit and do whatever it is you do. An abdominal workout while you file your reports, not bad.
Price: $120
Buy at www.gaiam.com
Distributor's Description:
The removable, anti-burst Balance Ball (55cm) is free of latex and the six most harmful phthalates. Also includes redesigned base that cradles your ball, easy-glide casters, air pump and exercise guide. With three dynamic, body-shaping workout tools: a medium resistance cord with handles, medium body band, and a Balance Ball workout DVD with two complete workouts. For people 5′ to 5'11″ tall.
The Full Body Composition Measuring Scale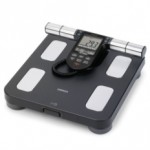 Who would want a scale as a gift, right? The great thing about this scale is that it takes very accurate account of your body fat percentage! This means that even when you are retaining water or just had too much to eat, this can still show that you have lost weight so that you don't get discouraged.
Price: 119.95
Buy at www.hammacher.com
Distributor's Description:
Unlike lesser body composition scales that only measure partial body fat, this model measures your entire body composition. It uses bioelectrical impedance technology that sends a harmless bioelectric current through the entire body to measure its composition, including body fat percentage, visceral fat level, skeletal muscle mass, resting metabolism, body mass index (BMI), and body age. In side-by-side performance tests conducted at the Human Performance Lab at the University of Illinois-Chicago, this scale was the most accurate across weight and BMI, measuring weight within 0.11% of a professional beam scale. The scale stores personal profiles for up to four users and up to 180 days of readings in its internal memory. Measures up to 330 lbs. in 0.2 lb. increments. Includes four AA batteries. 21 1/4″ H x 14″ W x 12 1/4″ L. (5 lbs.)
Gentle Motion Back Stretcher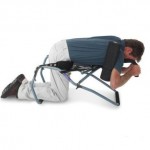 The gift of a healthy back is priceless. Nearly anyone you can think of has some sort of back ache, so give the gift of relief as this simple and effective device stretches the tension away.
Price: 299.95
Buy at www.hammacher.com
Distributor's Description:
Unlike inversion tables, this patented, FDA approved apparatus gently relieves lower- and mid-back pain and stiffness without requiring you to be suspended upside down. As you lean forward in the fabric hammock from a kneeling position, the device uses your body weight to create a strong, steady traction that relieves pressure on the spine and helps loosen tense back muscles. The unit's shoulder pads keep your upper body properly aligned and an adjustable padded waistband lets you customize the device's range of motion. Using the apparatus for just 5-10 minutes a day can relieve back discomfort without medication. In clinical trials at The University of Western Australia, the device helped reduce patients' back pain and stiffness while improving their quality of life and mobility after only three weeks of use. The unit's 1″ tubular steel frame supports up to 350 lbs., yet it is lightweight and compact for convenient transport and storage. Assembles easily. 48″ L x 30″ W x 24″ H. (23 lbs.)
Epiphany Massager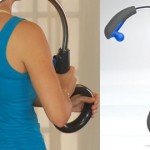 If a passive stretcher just isn't helping that back, then you can add some thumping action to calm those aching muscles. Problem with most self massagers, though, lies in their inability to reach the most troubled part of most people's pain, their back! This will take care of that problem and then some.
Price: 69.90
Buy at www.epiphanymassager.com
Distributor's Description:
Introducing the Epiphany Massager, the most intuitive and specially shaped hand-held massager ever. If you can lift a bottle of water, you can effortlessly lift and use the Epiphany Massager. Together, the unique shape and light-weight material enable you to easily reach and massage each and every sore, achy spot from your head to your feet, using "Therapeutic Pressure" within your own comfort zone.
Arm Weights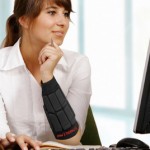 One of the reasons weight loss becomes harder as you get smaller is because you weigh less; less weight means less resistance.  Easiest way to gain weight for more results without gaining actual fat is to add some arm or ankle weights. For the big guy in your life you can even get a weighted vest to boost his training.
Price: $25.64
Buy at www.sears.com
Distributor's Description:
Wear your workout wherever you go with Remedy Arm Weights! Turn normal everyday activities into fat burning workouts. A must have if you don't like to exercise but want to lose weight. Keep in great shape! Weighted Sleeves for Arms and Legs can be worn discreetly under Regular Clothing. Weighs 24-32 oz. Fits forearms 11-14 inches. Wearing them for just 10 hours a day is equal to a 2-mile Run
Sit-Fit Exercise Device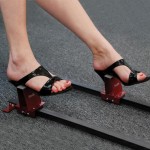 Number one reason for not getting in your fitness is not having time.  Well, make time. These simple track sliders allow you to simulate walking or skipping while sitting anywhere. Where there is a will, there is a way.
Price: 49.99
Buy at www.skymall.com
Distributor's Description:
Don't have time to exercise?
Improves abs and lowers body muscle tone
The Sit Fit is designed to be used while sitting. Watch TV or use your computer and get a low-intensity aerobic exercise to help weight loss, burn calories, and increase blood circulation. Convenient, portable, and offers adjustable resistance. Includes travel case.
Scoche myTREK – Wireless Pulse Monitor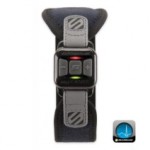 Now who wouldn't want an arm monitor that tracks heart rate, calories burned, distance, speed, time and your music? This is a no brainer if you have a fitness enthusiast with a competitive edge.
Price: $129.99
Buy at www.scosche.com
Distributor's Description:
The Scosche myTREK Wireless Pulse Monitor is a comfortable new workout tool for managing pulse, training type, calories burned, music and more with your iPhone or iPod touch.
Monitor with Comfort
The Scosche myTREK has no bulky chest straps or wires and easily attaches to your forearm for full wireless communication with your device. Integrated dual LED/optical sensors produce real time pulse monitoring. Includes small, medium, and large armbands to fit any arm size.
Set Your Goals
Based on personal health information, each workout zone is represented in a different color. Customize your training sessions by adjusting the type of activity, target training zone, and type of workout all within the App.
Track Your Previous Workouts
Track your previous workout stats such as pulse, calories burned, distance/speed, workout duration, and overall progress with the integrated calendar feature*.
Control Your Music and Stay Motivated
Motivational voice prompts guide you through your workout and help keep you in your target training zone. Control your music while you workout with the integrated buttons on the Scosche myTREK Wireless Pulse Monitor: volume up/down, play/pause and previous/next track.
- PULSE
Accurate pulse monitoring lets you assess the intensity of your workout
- CALORIES BURNED
Observe the amount of calories burned to maintain a healthy body composition and work toward your goals
- DISTANCE/SPEED*
Track your actual distance and speed using the iPhone's GPS and accelerometer technology
- WORKOUT TIME
Identify your overall workout time to help you stay motivated throughout your workout
Abcoaster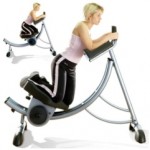 This has to be my favorite piece of abdominal equipment. Incredibly fun, believe it or not, and forces you to use the proper muscles. Problem with most abdominal machines is that if you don't know how to control your abs, you end up using every other muscle except your abs. This is a choice machine.
Price: 199.99
Buy at www.abcoaster.com
Distributor's Description:
All Steel Construction with 1.5″ Steel Rails. Nylon rollers with steel bearings. Vinyl Covered Molded Foam Pads with a 300 lb. weight capacity. Quick easy assembly and featuring a digital workout counter. 20 lb. Weight Plate Capacity with easy-move casters.  3-Position adjustable Seat plus free-style motion.