Project Ethos's "Fighting Cancer Is Fashion Forward" Event Rocks at House of Blues
By
Elana Pruitt
| December 7th, 2011 | Category:
Articles, Interviews and Reviews
,
Events
,
Fashion
|
1 Comment »
You know the kind of moments that just make sense—the kind of moments that make you think "Of course!" Well, Friday night (October 14) at the House of Blues on Sunset was one of those moments in time where everything collided just perfectly.
Project Ethos—the reputable production company that consistently creates unique experiences for all participants and attendees—did not disappoint that evening. Choosing the House of Blues venue to do what it does best, "showcasing fashion, music, and art all under one roof, on one night," Project Ethos put on a fun-filled night that merged a live concert, fashion show, and art gallery for one big event. In commemoration of October being "Breast Cancer Awareness" month, Project Ethos went pink.
The tone of the evening began on a positive spirited tone, with a sprawled pink carpet and high energy piling up both inside and outside of House of Blues. Hosted by  97.1 AMP Radio, and sponsored by Motorola, RunwayIcon.com, and vitaminwater zero™, this event benefitted the Stand Up to Cancer (SU2C) entertainment industry foundation by donating $1 of every Pink Carpet ticket.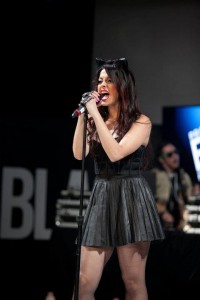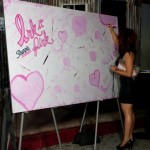 Live music featured pop singer Julie Zorrilla, one of the American Idol Top 12 female performers, who opened for the Black Cards—a new project from Pete Wentz, former bassist/front man of Fall Out Boy. Bebe Rexha provided a memorable performance as the (cat-eared) female vocalist of the Black Cards. This 3-person music group performed prior to the models hitting the stage, exuding the vibe of electronica, dance, ska, and reggae. This was their first Los Angeles performance.
The fashion show was scheduled for 10 p.m., but with all of the incoming traffic to the VIP and press area, and fashionably latecomers making their way in the venue, the first collection didn't hit the catwalk until about 11 p.m.  Fortunately, with 97.1 playing hit after hit, keeping crowd-goers happy and their cocktails full, the wait was hardly bothersome. Kicking off the fashion show as the headliner was "I AM," the new menswear collection by pop star and music producer Will.I.Am. Not only was it a delight to see male models strut their stuff on stage and start the big presentation off on a fun foot, the clothes on their backs were worthy of mentioning. An underground, militant chic-esque flavor to the line, I AM has several ready-to-wear, casual, mainstream pieces that definitely resembled this Black Eyed Pea's own signature style. Unfortunately, Will.I.Am himself did not look to be in attendance, as he did not walk out and wave graciously to the crowd. While that was a little bit of a bummer, several other emerging designers also wowed the crowd.
In addition to the I AM collection, I was impressed by theBritboy line and its sexy, modern styles for both men and women, as well as the socially conscious, contemporary fashion of Multeepurpose; models walking with picket signs in their hands representing specific causes definitely captured my attention.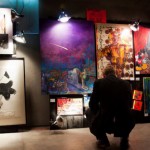 My ultimate fave of the night, however, was GLAUDI by Johana Hernandez. Hardware, shiny fabric and details, and lots of black—I saw bits of Joan Jetson cutesy-quirkiness and lots of Lady Gagashock factors. Having designed for celebs such as Hannah Montana, Jonas Brothers, Bon Jovi, and RBD, Hernandez has been receiving media attention since the age of 19. GLAUDI is her first collection, and definitely a show-stopper. The other uprising fashion designers featured at this Project Ethos event included Pentard Couture, Lauren Nicole,NAMI, and Japanese import B by APERIRE.
The artwork featured for the evening was placed in the House of Blues' Crossroads Restaurant, situated upstairs. It included the amazing creations ofAllison Reimold, Alexander dcd Smith, Ronnie Ray Mendez, Tom Garner, James Naccarato, and Waelad Akadan. Attendees also had the pleasure of being able to watch live paintings from $tatusFaction, Gregory Siff, Kophns One and Mar—street artists from gallery/agencyThe Site Unscene.
Project Ethos's events always offer attendees a time to enjoy, as it consistently celebrates distinctive moments in time for fashion designers, artists, and musicians. I look forward to seeing many of these emerging fashion designers continue on their path towards success. There is definitely room at the top for diverse, creative collections!