Richie Rich and Ross Higgins Spring 2012 Collection "Pop Luxe" Revives the Darkside of Fashion During New York Fashion Week
By
Kaylene Peoples
| December 7th, 2011 | Category:
Articles, Interviews and Reviews
,
Backstage & First Looks
,
Fashion
|
2 comments
Talk about a wild evening, September 13, 2011, at the Lavo in New York.  I had spoken with Richie Rich the night before at the W Hotel after party at Lincoln Center, and he and his co-conspirator/model/boyfriend Ross Higgins warned me that their collection "Pop Luxe" would be something out of this world.  I had my suspicions, but I honestly would never have imagined it to be as far out in orbit as it was.
"It's totally going to be the most amazing show that anyone is ever going to see in their life until next year when we do the second one.  It's the end of the world meets the new beginning, and you never know what's going to happen next," gushes Ross Higgins.
"It's a mixture of a lot of fabrics that are wearable.  Not so much like Heatherette, but the next level," adds Richie Rich.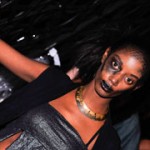 After hearing the excitement in Richie's and Ross's voices, not to mention their inaccurate description of their new line, I anxiously awaited what was to be my shock and utter horror upon seeing
Dante's Inferno
reincarnated as Dante's nightmare.  That evening photographer Arun Nevader and I took a cab from the previous runway show, just to get there in time for this spectacle. And as expected, the line at the Lovo wrapped around the block.  We managed to get in just in time to descend backstage where all the energy and urgency was.  That was where I witnessed models with black eyes, bruises, elaborate modern-day war paint, teased and frizzy hair, tattoos, and more. Both men and women were dressed like savages, preparing to walk the runway.  I had to get out of that tiny backstage, I could only take so much, but Arun was just clicking away, seemingly intrigued by it all.
The show finally started with designer Ross Higgins.  He was the first model out of the gate.  He trotted as if on the drug ecstasy, and that, folks, set the precedent for what followed—a parade of models, each more frightful than his or her predecessor.  Caligula had nothing on this design team!  And as far as fashion, there was none.  The clothes looked as if they were re-purposed from thrift stores.  Un-hemmed, frayed sleeves were the look for all blazers.  Colorful underwear adorned the patriotically painted, yet generously erect male models; can you say "fluffer?" Aside from a few leather pieces and a silver metallic skirt, which if you blinked you'd miss, the only real garment(s) in this collection, there was nothing of note.
I was ambivalent about doing a write-up, but my sense of duty made me do it.  If I only reviewed the norm, how would anybody know what to avoid?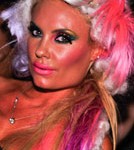 My only regret for this untimely review is that I missed getting it in the Halloween issue!  Richie Rich and Ross Higgins's Spring 2012 Collection "Pop Luxe" is the perfect example of Emperor's new clothes gone wrong.  What I can say as a positive note, however, is that the former Heatherette designer (Richie Rich) knows how to create hype and put on a high-energy production.  It was so exciting, I almost forgot I was supposed to be reviewing a runway show!  After we all (audience and press) finally closed our mouths from the shock (while on the runway, a porn actress exposed her very ample bossom), it was after all a pretty fun evening.