The Anti-Fitness Gift Guide – 5 Gifts Not Intended for a Fit New Year
By
Anthony Heredia
| December 6th, 2011 | Category:
Fitness Couture
,
Gift Guides & Gift Suites
|
No Comments »
So maybe you know someone who just can't keep from flaunting his/her perfect body, which takes no effort whatsoever to obtain according to that person. This anti-fitness gift guide is for you yourself to avoid, but you might want to use it to gift a small pebble in the path of that pesky perfect body person you might know. We really shouldn't have even made this gift guide, but what the heck!  What's life without a little fun? Avoid these and enjoy the New Year!
The 26-lb Party Gummy Bear – 32,000 Calories!!!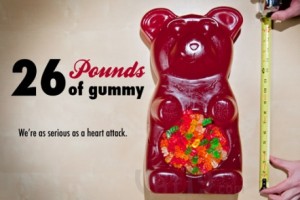 Who really needs this monster of a gummy bear, I mean really! If we catch you eating this alone, you will be chased down. In case you were wondering, 32,000 calories is 10 lbs of fat gain.  You have been warned!
Video for you to embed:
Price: $149.99
Buy at: www.vat19.com
Distributor's Description:
Need an epic centerpiece for your next party? Look no further than the Party Gummy Bear. This 26-pound candy beast ensures that your shindigs have no equal. Imagine the shock of your partygoers when they realize that your 32,000-calorie gummy bear also features an integrated one-liter serving bowl! Serve punches, candies, or even more gummy bears from within this seventeen-inch-long confection. The Party Gummy Bear is handmade in the USA, features a 1-year shelf life, and is available in a variety of delicious flavors.
Alcohol in a Book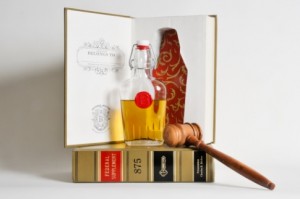 What better way to hide your spirits than to disguise them in your favorite piece of literature. This gift is just asking to increase the alcoholic based incidences at work and puzzle loved ones at home as to the constant aroma of whisky in a sober household.
Price: $99.95
Buy at: www.benderbound.com
Distributor's Description:
Vintage federal supplement handcrafted to include a hidden 250 ml swing-top glass flask imported from Italy. Behind the flask we've inlaid handmade decorative paper imported from Nepal.  Alcohol, Advil, and gavel sold separately. Our handmade book bars will ship in six to eight weeks (sooner if possible).
Gummy Shot Glasses

If copious amounts of alcohol as part of your new year's plans weren't a bad enough idea, why not go for broke by adding edible candy shot glasses!
Price: $14.95 (mix and match six)
Buy at: www.giantgummybears.com
Distributor's Description:
These little edible glasses are each 2.7 ounces of gummy goodness that will add a splash of flavor to your drinks! 6 Glasses per Pack! Pick any flavor combination you want. Great party conversation pieces! Each Gummy Shot Glass is 29 times the nutritional value of the average gummy bear! We handcraft these gummy shot glasses out of the same recipes we use for all our gummy bears so each one is unique. Candy-infused vodka is all the rage on the Internet, but how do you serve it properly? Gummy shot glasses, of course! Jello shots in gummy glasses, the way it was intended. Get your green gummy shot glasses before Saint Patrick's Day. It's a religious thing. Rum and cola without the cola! Just drink your rum and then nibble the glass. It's like Willy Wonka grew up and took his "you can even eat the dishes" to a new level. Next time your trekker friends come over to play Star Trek drinking games, serve them their Romulan Ale shots out of these multi-color gummy shot glasses that look like they came right out of Ten-Forward. How can you drink an appletini and still look like a man?  Drink it out of a sour apple shot glass . . . and then after a few drinks, you just pop the "glass" in your mouth and eat it. Let's see your girlfriend do that with her martini glass! It's not just for alcohol anymore! The perfect mini-candy dish holders for your party guests. Was the last shot glass you ate fat-free?  These are! Trying to decide between serving drinks and serving snacks?  Why not serve your drink in your snack?
Gumball Baseball or Soccer Machine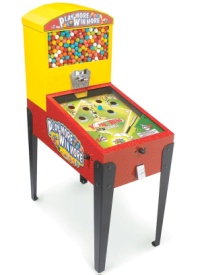 If you must give candy as a gift, you can at least make the recipients work for their candy. This sure does look like fun, but remember each win is a deposit in time working out, so if you must play, gift your winnings away!
Price: $1,000
Buy at: www.hammacher.com
Distributor's Description:
This is the gumball machine that requires the deft skill of a pinball maven to extract up to three 1″ diameter chewy confections. Available only at Hammacher Schlemmer, it has a baseball-themed playing field that includes four "Win" holes and three "Lose" holes. Relying purely on precise mechanical movement without electricity, a turn of the coin slot crank (no coins required) drops three gumballs into play. A player uses two spring-loaded flippers to knock each gumball into one of the winning holes; gumballs that bypass the flippers are returned to play using the game's plunger. Successful scores deposit winnings via the flip-up candy door while losing gumballs are held in a container for later re-filling of the hopper. This unit comes with 850 1″ multi-colored gumballs (it holds up to 1,700) that are held in its "backglass" as an enticing display to encourage continued play. Made in the U.S. from durable powder-coated steel, tempered safety glass, and Plexiglas. 52″ H x 18″ W x 32″ D. (97 lbs.)
Baconnaise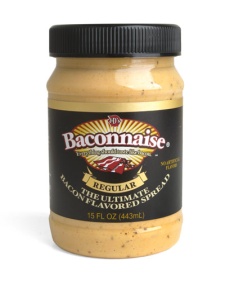 Yes you are reading this correctly. The team over at thinkgeek.com decided that bacon and mayonnaise needed to be married before hitting your palate. At the very least don't spread this on your giant gummy bear or you will be chased down. Be ready for 27 other bacon flavored items once you check their website. Why thinkgeek.com, why?
Price: $5.99
Buy at: www.thinkgeek.com
Distributor's Description:
Throughout history there have been many legendary couplings – peanut butter & chocolate, oatmeal & raisins, Anthony & Cleopatra. Each of these combinations is magnificent in their own right. None of them can stand up to the truly glorious union between bacon and mayonnaise.
Baconnaise, as this manna from the heavens is called, goes well on everything from sandwiches to French fries. Ever been too busy to cook bacon for a BLT? Just take some bread and spread on the Baconnaise (At castle ThinkGeek we typically skip the L and the T). You could even combine it with one of the other legendary pairings! Well, maybe not Tony and Cleo. BUT! Baconnaise mixed with chocolate and peanut butter has to be good! Right? Vegetarian and Kosher friendly.
Canned Unicorn Meat
Wow! If I have to explain why you shouldn't eat a canned unicorn, then we have a larger discussion that we need to have than that of your eating habits. Before you salivate too much at the thought of rare unicorn meat, I should confess this item isn't actually edible, but it was worth rounding out our anti-fitness list. Found inside that can is a poor dismembered, plush unicorn. I hope it goes without saying that you should NOT eat that plush unicorn.
Price: $12.99
Buy at: www.thinkgeek.com
Distributor's Description:
No foolin' – Unicorn meat is real! Excellent source of sparkles!
Unicorns, as we all know, frolic all over the world, pooping rainbows and marshmallows wherever they go. What you don't know is that when unicorns reach the end of their lifespan, they are drawn to County Meath, Ireland. The Sisters at Radiant Farms have dedicated their lives to nursing these elegant creatures through their final days. Taking a cue from the Kobe beef industry, they massage each unicorn's coat with Guinness daily and fatten them on a diet comprised entirely of candy corn. As the unicorn ages, its meat becomes fatty and marbled, and the living bone in the horn loses density in a process much like osteoporosis. The horn's outer layer of keratin begins to develop a flavor very similar to candied almonds. Blending the crushed unicorn horn into the meat adds delightful, crispy flavor notes in each bite. We are confident you will find a world of bewilderment in every mouthful of scrumptious unicorn meat.
Unfortunately, due to restrictions on the importation of mythical processed meatstuff, we are unable to bring you Canned Unicorn Meat in the way the Sisters of Radiant Farms intended. When you open your can, you will find one tiny unicorn which has been appropriately sliced into its main cuts of meat. Simply use your Growth Ray to re-"embiggen" the unicorn before skinning it and processing its flesh. Or if you're lazy, just bring it to your local Mad Scientist-Butcher. He'll know what to do.
Radiant Farms Canned Unicorn Meat Specifications
14 ounces of delicious unicorn meat, canned for your convenience
Imported from a small independent cannery in County Meath, Ireland
Crunchy horn bits in every bite – an excellent source of Calcium
Tastes like rotisserie chicken but with a hint of marshmallow sweetness
Sparkly meat lends the unmistakable air of class and sophistication to your parties
Okay, for real: you can't eat this. It's a dismembered stuffed unicorn in a can.
The bottom of the tin is easily removable to gain access to the mini dead unicorn inside. No can opener needed!