BILLY ELLIOT The Musical – Dances into Cities Throughout America
By
Marilyn Anderson & Dennis L. Lanning
| January 23rd, 2012 | Category:
Entertainment
,
Theater Reviews
|
Comments Off

on BILLY ELLIOT The Musical – Dances into Cities Throughout America
Family. History. Dance.  These three elements come together in the Tony Award Winning "Billy Elliot – The Musical," which is based on the 2000 Universal Pictures/Studio Canal Film Billy Elliot.
After three glorious years, Billy Elliot took its final bow on Broadway on January 8, 2012.  The North America Tour will now take the musical to cities throughout the United States. Cities include Saint Louis, MO, Philadelphia, PA, Washington, D.C., Cincinnati, OH, Pittsburgh, PA, Orlando, FL, Fort Lauderdale, FL, Atlanta, GA, San Antonio, TX, Los Angeles, CA, Des Moines, IA, Louisville, KY, Milwaukee, WI, Boston, MA, and others.
Many movies are currently being made into musicals. For Billy Elliot, it's a transition that not only makes sense, but which opens up additional possibilities. Because the story line is about dance, Billy Elliot not only fits the stage, it belongs on stage.  There is an energy elicited with live dance performances that can never be captured in quite the same way on screen.
The story takes place during the 1984 – 1985 United Kingdom's miners strike in County Durham, in North Eastern England. The motherless 11-year-old son of a miner wants to trade his boxing gloves for ballet shoes. Needless to say, his macho father isn't happy about it.  His dance teacher, realizing the boy has extraordinary talent, tries to convince his dad to let him go to London to audition for the Royal Ballet School. Despite strike-induced impoverishment, all the miners, recognizing his desire and talent, pitch in to help with the expenses so Billy can go.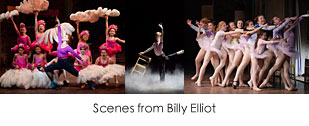 In the musical, audiences get to see the young Billy Elliot dance with exuberance, skill, and flair.  Unlike the film version, there are no "second takes" if he makes a mistake—it's for real and the excitement is palpable. This is a tough show for all the actors, especially an eleven-year-old, who plays the lead role.
Billy Elliot – The Musical is terrific as family fare. It is particularly notable that in the ballet classes all kinds of kids are represented. It's not just all petite and pretty little girls.  Instead, it features short, tall, gawky, chubby, even "nerdettes" wearing glasses.  In addition to the girls and the lead, Billy, there's also a young gay boy, Michael, through whom the show attempts to teach us acceptance and tolerance of everyone, which is so important in these current times when bullying has become a hot topic.
If you've seen the movie, Billy Elliot, you simply have to see the live show for comparison. If you haven't seen the movie, you should head out for an evening that includes an interesting period in history, along with exciting dancing, soulful singing, and a poignant story.
We predict Billy Elliot — The Musical will continue dancing around America and into people's hearts for years to come. Don't miss it when it comes to your city.
BILLY ELLIOT — The Musical
NORTH AMERICA TOUR
http://www.billyelliottour.com/ustour-site