Furne One of Amato Haute Couture Spring 2012 Collection – Haute Couture or Ouch Couture, Costumer or Couturier
By
Kaylene Peoples
| January 22nd, 2012 | Category:
Articles, Interviews and Reviews
,
Fashion
|
2 comments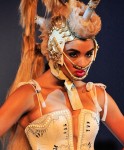 Furne One's Spring 2012 collection made its way un-chaperoned to Los Angeles at Vibiana during Style Fashion Week LA.   That's right.  The designer was home in Dubai while his collection received mixed reviews here.  The collection left some raving and others ranting; and some of those rants turned into raised voices literally on the media riser. Several photographers mocked the models as they came down the runway.  (I don't condone this kind of behavior, but it happened anyway.)
Regarding failed collections; unlike Dior's very recent backlash (due to the line's formerly hailed excommunicated Galiano), or even Gaultier's less-than-well-received very first ever show, I have deduced that Furne One is just a self-proclaimed artisan.  I'm of the belief that if it neighs like a horse, gallops like a horse, acts like a horse, it's a horse!  And in this case this collection is more of a costume line than anything realistically wearable in the real world.  In the past, this line has dressed Shakira, Katie Perry, Jennifer Lopez, and most recently Nicki Manaj—I can't imagine them actually paying to wear these garments.

The line has showcased on the runways of Dubai, London, and America.  But as I sat up close while the parade of D-list models trotted down my catwalk, I took pause.  Later, as I went through Arun Nevader's backstage and runway images of the show and Ash Gupta's breathtaking slant on this issue's featured editorial, "Fear No Evil," featuring Furne One, it dawned on me where this collection's showing went wrong.  It was all about the presentation or lack thereof.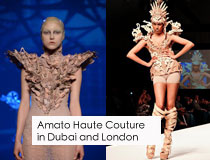 Production is key when premiering a collection, and Vibiana can be converted to a gorgeous runway venue.  However, when a designer is particularly different, there needs to be a comparable stage to reflect the differences in that art.   Furne One of Amato Haute Couture has succeeded in presenting his collection on the appropriate stage in London and Dubai.  They had very theatrical settings, perfect for the theatric quality of his clothing.  Unfortunately, on Vibiana's runway, there were no theatrics, the clothes were not represented in their best light, and Furne One's production team went awry with bad casting (sorry, models).  But looking through the eyes of the enlightened photographer, whose interpretations created an art direction when there was none, I believe that the vision Furne One was trying to convey ultimately came across through the camera's lens; I was moved by the depth of field in Arun Nevader's live photographs of that show.  If only what was surrealistically captured on film was actually what I had witnessed, the tone of this review might have been very different.

Furne One's Spring 2012 collection is an ode to the Roman Empire, with "godlike" inspirations and ostentatious appliqués.  Headdresses fit for a Caesar, stiletto platform matching boots, upholstery tassels, and all the elements of haute couture, except for one thing.  Though thematically this collection was consistent in its palette, I for one did not appreciate the less than worthy stitching of these garments.  From a distance all looks divine; up close not so much.  If you're going to call it haute couture, it deserves a superior blend of fabrics, finer craftsmanship, and more attention to detail, none of which Furne One had—thus my earlier observation, "self-proclaimed artisan."  That's when haute couture becomes ouch couture!  Consistency and accuracy of a collection's description are paramount when branding a line.  Calling something haute couture means it should be of the highest caliber in every aspect of design if people are expected to pay that insane price tag that accompanies one of these garments.  Furne One does deserve some credit for his efforts, but I think he should raise his standards (or lower his prices) to match the level of the Gaultiers and McQueens of our time.  Otherwise, he's just a mere costumer.