Gen Art Fresh Faces Spring 2012 During Style Fashion Week LA at Vibiana
By
Kaylene Peoples
| January 22nd, 2012 | Category:
Articles, Interviews and Reviews
,
Backstage & First Looks
,
Fashion
,
Runway
|
Comments Off

on Gen Art Fresh Faces Spring 2012 During Style Fashion Week LA at Vibiana

Coming back from a hiatus, Gen Art is better than ever with their Fresh Faces competition.  From attention to the details backstage, dressing, styling, and presenting the models and clothes on the runway to really putting on an exciting and well produced series of runway shows, Gen Art did it well at Vibiana during Style Fashion Week LA.  Avatar star Zoe Saldana delivered a speech at the beginning of the show and the talented young designers successfully showcased their new collections.
(Click the link of each designer to see the related runway show.)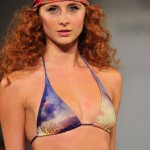 1. The first designer We Are Handsome opened the show with a swimsuit collection designed with prints and cheek hugging micro minis.
2. Dear Creatures featured dresses suitable for work and play.  The models' hair was styled with bouffants and pony tails.  They wore a nice combination of separates (tops and shorts), and a standout piece featured a mustard dress with matching collar, tie, and elastic waist.
3. Odylyne had a lovely array of 70s inspirations with skirt dresses, pleated printed midis, and Spanish inspirations.  This collection had a vey "pre-raphaelite" feel.  The models were styled very feminine.  This collection was my favorite.
4. Chambers is a men's collection which consisted of knee-length denim, cutoff shorts, over-sized sweaters, 80s-inspired denim hoodies, and jackets with drawstrings.  Also included in this collection were shoulder padded t-shirts and flannel shirts . . . a real man's man collection.
5. 71 Stanton was a collection full of multi-layered separates.  The crayon colors encompassed the look—I especially loved the capris, wide cuffed orange shorts, and the jersey, layered 2-tone sleeveless midi.
6. Funktional is a line with high-end prints.  The designer presented silky looks of wide-legged pants, metallic micro shorts with black pockets.  Their combination of styles made this line unique.  Looks ranged from neon orange shirt dresses to colorful print leggings.  The models wore Navajo-inspired face paint.
7. Stand and Deliver ended the show with shocking dramatizations and bold statements of black.  Besides the unexpected peakabo, this was a real "outside-of-the-box" collection.  Punk inspired, leather, multiple zippers, feathers, revealing vests, and leather shorts.  The surprise guest, a sexless alien covered in white, was rolled out onto the runway.  I loved the edgy bustiers.  The skateboarders who broke out in a choreographed fistfight were another surprise. The final piece in this collection was a bare-breasted model wearing a leather long sleeve open jacket.
Check out the backstage photographed by Arun Nevader.