Beauty Breakdown: From Sweetheart to Siren in 2 Steps
By
Agenda Magazine
| March 28th, 2012 | Category:
Beauty
|
1 Comment »
In this high pressure world of professional and personal obligations, many women aren't likely to spend more than a few minutes in front of a mirror to put on their makeup. Things get even more hectic when you have to take a look from "day" to "night." Not to worry . . . it's not nearly as complicated as it seems.
To illustrate our point, we enlisted the help of twin sisters Shayla and Ninah:
Both women are wearing the same basic makeup. The only thing that has changed from one sister to the other is liner along the top of the lash line, and lipstick.
Despite their twin status, Shayla and Ninah have different shaped faces and slightly different features. Shayla has more of a "sweetheart" structure to her face, with a high forehead, high cheekbones, and strong jaw line. Ninah's face has more of an oval shape, with smaller eyes and a narrow bridge. Despite these differences, both makeup looks are interchangeable. Either woman can wear the other's look. The simple change of eye and lip color translates effortlessly on all features and basic face shapes.
Here's the breakdown: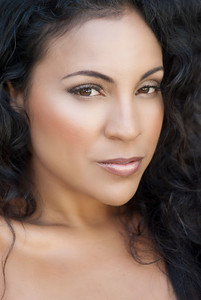 On Shayla:
FACE
Sisley Phyto Teint Eclat Foundation (Golden)
Sleek Contour Kit (medium)
MAC Mineralize Blush (Fresh Honey)
EYES
Anastasia Brow Pencil (brunette)
Rouge Bunny Rouge Fire Drops Loose Shadow (Caress of Mink)
Giorgio Armani Eyes to Kill Stretch Mascara
LIPS
Chanel Lip Pencil (Nude)
Haughty Cosmetics Lip Gloss (Polish It Off)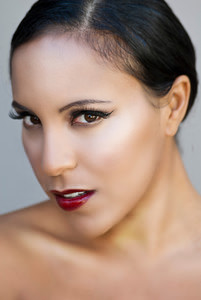 On Ninah:
EYES:
YSL Shocking Cream Liner (Deep Black)
LIPS:
MAC Lipstick (Russian Red)
NARS Larger Than Life Lip Gloss (413 Bleecker Street)
The simple act of intensifying the eyes with eyeliner, and intensifying the lip color amplifies those individual features. It's not necessary to change your entire look. These simple steps can take you from day to night, quickly and easily.
*Makeup: Shahada Karim
*Photographer: Nadirah Bahar ( www.beautemark.com )
*Location: Los Angeles, CA