STELLA DOTTIR – A RENAISSANCE WOMAN WITH A FLAIR FOR TIMELESS DESIGN
By
Agenda Magazine
| March 28th, 2012 | Category:
The Statement
|
No Comments »
Four years ago I had the honor of meeting the amazing Stella Dottir. She had a boutique in the heart of Los Angeles's Art Walk, but recently she moved her shop online and it's already making a name for itself.  She just made it to the pages of Italian Vogue—exactly where her work should be! Stella has grown to be like a part of my family, and shooting her designs brings me nothing but good luck.
–Jeff Linett–
ABOUT STELLA DOTTIR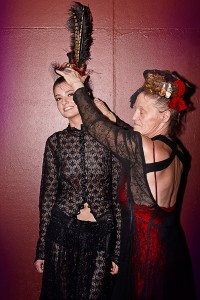 Velvet hats, golden hats, plumed hats, veiled hats dotted with beauty marks, Stella Dottir's hats and dresses are a little bit of that hand-sewn, vintage, couture magic; and it's not just because she sews in each of her hats an ancient symbol that harnesses the power of attraction for the wearer.  Go on, go Greta, go Audrey, go full on femme fatale or Rembrandt . . . made just for you or one of the bits of "poetry" that came to Stella in a moment of inspiration, let yourself slip out of time in her decadent, wearable creations.
If you are interested in clothing that is unique, stylish, truly dazzling and also transcends time, then Stella Dottir has it. Straight from Reykjavik, Iceland, Stella has relocated from New Orleans back to Los Angeles.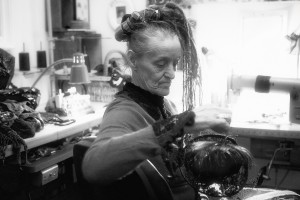 Her designs have previously been available only in trendy designer specialty boutiques in Los Angeles, New York, and Europe. Her hand-crafted, tailor-made vintage and Gothic creations have appeared in numerous movies, music videos, theater, and television productions. Stella's style is filled with elegance and grace and reminds us of romance from times past. Her great versatility, along with the client's choice of fabric, color, and designs allows Stella to create for that perfect moment: a wedding, red carpet affair, formal occasion, etc.  And with it comes her very own distinctive artistry.
Stella's talent is in creating unusual and original designs without compromising style or grace, and flattering its wearer. Her unique fashion sense for menswear and her stylish dresses are also inspired by the Roaring 20s while ingeniously intertwining a 30s and up flair.   Yes, you'll pretend you are a high fashion model marching down the Champs Elysee in Paris, or you can play the most outrageous game of dress-up in a Stella Dottir original design.
Visit: http://www.etsy.com/shop/stelladottir# or http://stelladottir.com/ to purchase one of her designs.
Check out the images of Stella Dottir's designs.