30 Days & 30 Nights: Tone & Treat
By
Shahada Karim
| May 31st, 2012 | Category:
Beauty
|
Comments Off

on 30 Days & 30 Nights: Tone & Treat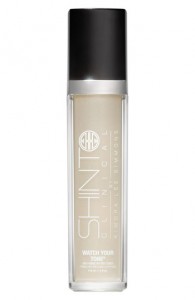 Shinto Clinical: Watch Your Tone
Price: $32
Place: www.nordstrom.com
Shinto Clinical is the latest endeavor of former model-turned-businesswoman Kimora Lee Simmons. Hailed as a cozy line of skin care inspired by the women in her family, Simmons got behind this mid-priced selection of cleanser, toner, moisturizer and treatments.
The Crown Jewel for us is the Toner, called "Watch Your Tone." The "spray formula is full of goodies like Green Tea, Peppermint, and Cucumber. From the first spritz, our skin felt refreshed and moisturized. We were impressed with how well the toner actually prepped our skin for moisturizer.
"Watch Your Tone" also promises to fight wrinkles with a unique blend of peptides and proteins, but we don't know about all of that. We do know that with continued use, this toner actually helped our skin tone even out, and felt great to boot.
M. Steves: RHSO Power Packed Ultra Nourishing Boost
Price: $48
www.msteves.com
Like Kimora Lee Simmons, the story behind the M. Steves skin care line is a personal one. Owner Mally Steves credits her mother and grandmother as inspiration for her skin care formulations. The other common thread in her formulas is Rose Hip Seed Oil. The Ultra Nourishing Boost is packed with the stuff, plus Essential Fatty Acids, and skin brighteners like Licorice Root.
We were hesitant to try this formula on our oily skin, but found that it went beyond simply moisturizing. It also helped clear up skin complaints, like our occasional flare-up of cystic acne. It also left our skin brighter and smoother with continued use. This oil is promoted as both a daytime and nighttime treatment, but we found that it worked best at night.
Grade: A+