A Bikini Won't Bite You
By
Elana Pruitt
| May 6th, 2012 | Category:
Columns
,
Talking Chic
|
Comments Off

on A Bikini Won't Bite You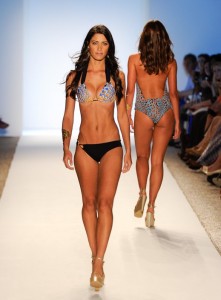 Let's be real: a bikini is basically a not-so-see-through set of bra and panties. So of course summertime is fretful for most women.  Your most private and most common troublesome areas of your body are exposed in the most public of places. The very thought of going to the beach or lounging poolside in a two-piece not only makes many women want to cry, the bikini itself has turned into a demonic force that can immediately scare off the self-conscious. Just the very act of walking between racks and table displays of bikini tops and bottoms is enough to make a woman feel a horrible sense of intimidation, low self-worth, and nervousness. I get it. I understand. I was one of these women.
I first addressed the bikini in my summer 2008 column in Agenda, "Time for the Teeny-Weeny Bikini?" At that time, I did not feel physically fit enough to sport this type of bathing suit, acknowledging that a healthy lifestyle must be set in motion before I purchase a bikini. My conclusive thoughts of that '08 column read:
"…In order for me to feel confident going forward and take a chance on new styles, I must continue to do what's right for my body, in regards to health, fitness, and wellness. This means shutting the computer off by eight in the evenings, taking warm baths for relaxation, drinking lots of water, eating lots of fruits and veggies, going out dancing more often, getting use out of my treadmill, and making it a point to enjoy the outdoors. If I can just push forth with these goals, that teeny-weenie bikini might just be one of the best purchases I ever make."
I am proud to say that—minus the getting off the computer by eight in the evening—I have adopted these activities and routines wholeheartedly. In turn, my overall view and perspective of shopping for the "teeny-weeny bikini" has shifted. Sure, I still take a deep breath once I see the bathing suits staring at me in the store. But no longer are they my enemies. This is because I am not only more at peace with my body as I am in better physical shape and healthier altogether, I realize that a bikini does not have to be the end-all in summer beach or pool fashion. Not at all! There are so many options women have in giving life and personality to the bikini. Accessories, hats, skirts, and a tank, cotton dresses and sheer cover-ups, shorts and a tube top . . . you can really have fun shopping for one and its accessories or counterparts.
Finding the perfect bikini for your size, shape, and personality takes patience as well as an open mind and calm approach. Just like shopping for shoes or jeans (two of the most challenging items to shop for), bikini shopping will be insightful and can be a worthwhile experience. To help lessen the challenge or frustration you may anticipate, certain department stores and boutiques have sales associates that can help you select the right ones to try on. Take advantage of their customer service! Should you go online to shop, be sure to check out the site's sizing section and read the description regarding product specifics.
Whether you are ultra-thin, medium-built, or plus-sized, there are so many exciting trends, colors, fabrics, etc., to explore. Facing your fears, whether it's with a bikini or a book you are in the process of writing (ahem, Elana!), the end result is usually a sweet taste of success. This is simply due to the fact that you had the courage to go forward and push through your mental obstacle.
Bikinis can't talk back, could never hunt you down, and certainly don't bite. I am now a proud owner of five, and love taking turns befriending each one.