Book Review: MODELLAND by Tyra Banks
By
Lee Peoples
| May 4th, 2012 | Category:
Book Reviews
,
Fiction
|
No Comments »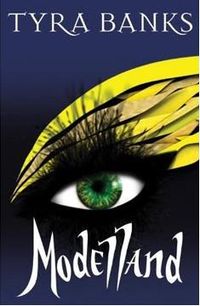 Tookie De La Crème, AKA Forgetta-Girl, who aspires to become a Rememba-Girl, is the main character of Modelland, Tyra Banks's first novel.  It is set in the make-believe world of Modelland in Metopia.  Tookie is a fifteen-year-old girl who longs to be noticed by anyone.  One way she attempts to get attention is by lying down in the hallways of her school (B3), just hoping someone would step on her, proof she existed.  Her own mother and her younger sister Myrracle snub her and treat her as if she is not even there.  Her father denies she is his child.
Modelland, a magical land where the most beautiful women are chosen and given superhuman powers, is at the top of Metopia's highest peak, symbolizing every girl's dream.  Metopia is divided into four quadrants:  ". . . frigid Shivera, tempestuous Pitter-Patter, lovely LaDorno (only the elite live there, and it was where T-DOD was always held), and finally, sweltering Peppertown, as hot as . . . where Tookie lived and where B3 (her school) stood . . . ."
All young girls throughout the world ache to go to Modelland, and on T-DOD, The Day of Discovery, seven of the most beautiful will be chosen.  The goal is to become supermodels, Intoxibellas.  The land sends seven talismans called SMIZEs into the world.  These SMIZEs boost the odds of a girl's being chosen by ninety-one percent.  Ironically, Tookie, a most strange-looking girl with big feet she herself often trips over, a large forehead, and skinny limbs, finds a SMIZE, which is taken from her and given to her younger sister Myrracle, who has been preparing for T-DOD.  But on that day when she is expected to be chosen, Tookie is chosen instead and taken to Modelland, along with three other very unlikely choices.  Ci—L, the most famous Intoxibella, the only model to grace the cover of Modelland for twelve months, appears and transports these girls to Modelland.  We learn later Ci—L desires to change the way things are run in Modelland.  When Tookie and her three new friends despair of the difficulties they face, she tells them things are not always what they seem and that something good can come from the worst situations.
This parody of the modeling world alternates among tragedy, comedy, farce . . . Through exaggeration (for example, the lesson about the consequences of sharing makeup) the author shows how grueling and controlling (even the girls' menstrual cycles are regulated and controlled, synchronized) the job of becoming a model can be.  The suspense builds right to the end.  I found this to be an interesting and enjoyable fantastical read (so reminiscent of the fantasy world of Harry Potter) and look forward to Modelland II, as I must admit I was a bit disappointed that the book ended on a cliffhanger, leaving me with many unanswered questions, most important of which is what happened to Tookie's one and only friend she left behind in Metopia, Lizzie.  I recommend this novel to all aspiring models.