Cardio Fitness Decisions – Best Workout for Your Lifestyle
By
Anthony Heredia
| May 2nd, 2012 | Category:
Fitness
,
Fitness Couture
|
No Comments »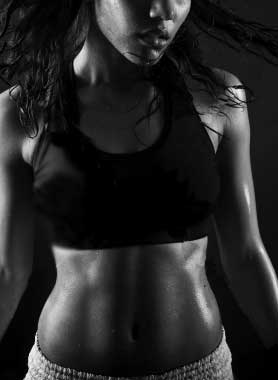 Summer is almost here and that swimsuit is calling your name. Fitness is emphasized this season more than ever whether you are seeking sun by the water or simply wanting to show some hard-earned results for summer events. We all know that good nutrition and cardio training trim us down, but it can be hard to figure out what suits you best or you may lose motivation from the same daily routine. Change up your routine with a change of scenery, venture off to another piece of cardio equipment, or maybe even combine a few machines for a fat incinerating session.  Here are a few of the most common avenues of cardio fitness and a look into their ups and downs to get you going.
1.      Running/Jogging/Walking
There is nothing like the actual air brushing your face as scenery whips by as you walk, jog, and run your body to new heights. Walking is great cardio exercise as it uses countless muscles in even a brisk walk, but building yourself up to running is amazing. A jog or running stride uses over 85% of your body's muscles to maintain your form, creating an unparalleled challenge and exponential growth as you continue to run. Your body will shape itself the more you run and eat healthy. Pros include constant change, countless running routes, no equipment needed besides good shoes, good music, and water for long runs as basics. One consideration you want to take into account is a runner's impact is said to hit the ground with 3-4 times his or her body weight, so you will want to truly learn good running form and start slower for heavier runners or those with weaker joints. You can always reduce the stress to joints from impact by searching out supportive shoes and softer surfaces, such as soft dirt or running tracks that are padded for those who need that extra support.
2.     Hiking/Climbing
If you are looking for more challenge from your run at this point, you can bring in unstable terrain. Go off road into winding roads and challenging trails or even vertically up a cliff or two. An ultimate cardio adventure for more advanced fitness seekers is combining hard runs with mixed terrain by hiking and climbing for a full body challenge that will sculpt and grow every muscle you are packing. However, be safe and always listen to your body. Walk before you run, and try small paths before jumping rock to rock.
3.     Treadmill
Treadmills are a great substitute for running when the weather is just not behaving, time is short, or you might want to control your environment a bit more. You will see countless treadmill veterans watching movies, reading magazines, and even sunken into a good book while jogging to make time really fly. A running pace will eliminate most of those options, but the pro to using a treadmill is the cushioned track, quick access to change incline and resistance as well as a typically controlled environmental temperature to allow you to stay cool as your body heat rises. Choose treadmills with an incline and push it up when walking slower to keep that challenge going.
4.      Outdoor Biking
Biking will add the outdoor benefits of fresh air, scenery, low impact exercise, and limitless challenge. Biking does use fewer muscles than running since half your body weight is supported on a bike, but you will typically last much longer with less wear on joints and from impact. The connection you make with the outdoors is always great, and the sunlight will fight depression. In general it is always a great idea to head outdoors when your circumstances permit. As your body grows faster, the more challenging is the exercise, and you will have just enjoyed yourself far more, which will keep you coming back.
5.     Stationary Upright/Reclined Bike
An indoor stationary bike is good for those who have stability issues, prefer an indoor, cooled, or safely heated environment, or lack the space or time for biking. An upright bike will give more of a challenge and calorie burn than a reclined bike as you are using more muscles; but for those with stability issues or need to start extremely safe and slow, reclined is the way to go. Indoor bikes require no equipment to use, is easy to use, and can be incorporated as part of a circuit for those advanced individuals; so don't write it off just yet, gym heroes. The challenge of any piece of equipment can always be increased
6.      Elliptical Trainer
Elliptical trainers are known for the oval pattern your legs make for the motion of the exercise. Benefits include low maintenance, a weight-bearing session, optional full body exercise, pre-installed programs, and quick resistance change with an easy learning curve. Pedals will keep your footing in place, and certain elliptical trainers also incorporate upper body resistance handles for a full body workout. Elliptical trainers are good for beginners, heavier individuals, and those with weaker joints, or can be combined in a cardio circuit for advanced fitness goers. The elliptical motion combined with upper body handles moving for resistance can be a bit awkward, so this machine is not for everyone as a daily choice; but there are countless cardio avenues to choose from. It's a great middle ground between a step machine and treadmill and definitely worth a day or two in the week.
7.      Step/Stair Machine
Step machines excel when it comes to firming your butt and toning legs as they lift your body weight with every step, and with that action comes a significant calorie burn. This is a very versatile machine as you can hold onto the railing and move slowly for those hard times or go hands-free and crank up the speed for an insane calorie burn and butt-toning session you will not soon forget. This is a great option for those who want the intense challenge of a long run without the heavy impact on joints and the choice to go hard or take it easy. A great daily option that will leave you sweating bullets in no time.
8.       Explosive Cardio Programs
Cardio programs include popular options like boot camps, cross fit training programs, P90X and Insanity DVD programs that all combine as many muscle groups as possible for maximum results. Explosive programs are always a must for advanced enthusiasts, but you can truly get hurt by not listening to your body. Always start slow and leave your ego at the door. Using multiple muscle groups does maximize results and speeds up what you see in the mirror and how you feel, but you are only as strong as your weakest muscle. During a push up you might have a strong chest, but you might have weak abs which are needed to stabilize you, so powering through the pain would hurt your abs severely but not your chest, as just one example. Build an overall level of full body fitness before going all out, and just listen to the signs your body gives you. You only have one body, so treat it well.
9.      Swimming
Swimming is an absolutely marvelous form of exercise as it combines recovery aid with a full body fitness session. When you swim a few laps, you are actually using every single muscle in your body to propel you or stabilize you in the water, making for a lot of calorie-burning potential. Swimming takes top rank in the world of cardio as the water cuts your weight by more than half, making this an exercise for any level of fitness, age, or relatively moderate condition. The cool water also doubles as resistance and a method of cooling your body as you exercise to reduce inflammation, allowing you to go longer and harder and recover faster. Challenge yourself in the water with short bouts of full blown speed, followed by a moderate few minutes to recover; and back to full speed you go, switching between slow and fast for your session. You cannot go wrong with hard training in the water, a complete win-win scenario.