Lilian Maina of Kenya: May 2012 Face of the Month
By
Ishira Kumar
| May 4th, 2012 | Category:
Face of the Month
,
The Mission
|
No Comments »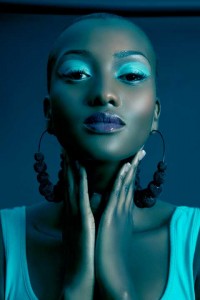 Our intercontinental Face of the Month Lilian Maina began her life's journey in Nairobi, Kenya, and then traveled between continents to start her modeling journey in California.  After finishing high school, she moved to Los Angeles, determined to start a career.  Although she didn't have an agency, she worked hard to network and soon began modeling for a few designer friends. "My very first modeling experience," she explains, "was when I first moved to LA and did a show for an African designer. I was nervous, but it felt so natural because I was doing something that I love!"
Ultimately, Lilian signed with the Pinkerton Agency, where she continues her journey, impressing others with her hard work and dedication to the industry.  "All of my experiences have been great," she continues. "I've had the opportunity to work with some incredible photographers and fellow models."
While Lilian's energy is strong enough to light up a room, her personal style is rather laid back—laid back but with one thing constant. "I always," she informs us, "throw on a cute pump."
Her favorite designers include Alexander McQueen, Oscar de la Renta, and Michel Kors.  Although, she adds, "I also just love anything I think is cute regardless of the brand."
On "must haves," Lilian reveals it's a little black dress and bronzer. "You can wear it with so many different things and go from day to night just by switching shoes and accessories . . . and I love having a glow on my face throughout the day."
Lilian at a Glance
Favorite feature:  My eyes
Favorite models:  Naomi Campbell, Tyra Banks, Iman, Jessica White
Favorite advice for young models:  Go for it.  Work hard. Take constructive criticism. Stay humble and never let anyone tell you that you're not beautiful.
Favorite philosophy:  I listen to advice and try to learn something new every day.
An attitude like that will travel well between any continent.
See the editorial of Lilian Maina, photographed by Viktorija Pashuta 838 Media Group (Not viewable on IE.)