When the Bad Outweighs the Good: Mila Hermonovski LAFW F/W 2012
By
Tehelah Lisett
| May 3rd, 2012 | Category:
Articles, Interviews and Reviews
,
Fashion
,
Runway
|
No Comments »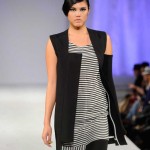 Mila Hermonovski from Project Runway Season 7 and the first season of Project Runway-All Stars premiered a new collection during Fall/Winter 2012 LA Fashion Week. Mila has an impressive background of assisting Calvin Klein as a design assistant. This show was Mila's chance to prove herself to the Los Angeles market again. Did she prove herself in the end? Well, yes and no.
While the collection wasn't mind-blowing, it didn't lack unwearable pieces. What was evident, however, was a lack of consistency. The show started off with the first model making a less than powerful entrance in a grey striped and structured dress that was reminiscent of something shown before. The first half of the show was a bit lackluster as the looks seemed to repeat themselves with similar architectural cuts on the same areas. After what felt like was more of the same and then more of the same . . . pow! A structured black blazer highly reminiscent of Helmut Lang circa '09 came down the runway. The RTW blazer was a phenomenal take on a praised collection that created a palate for more of the same from her. Hopes were high as the show progressed, and emotions were reminiscent of a theme park rollercoaster. Some pieces were really really good, and some pieces just didn't make sense.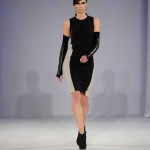 Mila wanted to create a different world of women's ready-to-wear clothing, one of sophistication, edge, and creative structures, while still staying modern and sellable. That was evident. What Mila was able to showcase that other LA show presentations weren't doing was playing with shape. But the key word here is sellable. Because at the end of the day after the work is done and the models are dressed, have you created a sellable brand?
The first course of action for any designer is to present a consistent collection. For example, 12 looks that work seamlessly together versus 20 that just don't is always the better choice. The second is fit. The audience is envisioning themselves in your clothing (along with stylists and publicists), so ensure that the clothes are tailored to fit each model's body. Perfectly! Lastly, presentation and styling will make or break your show. The gorgeous jewelry that Mila used for her collection by Sarah Loertscher was amazing. However, it did not match perfectly with each piece from her collection. Some worked, while some didn't.
At the end of the day, LA people want to see exciting fashion, and they want to see clothes that they will buy. The LA masses and beyond come to see LA Fashion Week season after season, rooting for the designers, and while some collections exceed expectations, some don't. We applaud Mila for having the guts to share a piece of herself with this collection, but a part of us wants more. And that same part of us feels that she could give it.
Click the image below to see the Mila Hermonovski Fall 2012 Runway and Backstage, photographed by Arun Nevader.