Adriana Winters – June 2012 Face of the Month and Editorial
By
Ishira Kumar
| June 7th, 2012 | Category:
Face of the Month
,
The Mission
|
Comments Off

on Adriana Winters – June 2012 Face of the Month and Editorial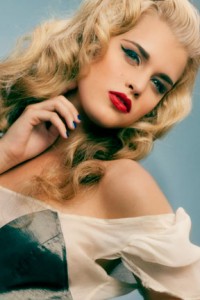 Our June Face of the Month could fit in with any group of typical Southern California teenagers.  But underneath her youthful look is a chunk of experience and abundance of ambition.  Adriana Winters grew up in Myrtle Beach, South Carolina.  "I like to say I'm from the South," she tells us.  "Modeling was always something I was really into.  I did a few small things in South Carolina and eventually signed with my first agency."  She met Ash Gupta two months ago and has shot with him and the team at 838 Media Group several times since.
She describes her personal style as fluid and malleable.  "It changes based on how I feel that day or that moment," she says with the flash of a dimpled smile.  "I could go one day wearing all black to indie chick, then a little spring dress the next. My style is girly and you would probably never catch me wearing just jeans and a white t-shirt, too casual for me."  Citing Christian Dior and Valentino among her admired designers, she says her all-time favorite is Marciano for GUESS.  And her "must-have" item?  "My favorite Victoria's Secret bra!" she adds with a chuckle.
Now living in Los Angeles, Adriana is signed with the Pinkerton Agency.  She's managed by Marina Masowietsky and, since she's not yet 18, her mother.  In fact, she credits her success to her mom, explaining, "She has always been by my side and supportive with my decisions. She goes everywhere with me and helps keep me sane when times get hard."
There are frustrations, of course, and she describes them this way:  "People mistaking my age for not having much experience. I've been doing this for a while, and my age has nothing to do with my knowledge of modeling and acting and my ability to work. Also, not being eighteen has a lot of restrictions as far as hours I can work."
Nevertheless, Adriana has put herself solidly on the road to success one shutter click at a time.  She lays it out like this:  "[In front of the camera] I'm alive. Right where I belong, and all the worries and cares in my life are gone.  There's no better place. What I've accomplished and where I have got so far in life I have achieved the old-fashioned way, which is hard work, long hours, and perseverance."
With determination like that, it seems Adriana will be making her mark for many clicks to come.

Adriana at a Glance
Favorite models:  Candice Swanepoel, Miranda Kerr
5 Adjectives that describe you:  Ambitious, funny, unique, caring, enthusiastic
Cats or Dogs?:  Both! I have cats and dogs and love them both.
Must-have makeup:  lip gloss
If you could only eat one particular food for an entire month?:  Fruit.  There's so many different types and not only is it healthy but also yummy and gives you energy.
Click the below image to see the June 2012 Face of the Month editorial, photographed by Devin True. (Not viewable on I.E.)