Alejandra G – Designer and True Shoe Aficiando
By
Jeff Linett - The Statement
| June 4th, 2012 | Category:
The Statement
|
Comments Off

on Alejandra G – Designer and True Shoe Aficiando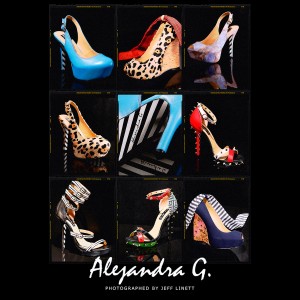 Although Alejandra's foray into shoe design positions her as a bit of a fashion outsider, the story of how she became what will soon be one of the most prestigious shoe designers is one of determination and persistence. Alejandra G is sure to beguile the fashion world with her brilliant mix of textures, colors, and drop-dead glamour.
She has brought her collections alive by putting into it everything she believes makes shoes unique and sexy. Alejandra truly believes shoes are the heart and soul of every woman's outfit.
The Los Angeles native was born to humble roots, but not for long, as her father's work ethic and success would set the tone for how she approached everything in her life. Although Alejandra has had much success as a television producer for BET and Telemundo, she still has many dreams she wants to pursue.
One of these dreams began about five years ago. Alejandra, being a true shoe aficionado, was inspired to begin sketching her own designs. True to her entrepreneurial nature, she began pursuing her connections to obtain interest for her sketches and did not stop until she obtained interest from Joe Ouaknine, a well respected shoe industry magnate and the owner of Titan Industries. Mr. Ouaknine agreed to meet with Alejandra, and she presented her ideas and sketches to him. The designs, Mr. Ouaknine thought at the time, were bold, beautiful, and ambitious but knew Alejandra needed to learn every aspect of shoe designing, from manufacturing to prototypes. Nevertheless, he was so impressed with Alejandra's talent and enthusiasm that he decided to take her under his wing. He made a deal with her. First, Alejandra would need to go learn about manufacturing and factories in China for a month, where she was to be immersed in the production process. Next, she would need to fine tune her design skills at the prestigious Ars Sutoria School in Milan, Italy. Mr. Ouaknine wanted Alejandra to experience the entire shoe design process and not just the glamour. Alejandra is destined to gain fame and a loyal following from the fashion industry for her exceptionally crafted footwear. The Alejandra G brand is a yet unexpected discovery, offering women that blissfully happy moment when the perfect shoe is revealed and adored forever.
A key aspect to the Alejandra G collection is the allure of the label's exclusivity. It is a niche brand of supreme technical quality that is entirely created with materials imported from Italy. Alejandra plans to position her signature label as a luxury brand that is run with rigorous personal involvement. Currently, Alejandra is designing for her eponymous collection while also drafting plans for future accessory categories as well.