THE HOUSE AT RIVERTON – Book Review
By
Lee Peoples
| June 4th, 2012 | Category:
Book Reviews
|
Comments Off

on THE HOUSE AT RIVERTON – Book Review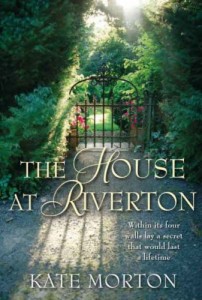 The House at Riverton, originally published in 2006, was Kate Morton's first novel and a best seller.  (See my review of her third novel, The Distant Hours in April's issue.)  Through her memories, ninety-eight-year-old Grace Reeves Bradley tells the riveting, touching, and tense love story of her life and the lives of the aristocrats who employ her.  The novel is set in England, primarily between World War I and World War II.  "Time is the master of perspective," Grace says, and she, having gotten the idea to tell her story to her grandson Marcus, who is suffering the loss of his wife Rebecca, seeks in her telling his healing, thus putting the secrets of her past in perspective.  She gets the idea to do this from Ursula, a movie director who visits her and requests her assistance in telling the story of the Hartfords and the house that plays such an important part in all of their lives during the summer of 1924, when at "a glittering society party held at the House, a young poet shot himself.  The only witnesses were Hannah and Emmeline, and only they—and Grace—know the truth."  Ursula takes Grace back to Riverton House and reawakens her memories.
Grace became a lady's maid at fourteen years old for the Hartfords' older daughter, Hanna, who was the same age.  Her life was inextricably tied up with the Hartford family, primarily the two daughters, Hannah and her younger sister Emmeline; and her own life with its hopes and dreams of a future were put on hold until years later.  An only child with no father, she was forced to leave her ailing mother alone to take the job.  It is a heart-rending story of love, adventure, and sacrifice . . . but with a satisfying ending.