A GIFT FOR MY SISTER by Ann Pearlman
By
Lee Peoples
| July 1st, 2012 | Category:
Book Reviews
|
2 comments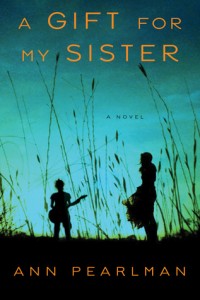 Told from the points of view of two sisters, A Gift for My Sister by Ann Pearlman is a novel of love and loss, conflict and triumph.  The narration alternates between Sky, the older sister, and Tara, some years younger and the child of her mother's second marriage after Sky's father dies at the age of thirty-four.  Now, Sky's husband dies at twenty-seven.  Never having been close, the two sisters fight their way from Los Angeles, California, to Ann Arbor, Michigan, their mother's home and where they grew up.
Tara and Sky, two vastly different sisters . . . are disconnected and estranged.  Sky, obedient and cautious, has planned and achieved the traditional dream:  married to Troy, with a three-year-old daughter, Rachel, living in a condo on a beach, and working at her dream job as an attorney.  Rebellious and impetuous Tara devotes herself to music, enters an interracial relationship with Aaron, an aspiring rapper fresh out of juvenile prison, gets pregnant in high school, and embarks on a precarious life as a musician.
Tara and her Black boyfriend are deeply in love.  They are the parents of a beautiful little boy about the same age as Rachel.  Sky comes to appreciate just how much her sister must endure loving her Black man.
This journey teaches both sisters the true meaning and appreciation of family and in the end serves to bring them close together.  You will, as I did, enjoy this fast-paced poignant story and its interesting mix of characters.  You will also experience sadly some of the stereotypes two people of different races in love can encounter.  You will cringe at the story Tara tells Sky of "driving while black" in the South.