Emmy-Winner Journalist, TV Actor, and Jazz Entertainer Jay Jackson Talks About His Journey Through Jazz
By
Kaylene Peoples
| July 1st, 2012 | Category:
Indie Hotspot
,
Jazz
,
Music
|
3 comments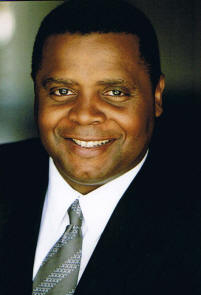 From Nancy Wilson (Vino Jazz Festival) to Barbara Morrison (Pips) to Oleta Adams and Poncho Sanchez (Barclay Theater), Jay Jackson has performed in shows with some of the biggest names in jazz.  But no matter whom he's singing with, his soulful, rich jazz voice is unique and special. Jay trained at the prestigious LoDuca Brothers Music Academy in Milwaukee, Wisconsin.  Performing in venues such as The Vino Jazz Festival, NOLA's, Red, White and Bluezz, and the Hollywood Studio Bar and Grille, Jay is becoming a familiar treat for LA jazz fans.
Jay Jackson is also an award-winning journalist and actor who is regularly seen on the hit NBC comedy Parks and Recreation, and has appeared on national television shows, such as The Oprah Winfrey Show, Dexter, The Mentalist, The Closer, and CBS News.  Jay is also seen in the blockbusters Battleship and Fast Five.
Interviewed by Kaylene Peoples
Responses by Jay Jackson

Jay, we met years ago when you were on assignment for KCAL News. I discovered back then that you were a jazz aficiondo, jazz lover, and jazz entertainer. I saw you perform in Culver City once and enjoyed your performance very much. I would coin it "music for lovers." Jay, you are a classic crooner. Tell me about your journey to jazz. How did you get started, and what and who were your inspirations?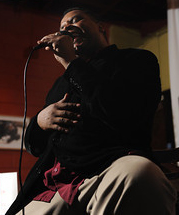 Well, I took piano lessons from the time I was 8 years old to 14 years old and became quite the little classical player. In high school I was deep into musical theater. I love the music until this day. The funny thing is that I hated the sound of jazz as a child. My father played it all of the time and I just couldn't stand it. But in college, I worked as a security guard and had to sit in a crappy little car watching a dirt lot. The car radio could pick up just one station, the jazz station. So night after night, hour after hour, I just started loving the songs and music. I loved when Johnny Mathis or Lou Rawls would sing. Miles Davis's ballads were the best because they really can take you away from the world you're in, if just for a few moments.
How would you define your music?
I'm really a soul and blues singer who loves to sing jazz. I think that's what makes my sound unique. People say I sound like Lou Rawls, but I totally do not hear it at all. I mean that's the greatest compliment to me, but still I don't even think I come close to that sound. Rawls is a singular sound that no one can sound like. But I think the soul Rawls sang with is what people hear in my voice. I just love the sound of jazz music and where it can take an audience. I guess I define my music as a romantic, soulful detour from the day-to-day moments of life.
Will you be doing a CD? If so, tell me about that.
Yes, I do plan to do a CD. It's going to be all original music that I've been writing. I'm really looking forward to it, just to see the reaction. It's hard to sell an all-original album because people do want to hear the familiar. But I write a lot like Irving Berlin—very simple, very catchy tunes.
You are also an actor on the popular TV show Parks & Recreation. How did you end up on that show, and what is it like working in TV?
I own a company called the Los Angeles Reporter's Clinic. We help people break in to the business of TV news reporting. One of my clients was an actor who needed a demo reel for a part she was trying to get. She hooked me up with her manager who started sending me to auditions. I only wanted auditions for newscaster parts. For Parks it was supposed to be a one-time appearance, but it has turned into a recurring role on the show. It's great working with high-level talent such as Amy Poehler, Rob Lowe, and the crew. The writers are the real stars and they make my character, Perd Hapley, stand out.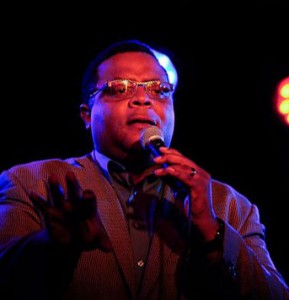 You performed a delightful original blues piece at the Indie Hotspot Silver Lake Jazz Series Launch on June 13, surprising everyone with your humor in song. As an entertainer and songwriter, would you agree that your acting abilities give you an edge as a singer?

Definitely. Acting demands that you drop your inhibitions. Singing songs with dodgy lyrics can sink or swim based on how confidently you perform them. So the acting plays a true role in the performance.
What are your feelings about the state of music in today's society, and how do you feel about where jazz fits? How do you feel about the music industry in general?

I think jazz and the music industry as a whole are greater than ever. I'm sure a few people may strongly disagree, but let me explain. If you're a performer because you love it, then look at all of the opportunities today to entertain. Mainly, YouTube, with its worldwide audience, is bringing musicians and fans together on their own terms. As you know, a relatively small number of people control the traditional industry. But that's changing . . . and fast. I don't do this for money. I think musicians have to shift from that mentality. When you love to entertain a crowd, give them a night to remember, that's most satisfying than a few dollars. Don't get me wrong. If I was offered a million dollar contract, I'd sign it in a hot second. But if I have to change what I do, I'd strongly fight against it.
What advice could you give to someone just starting out trying to forge his/her path in music today?

Practice, practice, practice. I have some of my best concerts practicing. The amount of time you spend practicing determines how you will be accepted when it comes time to perform publicly. I can instantly tell a singer who practices and one who doesn't. Also, get out there. Get to jam sessions as much as possible. Sit in. Do a few free gigs to get your name out there. Finally, it's not a sprint; it's a marathon. I'm 43 now, but don't expect any real money or stardom singing until I'm 50. But singing everyday, gigging every week, I'm going to be the baddest (good version) 50-year jazz singer around!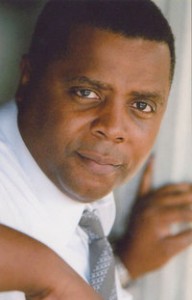 Who are your music heroes, mentors, and favorites (deceased or alive)?
Living, my heroes are Al Jarreau, Kurt Elling, Kevin Mahogany, Giacomo Gates, Barbara Morrison, and a colossal local talent named Sandra Booker. Deceased: Lou Rawls, Miles Davis, Luther Vandross, and too many to name. But if one stands over all of them, it's Shirley Horn. She, to me, was the epitome of jazz. Ms. Horn truly controlled tempo, pitch, attack, etc., in a way that was truly her own, but within the indefinable framework of swing. Oomph!
Highest High in your career?

Opening before Nancy Wilson at the Vino Jazz Festival in Simi Valley.
Lowest Low in your career?
Forgetting the lyrics to "Walk On By" in front of Burt Bacharach. Eeek!
Anything else you would like to add? Feel free to elaborate.

Well, I'm glad you're doing what you're doing for live music, in particular, jazz. People still love this music, and I believe a lot of folks are just waiting to grow into music. Jazz is truly for a sophisticated mind. In Paris, this art is celebrated on the level of Bach, Beethoven, and other classical geniuses. That's a culture that still celebrates artisans on the level we celebrate academics and now techies. Keeping music live and alive, which thankfully you do, really is a service to people who aren't quite sophisticated enough to love jazz, but getting there by virtue of what life hands them. So please keep doing what you're doing.
Visit Jay Jackson's website www.jayjacksonjazz.com to learn more.  Check out Jay's performance July 11, 2012, for the Indie Hotspot Silver Lake Jazz Series located at El Cid 4212 West Sunset Blvd., Los Angeles, CA 90029.  Doors open at 7:30 PM.  Showtime from 8:00-10:00 PM.
See the best of Perd Hapley on Parks & Recreation.