Enchant Me: The Secret World of Rouge Bunny Rouge
By
Shahada Karim
| July 1st, 2012 | Category:
Beauty
|
Comments Off

on Enchant Me: The Secret World of Rouge Bunny Rouge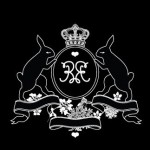 In a world of slick packaging and so-called miracle makeup, Rouge Bunny Rouge has set out to remind us of the reason we all started playing with makeup in the first place. The whimsical packaging and fairytale presentation transports us back to a time of innocence. Playing with Rouge Bunny Rouge makeup reminds us of the time when our eccentric aunt presented us with our very first tube of lipstick. There was so much promise in that tube of pink lip color . . . one swipe and we'd truly be a fairytale princess.
We asked the folks behind Rouge Bunny Rouge to share a little history about the company.
AM- When was Rouge Bunny Rouge founded?
RBR- Rouge Bunny Rouge was born in 2006. We wanted to bring a feeling of opulence and beauty to makeup. We unapologetically indulge in elaborate story-telling, because we felt that today's cosmetics lacked a certain romanticism and enchantment.
AM- What's in a name?
RBR- The brand's identity is an eclectic mix of Victorian-Era and Tsarist-aristocracy. With the help of makeup, we share the whimsical fairy tale of an Enchanted Garden and the characters that inhabit it.
Rouge Bunny Rouge represents a fantasy realm of playful sophistication with intriguing hints of danger; it whispers of romanticism and seduction, alluding to a more vibrant, magical way of living.
AM- What type of makeup lover is drawn to Rouge Bunny Rouge?
RBR- Our collection is for those who choose beauty over brand name or fad. We try to create a thoughtfully balanced, elegant palette of colors and textures that highlight every person's natural beauty.

AM- What is your best selling item?
RBR- In stores, customers often request our Big Lash Mascara AMPLITUDE, and our Liquid Foundation MILK AQUARELL. The award-winning Luminous Skin Wand is also a customer favorite.
AM- What's next for Rouge Bunny Rouge?
RBR- We have just released two long-lasting Matte Eye Shadows in "Bashful Flamingo," which is a semi-opaque pale powder-pink, and "Sweet Dust Seriema," which is a cool dusty mauve.
We're also launching our very first fragrance range, and a refillable palette concept.
You can find Rouge Bunny Rouge products online at www.zuneta.com.