Is it Healthy to Celebrate Plus-Size Fashion?
By
Elana Pruitt
| July 1st, 2012 | Category:
Columns
,
Talking Chic
|
11 comments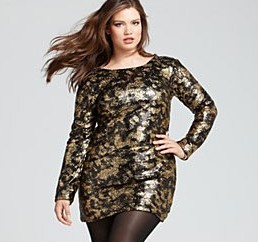 I finally saw the documentary Super Size Me. You know the one—a guy commits himself to the outrageous, risky experiment of eating a McDonald's meal for breakfast, lunch, and dinner 30 days straight. While I only recently borrowed it (for free!) from the library, Super Size Me first premiered at the 2004 Sundance Film Festival and was very well received by critics everywhere. In fact, I recently read that it was nominated for an Academy Award for Documentary Feature.
With wide eyes, I watched Morgan Spurlock—the writer, director, producer, and star of the film—stay firmly committed to this bizarre challenge even as his weight, energy, libido, and health quickly began to suffer. As he intended to do with this film, Spurlock overall proved how fast food can be physiologically addictive and physically harmful if consumed often. Obesity truly is a scary, growing epidemic in America, and it was interesting that the fast food industry was compared to the tobacco industry in the movie. It eventually took Spurlock about 14 months to lose the nearly 25 pounds he gained as a result of the experiment.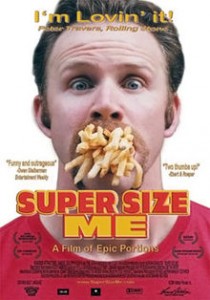 After I ejected the DVD from my computer, and just lay in my bed thinking about the film (and going over what I had eaten that day, happy it was jam-packed with fresh fruits and veggies), my mind immediately became fixated on fashion and how being overweight affects one's wardrobe.Then I really started to think about the fashion industry and how it is adapting to the increased number of overweight consumers, providing options for those who love fashion but could never wear the original designs from our ever-beloved brands.
There was a time when "normal" clothes were sold in one store and plus-size fashion was sold in another. I never felt comfortable with the division, as I didn't understand why a single shop couldn't have double X on the same rack as a small. (This division still exists—don't get me wrong—but the space is becoming narrower.) And honestly, I don't have the exact answer as to why it took so long for popular retail outlets to incorporate plus-size fashion on their grounds (The Gap, H&M, and Forever 21, just to name a few). What I do know is that the fashion industry is a business, and they want to make smart business moves. If obesity is slowly, yet quickly, affecting (infecting?) more and more Americans, then stores could lose business if they don't adapt to this collective weight gain. No one wants to lose money, especially not major fashion stores and brands that have the ability to increase profit by selling bigger clothes for bigger people.
Now please don't get me wrong, I love a united front. I don't believe in the "separate but equal" unspoken air I've felt as I walk past Lane Bryant or Torrid. But I will pose this question to all of you, no matter your size or shape: Does plus-size fashion make it easier to be overweight? I wonder if there weren't an increase of options for plus-size fashion . . . well, would the overweight population feel more inclined, or even inspired, to become more active and lead healthier lifestyles and fit into smaller "normal" sizes?  I know, and am friends with, several plus-size fashion bloggers and those who work in the fashion industry. I love that these amazing women are proving that beauty comes in all shapes and sizes. I love that there are more voices in the blogosphere, sharing unique perspective and proving that big can be beautiful. We know that a person can be overweight by general standards and still be healthy, but we also know that a heavier person is more susceptible to experiencing health problems should certain behavior not change, or get worse.
While Spurlock showed us how excessively eating fast food, in particular America's beloved McDonald's, can damage one's health, I am not writing this column to prove anything. Rather, I just want everyone to truly consider their health above all else. Monetarily, the fashion industry and big businesses will benefit from selling plus-size clothing lines. But what about the shopper? From personal experience, I find joy when going down a size or maintaining the same size over the years. I have experienced only frustration when going up one, or two . . . or three.
I do love seeing so many couture-inspired lines that can make a size 16+ feel sexy and fashionable. I still wonder, however, is it healthy to celebrate that plus-size fashion is now needed in our country?
I don't know . . . just a thought . . .