An Interview with Lalah Hathaway: A Modern Day Legend
By
Matthew Allen
| August 8th, 2012 | Category:
Indie Hotspot
,
iRock Jazz
,
Music
|
Comments Off

on An Interview with Lalah Hathaway: A Modern Day Legend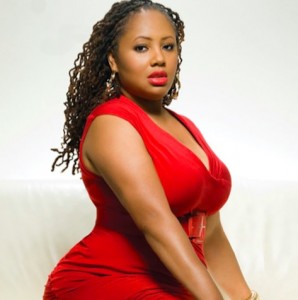 Lalah Hathaway had a dream. We all have dreams. The word "dream" itself implies that what we aspire to do or become is lofty. On the other side of that coin, it also means whatever that dream is it must be wonderfully perfect. In the era when Hathaway was growing up, children used to aspire to become astronauts, a seemingly glamorous occupation that actually requires an unmatched application of ingenuity, intelligence, discipline and nerves that few can achieve or sustain. However, for the few that do, the payoff of traversing the spectacular unknowns of outer space or gazing upon the surface of the planet from the weightless confines of a space shuttle is well worth the preparation and pitfalls.
For Hathaway, her dream to be a singer is not unlike the dream millions had to become space men, enduring unprecedented amounts of repetition, scrutiny, and luck; but once that voice is heard on a radio by its creator, that's a feeling as high and euphoric as walking on the moon's dusty, gray surface.
Her voice is a constantly evolving instrument that takes the form of any container you put it in, evident from her countless vocal credits for jazz cats, R&B crooners, and gospel heads. The exotic fluidity she exercises through her vocal chords defines her indefinable artistry. As the daughter of legendary singer/musician Donny Hathaway, her path to pursue music has been neither ideal nor easy, but for her, it was never in doubt. Singing was her top choice on a career list that was one item long. When asked when she first thought she'd be a musician, she replied:
I didn't ever start to think it. I never did not think it. It was always a part of who I was, a part of what I did, and so it never dawned on me that it was not something I would. I never had a when I thought, "Oh, I'll be a singer."  It just was always a part of what I would do. I thought about being many other things along with being a singer, you understand. I wanted to be a magician, I wanted to be a Solid Gold dancer, I wanted to be a comedian, I wanted to be a painter. There were a lot of things I wanted to do, but being a musician was always built in. Those were other things that I would do on top of being a musician.
For those on the outside looking in, it'd be easy—and lazy—to attribute Lalah's influence to the presence of her musician lineage. However, the ubiquitous presence of radio in her native Chicago proved perhaps more definitively persuasive. The potent and plentiful music of the Midwest during her adolescence proved a tipping point for Hathaway's quest.
Growing up in Chicago, particularly in the '70s and '80s, really helped to shape me as a musician: Earth, Wind and Fire, the Emotions, Curtis [Mayfield], my dad, Chaka [Khan], Herbie Hancock. I really grew up with kind of a lush, really buried colorful landscape of music. And now actually  . . . I was born and raised there, and spent more time in other places than Chicago—I went to college when I was 16, 17—but  I do still find the Chicago sound, just the sound of the radio can inspire the feeling, the sound and the vibe of Chicago, to me. It's an extremely specific thing. I talk to kids from Chicago all the time that understand what I'm talking about. You have to, sort of, be from there, spend time there, to understand what I'm talking about. There's a certain vibe about Chicago radio in the '70s and '80s that cannot be denied. I mean, we had the house-party mixes; we had the Friday night mixes, which a lot of cities have, but there's such a distinct feel which I carry in me like the rest of the artists from Chicago. I'm very proud to be from Chicago and that reflects in our art. I find that across the board with artists, sculptors, with painters, designers, jewelry makers, from being in that part of the country, for sure.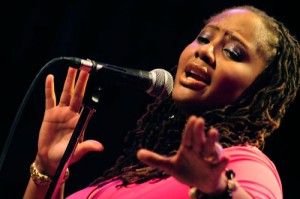 In addition to those melodic Illinois prophets, Lalah gravitated to several female singers for education. She extracted elements of Whitney Houston, Chaka Khan, Dolly Parton and Joni Mitchell, among others, into her growing canon of vocal references. By the time she graduated from high school in 1986, 17-year-old Hathaway was juggling her time between Berkeley Music School in Boston and recording sessions in Los Angeles. When her eponymous debut album was released in 1990 via Virgin Records, Lalah was having a difficult time reconciling her desire for artistic fulfillment as well as her pursuit for commercial prominence.
To be completely honest with you, a lot of that stuff at this time is a blur. It happened so fast, and I was in school at the time. I can tell you that during that time I was really, sort of, getting into music on a really deep level. There were moments when I really had a lot of despair about wanting to be, like, this big pop star. When I got to Berkeley, I had a Janet Jackson record, a Pat Metheny record. To me, Janet Jackson, that was the ultimate. I was like, "This is what I'm gonna do; I'm gonna be up there dancing with the people; I'm a gonna be on TV shows." In my mind, I started to have a conflict in terms of what my goals were and what music was actually starting to really fold out to mean to me. When I left college, all my friends moved to New York, they were all playing in clubs. I went to school with Javar Jackson, Delfeayo Marsalis, Roy Hargrove ( the one who came to be the "Young Lions" in the world of jazz), and I felt a little bit like a sellout because I had to move to LA. People told me, "You have to move to LA; the music industry is in LA," and I would say, "Yeah, but all the musicians are in New York." I had a really narrow view of that. Looking back on it is kind of funny, but I'm glad that I had that view because I was so serious about music, my little mind could not wrap itself around being a real musician and being a commercial success. It's a hard thing to do, and I'm still working toward that. But I didn't have a total understand of it at that point.
That push and pull continued through her second LP, 1994's A Moment, which saw her collaborate with SWV producer Brian Alexander Morgan in an effort to give her more crossover exposure. All the while, Hathaway had been collaborating with a cavalcade of musicians that helped her fill the artistic void she was denied at her label. She sang (arranging the vocals as well) with masters like Grover Washington Jr., Pete Escovedo, and Me 'Shell Ndegeocello, who all heard something in her voice that the Virgin execs did not:
You know what's crazy? I started getting calls, and Grover Washington called me, and Marcus Miller called me, and Joe Sample called me and George Benson called me, and all these people started calling me. It didn't not occur to me that . . . looking back at it now, I can see that they heard something that they wanted to hear. At that point in time, I think I was just kind of going along  because in my mind, and what is still true to me, is I will do, really, whatever I want to do. If I like a track and I want to sing on it, or somebody wants me to sing on it, I'll do it. It doesn't matter what the genre is.  I'm on a lot of jazz records; I'm on a lot of gospel records; some rhythm and blues records; some more ambient type records. So, as much as I can do, I will. And I'm glad that at an early age, I began making these recordings that stretched out into different areas.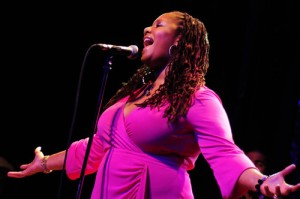 One of those musicians she's particularly grateful to is bassist Marcus Miller, who'd provide a template for her career to this day.
He's one of my favorite people in the world. His birthday is coming up. I learned a lot from Marcus; I continue to learn a lot from him. I've been in and out of his band for over 20 years. I've met some of the most incredible musicians that I've ever played with. Watched him lead his band; watched him be, like, a full, total musician. He's one of those guys like Prince. He plays everything: he plays drums; he plays saxophone; he plays keys; he plays bass. He does everything well. Just watching him has absolutely made me a better musician. He's doing that thing that, as musicians, we want to do. He can have a gig with Miles Davis and Luther Vandross and Herbie Hancock and Chaka Khan and George Duke and Roberta Flack. He can move because he's a well-rounded musician, which is what we strive to be.
That thirst to be well-rounded led Lalah to a turning point in her career. Free from her contract at Virgin, she briefly signed with GRP Records in 1999. Through her relationship with Miller, she became acquainted with famed pianist/composer Joe Sample, leading to their joint recording of The Song Lives On. No longer concerning herself with fulfilling a major label's image, Hathaway was able to stretch her voice to new dynamic plains. As a result, her collaboration with Sample takes its place among Wilson/Adderley and Vaughn/Armstrong as one of the great vocalist/instrumentalist recordings in jazz history.
One of the songs on the album was "For All We Know," which immediately drew comparisons to her father's famous rendition. The connections made between the two are inevitable and complementary. Lalah has recorded new interpretations of her father's songs as a guest vocalist over the years, but doesn't feel the need to do it on her own records. I asked if she ever got tired of being asked about Donny. Her answer was understandable:
Yes. [Laughing] Conversely, I never get tired of talking about my dad, because I'm a musician and this is what I do, and so I could talk about him forever. But I do wish that people had something else to talk about. Since [I was] 16 years old, I would go do these press days where you go sit and, like, 18 people would come in and ask you questions, and there was a point, in my early 20s, that I just started to make flash cards with the correct answers to those questions. The questions have gotten more varied and more interesting; sometimes people act crass or they forget that I am his actual child when they ask me those questions. I never get tired of talking about him, but sometimes I find people's questions kind of pedestrian and sort of already in the bio. You know what I mean?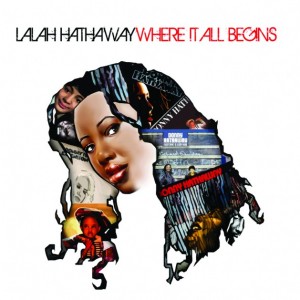 Being the offspring of a musical icon is a burden not so easily understood by most. It is for that reason that her participation in 2004's "Daughters of Soul" tour was a crucial decision for her. Fresh off the success of her Outrun the Sky LP—featuring her sultry, chart-busting take on Vandross's "Forever, For Always, For Love"—she shared the bill with Nona Hendryx, Simone, daughter of Nina Simone, and Indira Khan, daughter of Chaka Khan.
Indira's one of my good friends. We're both Sagittarius and we're both crazy. It was a really invaluable experience to me talking to other kids like me. It's a strange thing.  I can't really explain it. You'd have to be one of us to really get it. One thing that I did find interesting, though, is that they are the daughters of mothers, iconic mothers, which I can't even imagine. Because I am the daughter of an iconic father, I think it's a little different for me, because I was not expected to be raised up in his image, if that makes any sense. I think as a woman, when I showed up, people really didn't have an expectation other than that I'd be good. I think if I was the daughter of Chaka Khan and singing, it might be a little different.
Today, Lalah is enjoying her most successful period as a solo artist. In 2007 she became a part of the re-launched Stax Records, a label she says is "synonymous with soul" and is "embedded in me genetically." Her album Self Portrait was largely self-written and produced, giving her the feeling of recording a debut album all over again. Her continuing exploration of low register emoting struck a chord with the public, leading to a larger following. Speaking of her latest offering, last year's Where It All Begins, she feels it's her most complete statement to date, an album closest to finding that middle ground between commercial success and artistic fulfillment.
You want to be accessible; you want people to understand it. Ultimately what I'd like to do is do what I [currently] do and have a million people embrace it, or a billion people embrace it. Certainly, artists historically get to do that: Adele gets to do that, Kanye West gets to do that, Beyoncé gets to do that. Not all artists are afforded the same level of visibility. Just happens to be what it is. Point blank, that's the way it is. Sometimes you're standing in line at the movies and someone comes up and they get to cut the line. That's just the way that life goes, and I understand that. That's not a problem. But it must be nice for artists like Adele to be able to, outside the box, say here's my product, let's have six million listen to it and you guys let me know which one of you like it. Black artists don't really have that [chuckles]—let me say "non-pop" artists don't have the same opportunity. But if I'm doing what I do and I get to go in front of them and they come back and say, "Ok, we like it," then that's fine. The playing field is very narrow, and that's the part of the whole scope of life.
At 43, things are only getting busier and more varied for Hathaway. In 2012 she contributed to groundbreaking albums by Robert Glasper, Esperanza Spalding, and Frank Ocean. She says she'd like to work with John Mayer, Wayne Shorter, and The Neptunes down the line soon, proving that she refuses to allow herself to be put in a box. In fact, she revels in the idea that her fans all have different views of what her sound is. But she wouldn't dare try to tell people what she thinks it is.
The way I view things is so the way I hear them. It's really from my own experience. I can hear things in a lot of different ways and I really feel that most people hear and see art through their own lens. So it does me no service to limit how you see things by telling you how I see things. I'm already interested in how people perceive my art and how they perceive what I do. I hear everything: "Oh, you're a gospel artist; you're a jazz artist; you're a neo-soul artist; you're a pop artist; you're a blues artist; your sound is low and sultry."  I hear so many different things, and people really are set where they hear things because they're filtering things through their own lenses, and I really prefer that. It's limiting for me to tell you what I think it is.
Check out iRock Jazz!
Check out the EPK of Lalah Hathaway's most recent release Where It All Begins.