COINCIDENCE IS GOD'S WAY OF REMAINING ANONYMOUS By Gloria Loring
By
Lee Peoples
| October 8th, 2012 | Category:
Book Reviews
,
Non-Fiction
|
1 Comment »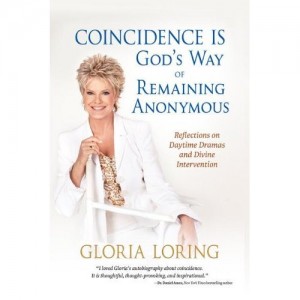 Coincidence Is God's Way of Remaining Anonymous is Gloria Loring's way of validating God in her life.  When her son was diagnosed with diabetes, she joined JDF (Juvenile Diabetes Foundation).  Attempting to offer her support to JDF, she came up with the idea of compiling a cookbook made up of recipes contributed by her fellow cast members of Days of Our Lives—where she at the time played Liz Chandler—as a way to raise money.   Ultimately exhausting all avenues to the $40,000 she needed to publish the cookbook, she began to despair.  However, one day as she answered her call on the set of Days of Our Lives, she looked down and saw a card.  She picked it up.  On it was printed, "Expect a miracle."  Shortly after this "coincidence," she met Ben Rogers, who helped in raising $42,500, $2,500 more than the $40,000 she needed to pay for the printing of the Days of Our Lives Celebrity Cookbook, Volume I.  Following this, she proceeds to document a number of coincidences as proof of "God's Way of Remaining Anonymous."
With eloquence and humor, Loring takes readers on a quest for a deeper understanding of life's journey and the role coincidence plays in all of our lives, revealing that even the most difficult circumstances can be beneficial.  Her experiences may be just the evidence readers need to begin watching more closely what they are attracting and what they are running from in their own lives.  While coincidences may appear to come out of the blue, Loring suggests that we can all play a starring role in their appearance.—Excerpted from a published review
Gloria is a singer and songwriter, an actress, and the mother of music star Robin Thicke.  Throughout her book are lyrics to songs she wrote, often with the help of others.  The songs are available on her CD, Turn the Page, available at www.GloriaLoring.com.