Erica Cisneros – Nov/Dec 2012 Face of the Month
By
Ash Gupta 838 Media Group
| November 20th, 2012 | Category:
Face of the Month
,
The Mission
|
Comments Off

on Erica Cisneros – Nov/Dec 2012 Face of the Month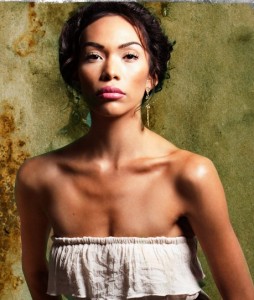 Our Face of the Month Erica Cisneros grew up in the mile-high city of Denver, Colorado.
"I emailed my info and pics to a local agency in Denver," she explains, "and they soon helped me get interviews with great agencies." After signing with LA Models, Erica relocated to Los Angeles and embarked on her career as a model.
Living in LA has brought its share of peculiar moments, she tells us, including this memorable pick up line she received soon after moving here:  "I can make you famous, I know everyone in this town."
"Um . . . that's ok," she quickly answered, "you're a club manager. Thanks."
Erica met Ash Gupta and the team at 838 Media Group, where they quickly noticed how beautifully she photographs.
Her modeling has extended to the runway as well, where she recently walked for LA Fashion Week. "It's a crazy high I get when I'm dressed in something so unique and beautiful and all the camera flashes and eyes in the audience are on me. I love it!"
As a little girl, Erica wanted to be an artist.  Her artistic streak carries over to her personal style:
"My style during the day is usually leggings, fitted colorful tank tops, a hat, and Nikes while I go on my daily walks and hikes throughout the hills and the heart of Hollywood. In the evenings when I'm out at dinner with friends I love, wearing dresses and high heels with a clutch and minimal jewelry." Her must-have items of makeup include concealer and lipstick (usually pink or red). Favorite designer is Lloyd Klein, and favorite model, Kate Moss.
Before her current pursuit, Erica spent time as a makeup artist and freelance hair stylist. "I always wanted to have a job where I could help people," she says, "Making someone feel beautiful on the outside gives them a boost of confidence that really goes a long way."
There are challenges, however, but she faces them with an effective attitude which she sums up as follows:  "It's never too late to try something new with your life, such as modeling, as long as you are passionate about it and will do it for the right reasons. Most importantly, never give up."  She follows this up with her personal motto, "Treat people how you want to be treated."
A positive motto like that may have been born in a mile-high city, but it's definitely welcomed in our city by the sea.
Erica at a Glance
5 Adjectives that Describe You:   Sarcastic, sensitive, creative, helpful, and unique
Celebrity Crush:  Charlie Sheen. He's definitely a bad boy ϑ
Superhero Power:  I would love to read people's minds
Book Character You'd like to be:  Anastasia Steele from 50 Shades of Grey