Evander Holyfield and the Silver Age of the Heavyweight Division
By
Eveline Morel
| November 20th, 2012 | Category:
L.A. Art & Culture
,
Sports
|
Comments Off

on Evander Holyfield and the Silver Age of the Heavyweight Division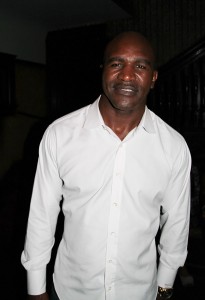 Evander Holyfield, one of the last heavyweight boxing legends, recently celebrated his 50th anniversary and announced his retirement.  Looking at his collection of boxing memorabilia on display at Julien's in Beverly Hills felt like being hit with three decades of boxing history all at once—exciting, yet slightly overwhelming, and a slight tinge of wistfulness.  Celebrating his career and accomplishments was a reminder of how much boxing is part of our cultural history, living proof of the American dream at work:  If you work hard, improve your technique, have undying belief in your abilities against all odds, you, too, can rise to the top and be the Champion, just like Rocky Marciano, Muhammad Ali, and Evander Holyfield.   Muhammad Ali, Evander Holyfield, Mike Tyson, George Foreman, Sugar Ray Leonard, Floyd Mayweather, Oscar De La Hoya . . . they're our modern heroes, single-handedly battling it out in the ring, pitting brute force against technique, bravado against intellect.
As I talked with Evander Holyfield about how the sport has evolved over the years, he reflected that it has become largely money-driven, and he laments the disappearance of amateur boxing from the public view. "There are no more amateur clubs, amateur boxing has nearly disappeared, there's no place where the public can watch amateur boxing anymore," he says.  "Boxing is now driven by big money.  People watch pro boxing on TV.  Even on the Olympics, there is very little amateur boxing.  We must change that; amateur boxing is important for bringing up talent."
Television, a major factor in the evolution of this sport, took boxing from its small neighborhood, ghetto origins to globally-televised mass events:   From a mob-controlled, live attraction with a local audience in the 30s and 40s, it became a cultural pastime as television ushered in the golden age of boxing during the 50s, with fans and revenue streaming in. For the next two decades, boxing remained the most popular sport on TV.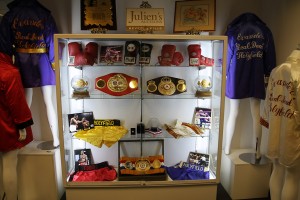 With the fevered excitement over Muhammad Ali and the advent of Mike Tyson, boxing's glamour division brought a riveting spectacle.  As network coverage of fights moved to cable and pro boxing coverage of major fights migrated to pay-per-view during the 90s, boxing's crowd appeal and popularity suffered, as the audience was whittled down to hard-core fans.  Heavyweight boxing is on the decline, the Klitschko brothers reign as undisputed (and unexciting) champions, and there is a shifting public attention towards lighter protagonists, like Mayweather and Pacquiao.
Holyfield made it clear that he was not giving up on boxing, just choosing to do something else.  "I am grateful for being here, and for having a boxing career for 40 years . . . 40 years, that's a long time to be doing one thing.  That's the longest time I've done something," he says.  "I want to show that just because you make mistakes it doesn't mean that you have to give us on yourself.  If you don't quit, you can be a winner." 
The magic dust that was sprinkled over legendary fights like Ali-Frazier, Bowe-Holyfield, Holyfield-Tyson—they seem like dreams of a distant past . . . Looking at ESPN's list of the top 50 boxers of all time, only about 10 of them are still active.  The rest are either retired or deceased, a poignant reminder that everything changes, nothing stays the same, new talent will rise, and legends will continue to live on.
Click the image below to see highlights from Evander Holyfield's 50th Birthday Celebration, photographed by Kaylene Peoples.