Interview with Nuvula Designer Rebeca Victoria
By
Eveline Morel
| November 14th, 2012 | Category:
Articles, Interviews and Reviews
,
Fashion
|
Comments Off

on Interview with Nuvula Designer Rebeca Victoria
Interviewed by Eveline Morel (Bolded)
Responses by Rebeca Victoria

How did you start designing? Are you still designing with your sister, Vanessa? Did you go to fashion and/or design school?
Yes, we work together on every collection. We have always been involved in the arts, and in making clothes, but we wanted to merge art, fashion, and storytelling in one creation. We also wanted to offer a great range in design possibilities, and believe in doing it responsibly by using sustainable fabrics as much as possible.
Rebeca attended the Art Institute for multimedia and graphic design, and took courses at Parson's in New York. She has actively worked in graphic design and fashion for over six years.
Vanessa attended the New York Students League and has designed clothes since an early age. She has worked as a designer for Nuvula for five years. We have both worked and produced shoe designs, jewelry, and fashion design in various capacities for over ten years.
We both learned basic design and pattern-making from our grandmother.  We were raised by our grandmother, who used to be a professor of pattern-making and a dressmaker for many years in Colombia.
When did you launch your collection; when was Nuvula founded? Did you launch it in LA?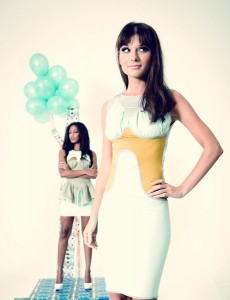 We launched our first collection in December 2007 in New York. Then we moved to California in 2009.
It seems like your most recent collection, S/S 2013, is more wearable. In many ways, it seems less theatrical. You have a story behind each collection. What is the story behind the spring 2013 collection?
This collection pivots around an "origami" style, pleat technique we have been studying for a while. A roughly-woven, burlap-type rayon woven fabric is used in most of the garments and folded in this Japanese technique to give structure and texture to a variety of corseted tops and dresses.
Long, below the knee pencil skirts complete many of the corseted tops that are accentuated with the high waist and flaring at the hips.
Our inspiration comes from a fascination with armored costumes, and desire to always create clothes that represent a strong and unique woman.  Also, the infinity of influences nurturing our creative process gave rise to a look that recalls to us a retro sci-fi film from the 1960s. Silhouette inspirations from the 1950s pin-up era and a few freer and more airy A-shape cuts from the 1960s were also part of our inspiration for this season's silhouettes.
We also continue to explore and experiment with knitted bamboo dresses, accentuating the waist, breasts, and hips and delineating the seams with a contrasting binding. As always, no animal products are used at any point. All-leather–like materials used were vegan leathers and were lined with bamboo fabric for freshness.
Have you always lived in the US?
We were born in Colombia and moved to New York when we were around 16 years old.
Your designs are also eco-conscious, as far as fabrics go. How and when did you decide to be sustainable?
We are and have been an eco-conscious, eco-friendly company from our early beginnings.  Using sustainable fabrics at the heart of our soul, we strive to maintain great integrity in the use of green materials and a thorough knowledge and supervision of the entire manufacturing process. Most of our T-shirts and garments are made in either bamboo, modal, micro-modal, and rayon; likewise, we only use vegan or artificial leathers and minimize the use of polyesters. We use bamboo, modal, rayon, leather vegan, and limit our use of cotton, which is more toxic to the crop land due to pesticides and fertilizers used for farming in general.
No animal products are used at any point in the process. We abstain from using any fur-like material in our collections to discourage and diminish the public's appetite for fur. One of our main design concepts is to reinvent what is generally known as the "staples" of fashion, deconstructing and expanding their use. We are constantly trying to find unexpected relationships between lines and new ways to partition a woman's silhouette in a way that is refreshing, sensual, and compelling.
Our T-shirts and sporty tops are used as the canvas or medium to tell stories with original illustrations and poetry (printed only on the inside of the garment), or short illustrated plays, as in theater.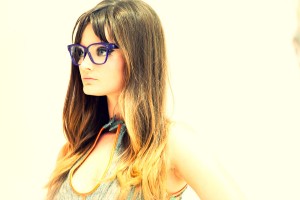 Finding a balance between a rich use of color with a high level of sophistication is another important goal in our designs. The brand's style and designs have been recognized as avant-garde in many aspects, but we also want to evolve along with the most interesting and compelling trends that emerge each year, reinterpreting them in our way: reinventing existing forms, contrasting fabrics in unexpected ways, oftentimes drawing on centuries-old elements and designs and hybridizing them into our time.
One of the conditions that we set to launch the brand was to create something that had a social and environmental value and that could serve as an example to other designers and educate the public as a consumer.
Do you manufacture in LA? Is this a conscious choice for sustainability reasons, or is it simply more of a logistic choice?
We manufacture part in Los Angeles and partly overseas and South America depending on the product.
What are the goals for Nuvula over the next few years? Are you looking at more mass-market distribution, and/or are you interested in being a boutique line? How do you see the brand evolving?
We're in the process of developing our Fall/Winter 2013-2014 collection. Our aim is to dive into these fascinating eras even more with our next collection.
We want to push ourselves even more in our use of sustainable fabrics and in the pursuit for the perfectly sustainable garment. We hope to show our work in the next round of shows for January/February in New York, Vegas, and European trade shows. Hopefully, we can open new accounts and stronger distribution in France and Germany. We hope to get better, to break new ground, and to expand our customer base both here in America and around the world. We also hope to continue to use cloth as canvasses for poetry, expression, and positive change. We also hope to be able to compile our illustrations and poetry into a beautiful book very soon and thus honor the literary muse in its traditional form.
Check out the fashion installation held at Siren Studios during Concept LA Fashion Week, photographed by Will Taylor. (Images courtesy of Nuvula.)