LA ArtCore, Unique Artist-Driven Organization, Celebrates Its 32 Years
By
Eveline Morel
| November 13th, 2012 | Category:
L.A. Art & Culture
|
Comments Off

on LA ArtCore, Unique Artist-Driven Organization, Celebrates Its 32 Years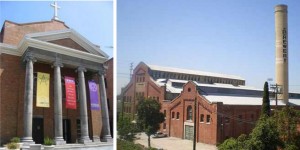 With two galleries, one in Little Tokyo, the other at the Brewery Annex, LA ArtCore has been a quiet but powerful force for the last 32 years in developing and supporting the LA art community.  Here's a recent conversation with Alex Slato, Development Director at LA ArtCore, about how the organization is unique in its mission and programs, and its current challenges.
How did LA ArtCore start?  What was the idea behind its creation?
LA ArtCore started 32 years ago. Lydia Takeshita, the founder of LA ArtCore, was a teacher and art professor at Cal State LA, and upon her retirement, Lydia wanted to continue to help her students develop after graduation. She would mentor, consult, look at their work, at their studio, and so on. There are far more artists in Southern California because of the amazing amount of great art schools that we have . . . a ton of artists coming out of college on a yearly basis . . . and the question is "What happens then?"  Lydia used part of the Cal State LA Nonprofit for a few years as an extension, (and) then started developing galleries for the artists to exhibit.  Since then, LA ArtCore has had a number of different addresses, but we stayed, finally, at two galleries. But it's always been about the same idea: to give chances to artists to develop their career.
Do you think LA ArtCore has evolved from its overall mission over the years, since 1979?
This organization has always been managed, focused, and geared towards the artists. Instead of the public being the main focus, the main focus is the artists. Our mission is focused on giving opportunities to the artists. That's one thing that I think LA ArtCore is never really going to change too far from.
But if the artist is really the epicenter of this, and the nucleus of what we call art world, if they're the raison d'etre, everything else circles around it.
What has been evolving is our education programs. We've been re-ordering the programs that we have,  and we've been growing into a broader institution, in a sense.  We have an international exchange show for the last 14 years where we send LA-based artists to Korea, Thailand, Japan, and Italy, and receive artists from those countries who exhibit here.  We also have educational career advancement shows or mentoring shows where teachers and professors exhibit and prepare a show with their students, with the idea that they're all working together on a show.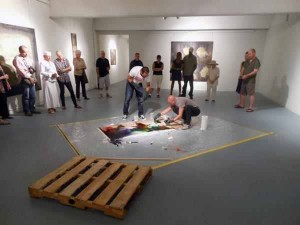 Then we have the multi-ethnic programs, where we're really very strong in trying to include the diversity of Los Angeles . . . even though we're in Little Tokyo.   And then we do our lecture and workshop programs, we have guest artists discussions and workshops, education programming workshops, continuing education, art appreciation classes and workshops geared towards adults.  We have a collectors' guild now forming, we've had a very successful summer camp, and have artists and educators to conduct all these programs through the summer.
And something that we've been doing recently is the guest curator shows . . .
It's so interesting that anyone has a program for developing curators.
In fact the Fabiana Cruz show is part of the curatorial mentorship shows.  We have Fabiana Cruz, who's an emerging artist. Our guest curator is Maria Carlotta Perez, a collections manager of a private collection in New York.  It's a very well-known collection in New York City, but she's never had a lot of curatorial process outside of that.  We teamed her with Alma Ruiz, who's a senior curator from MOCA, who's her curatorial mentor. I've seen the growth, how every one of them benefited. What we're trying to achieve is to also give opportunity to other people that could support the artist or give him feedback, or have exchanges with the artists, in a way that they all produce something better.
What is the selection process for the artists you show?  With so many artists in LA, that also must be one of the challenges, no?
Yes and yes, we have two shows a month, so we have 24 shows a year.  Yes, it's a challenge, but we have more opportunities than most non-profit galleries: we do solo shows, group shows, tandem solo shows. . . Everything comes into the organization, is reviewed by our curatorial peers and our chief curator, which is Lydia Takeshita; and through that process and that review, the shows are done.
Not every show is just a general show where an artist can come in and make their own statement, because we have different themes as well. In the past we've done a visually challenged exhibit, so the only people that were selected for the show were people that couldn't see, or saw very little.  We also did a show on self-taught artists, so out of everyone that's sending things in, we focused on the artists that never went to school and taught themselves.
Everyone has different selection criteria. Many galleries select artists that would appeal to their core collector base. You're less focused on an artist's salability . . .
We don't sell.
You don't sell?!
We don't sell. We provide the opportunity of selling.
The artists are able to represent themselves or find a friend that does that or will appoint somebody. We can oversee and make sure they're not doing the wrong things, make sure that they know how to make a receipt, or whatever they need to do. We provide all of that to them.
So you provide the framework, but you're not the agents. This is different from most galleries.
. . . We're not an agent. We provide directives, advice; and if there's a situation where the artist is not an experienced salesman, we let him know.  If they need a contract to get paid in parts, we help them. We provide the template so they'll not be ripped off. So our commitment here is to make sure that they're trained, and whoever's running the sales part, they have the knowledge of what to do and what not to do.
So the gallery doesn't make a commission or percentage of the sale?
We get a donation from the artist. It usually depends on how he does.  But we don't have a fixed price. We don't have a real commission based on sales.  What we do have, and provide, is a list of core audience and core members. Then we receive a list from them.  We help them design the invitation card, we do that in-house, we do the mailing in-house; so we become this place of support for the artist.  And it's been like that for a long time.
So one of the ways that LA ArtCore is different from other programs is how broad it is.
You have an institution like us, we build the artists, we train the curators, and we give everybody an opportunity.  The other option is an institution where you only show a few exhibits a year under the stamp of one person who's a chief curator, or the curator, and that's it. Or you have another focus, which is the private sectors, where you really are looking for your audience satisfaction.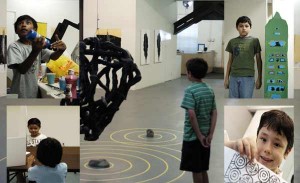 Whether it's a museum, or a for-profit institution, their main focus is not really about the artists. It's really about the audience, the patrons, or the curator. We pay attention to the artist. Not that anything else is not important. We believe in the audience; we believe in the curator.  But we believe that the most important thing is actually the development of the artist. That's our difference.
Another thing we're doing now is adding the collectors' guild, and to enhance the audience that we have by doing different types of lectures on different types of collecting, and different types of art.  So when we're talking about self-taught art, we'd try to find self-taught collectors, and so on.
So are there certain criteria to determine if artists are "showable"?
It's very hard to put criteria . . . we've discussed this as a group . . . and in board meetings many times. We felt that if we had to put filters, then we would really not be giving opportunities; we would be betraying what we're about.  We do not judge quality. It's not up to us to judge if you're good or not.
But we do want to work with artists that are committed to working in their career as an artist.  And of course, many don't have the opportunity to do that as their only job; but we really want to show artists that are working at least every day of their lives—at least to some degree—on their work.  When we can identify that they're really serious about it, then they really become part of that list of people that are then chosen for shows.  So if you come out of the street and say, "Hi, I'm so and so; I paint every other Sunday, and I would like to exhibit here," most likely, you wouldn't, not unless your teacher selected you to come and do a mentoring show.
It's really interesting. So, at some point, isn't there a choice being made?
I think the choice is made by the spectator.  If we want to talk about what's good art and bad art, I remember when I was growing up, the very first year I saw Basquiat people hated it.  And then it became an acquired taste, or he was discovered as a genius . . . but at one point in time, he wasn't considered good . . . We keep very close opinions on what we show here, but we do make sure that you're committed to an artistic career.  It's probably one of the biggest filters we have in that you have to be working, you have to be committed. It's not just a hobby.
So what are the major challenges you see for LA ArtCore, as an organization?
The challenge, like any non-profit organization, is to get resources to continue operations and to be able to stand behind the mission.  When you don't have retail, and when you're focusing on an artist versus an audience, that's a challenge. I came in last year and we did our very first donor campaign call. We had benefactors and individuals that give us money, but we never really did a massive campaign. And this is really funny . . . our main donor . . . guess who it was.
Lydia?

Artists!
We raised half of our operations budget last year thanks to the artists:  the good artists (I'm being a little facetious here), the bad artists, the accepted artists, the famous artists, the starving artists, the successful artists, or however you want to call them. They gave us the money for half of our operations. Some gave us $5,000; some gave us $500; some gave us $50; some gave us $10 and told us they could be as a volunteer for 10 hours.  So this is really one of these institutions that [are] really artist-driven.
What are your ties with the art schools? Do you have any ties with other school besides Cal State LA?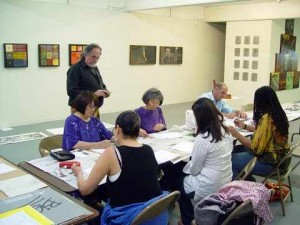 We've been building bridges with high schools, especially in the last year.  And hopefully in the next year we'll be enhancing our communications and collaborations with universities.  But we are a small organization. We're just really good because we managed to figure out how to do a lot of things with few people in the staff and not a lot of resources.  Parnay and I were thinking and counting:
In 31 years of work, this organization has touched or developed 6,000 artists.  That doesn't see a lot, in world-wide numbers, but 6,000 artists in LA, and one organization, it's a lot.
Again, because we're focused on artists and not audience, we've been less known, and we've been talked about. And that's one of the challenges we have now, where we're really developing and becoming a stronger organization—not bigger in size, but stronger. We have a good audience, but we can enhance that audience.
Street art . . . It seems like you've stayed away from the whole street art movement.  Was there a conscious choice?
We've talked about it so many times. And then we had the big show here (at MOCA), and it was so important, and so big that we decided to wait a while. It was all done over there: all the street artists were having street art being done pretty much everywhere . . . the big boys of the old days were in there . . . graffiti shows going on everywhere downtown LA . . . you went to the Standard . . . up at the pool there were street artists doing murals . . .
In my last trip to the Sao Paolo Biennale, very recently, we've been talking to a very amazing organization that focuses on street art in Brasil, and at the same time, with someone who runs an Art Center in Caracas, Venezuela. In a year or so, we will pursue a traveling show that would be done by several artists, street art from LA, from Brasil, and from Caracas, and have it exhibited in these three places.
So it's not like we've shied away. There's another factor, size.  In our conversations about street art, we always took into consideration the small space we have, maybe doing more programs outside, because here you wouldn't really be able to do anything big. You would have to do small-scale street art.
Over the last 10 years, LA's art scene has evolved:  You finally have people talking about art. It's become part of the city's life and culture.  How are you navigating this—East-West politics, big collectors, big money?
The best thing is always word of mouth, and it's been really good.  A lot of our audience is artists, artists that come to follow other artists, to look at things, and so on. Even though it's been 31 years, the 31 years that we've had, the only focus we've had is about the artists. So the next 31 years will be about creating diverse audiences for our artists. Our new website (www.laartcore.org), social media, and so on . . .
I'm hearing all around me that nobody is buying art in LA these days. Any words of wisdom you have for artists, as far as selling art in LA?
There's a market for everything.  I think that if an artist focuses on their career, and develops their art to their own needs and tastes, once their work is mature enough to be able to be strong and stand by itself, the next step is to find your audience.
Nobody's ever a hero in their own back yard. Sometimes you have to go away for an artist to be discovered, or rediscovered.
And just because you're from LA, maybe your art will not necessarily be liked in LA. Finding an audience and finding your customer base is the challenge that any artist has.
Whether you go to other states, you're driven by one city.  You go to New York, and it's really New York and Manhattan. That's the only place where you're going to sell.  California has many cities where there are a lot of extensive collectors:  San Francisco, Santa Barbara; within LA, you got East Side, West Side; keep going down the 405, and you have the Laguna Market, Newport Beach, established markets.
In Southern California, you have so many different markets. You don't sell the same thing everywhere.  So my advice to an artist, if you're looking for an audience, is to pay attention to where people that look at life the way you do, are. There's a price range scenario, as well. Let's face it the economy does play a role.
So if I was an art collector, I would consider LA ArtCore as a place for new up-and-coming talent, or a place to make new discoveries?
I like the second, new discoveries.  People don't just get discovered here. We've had, along the way, many great artists that exhibited here in their early moments, when they didn't know where to exhibit, and they found a place to figure it out. Now they've become very established and very well known.
So I think that's the game we have: you come here and you get discovered, or re-discovered, and it all comes down to that "opportunity," frankly.
So it's not just emerging artists, it's the discovery part that I like because what we have here is always a new discovery.  We're not going to show here what's showing in 20 other galleries. So I think that's the game we have: you come here and you get discovered, or re-discovered, and it all comes down to that "opportunity," frankly.