martinMartin Spring 2013 – Fabric Manipulation Mastery
By
Eveline Morel
| November 20th, 2012 | Category:
Articles, Interviews and Reviews
,
Fashion
,
Runway
|
Comments Off

on martinMartin Spring 2013 – Fabric Manipulation Mastery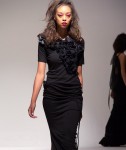 Fabric manipulation, in all its forms, was the guiding thread throughout martinMartin's Spring/Summer 2013 runway show at Concept Fashion Week: draping, stitching, folding, crinkling, wrinkling, crumpling, to create an origami-like feel, or simply to amass texture . . . to a great effect, most of the time . . .  Focused more on structure rather than drama, and notwithstanding a few men wearing pants that looked like long skirts (would those be called culottes?), the collection offered some strong, sculptural pieces.  The collection showed a mastery of fabric draping and gathering around the body.  Jackets were well fitted and had a strong line, notably the olive leather jacket and the red one.
The overall vibe was paramilitary-meets-nomadic, with flowing pieces, balanced by fitted sleeves and leggings, a few structured jackets, all paired with chunky combat boots.  Color-wise, the collection started in earth tones and grays, with only a few black pieces, ending with a pop of bright red pieces that showed a lot of strength.
The military asymmetric zipper coat with large cowl collar was sculptural and perfectly balanced between the clean vertical lines and the volume of the collar, and the quilted stitching on the sleeves was a nice detail.  The women's fitted leather peplum jacket was also perfectly executed, and masterfully draped in the back.
Notable menswear pieces were a leather-trimmed flowing jacket with fitted sleeves and horizontal openings on the back, a blocky, oversized one-button jacket guaranteed to build shoulders on anyone, and a military-inspired button-down jacket with side pockets.
The androgynous look for men, trademark of the designers, was still there, albeit somewhat toned down. We did spy one long skirt look on a long-haired man, which was, at this point, almost expected.  We didn't know what to make of the skirt-like pants that came in a few colors.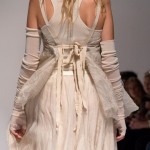 It seemed like one of the legs was missing the inside seam, along with a few assorted holes.  Speaking of holes, there were some intriguing horizontal holes on some of the drapey jackets on the back, also.  All the holes were clearly intentional, well-finished and bordered.  Alas, hard to tell much because most of the male models apparently forgot to pose, treating us to quick walk-bys instead . . . to everyone's chagrin . . .
There were a few tops for men and women whose criss-crossed backs were rather unexpected, once looking at the draped, somewhat busy fronts . . .
Jersey dresses and tops were draped and folded, mostly to great effect.  A few draped pieces were a little over-designed, with draping, and a multitude of seams that would undoubtedly be a pattern-making nightmare were they ever to go into production.
There red group that finished the collection was a strong statement overall. The gathered and folded fitted jacket was sculptural and intricate.  An androgynous draped top on a man could look even more amazing on a woman.  The draped back of the long dress with the silk crinkled front was slightly over-designed, the back detail could have easily belonged on another dress; there was so much going on in the front—a strong collection and cohesive vision overall, and a great showcase of the designers' fabric manipulation techniques.
Check out the martinMartin Runway show, photographed by Jeff Linett.