Blacklisted No Longer – An Insight into Plus-Size
By
Eveline Morel
| January 17th, 2013 | Category:
Articles, Interviews and Reviews
,
Fashion
|
1 Comment »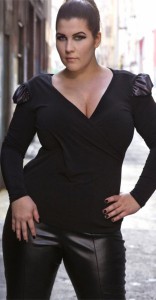 If any fashion sector has managed to stay in the news over 2012, it has definitely been the Plus Size industry.  Every month seemed to bring about a new brand's Plus Size collection and a new repetition of the "market facts & figures," including the piece de resistance fact that 60% of the American women are overweight and are an average of size 14.  I sat down with Shellice Beharie, designer of Blacklisted, the latest plus-size line to hit the market in time for the holidays.  Herself part of the "average size," she brings not only her own personal experience as a shopper, but her fashion and styling experience as well, to create a full-figure line that distinguishes itself by its rock-and-roll, edgy vibe.
Marcy Guevara, host of Marie Claire's "Big Girl in a Skinny World" series is already a fan, and so are many of the women who got a first glimpse of the line at the Curves International event.  It is not a frilly or girly line; it's a line for fierce girls—and a well cut one that looks good on all proportions.  Here are the highlights of a lengthy and inspiring discussion with Shellice about Blacklisted, what it means to be plus size, and fashion.
How did you come up with the idea to do a plus size line?
I've always wanted to do a plus size line, but to do it in a different way than it's currently done.  I would go to stores like Fashion Plus, would find stylish pieces that would fall apart after two washes. I call that "popcorn fashion" . . .  it popsu up and then goes out . . . was spending a lot of money, and still had nothing to wear.  I would find pieces that are trendy, and other plus size girls would be wearing them, also because there's such a limited number of places where we all go to shop.   I realized I would rather spend money on certain pieces and then have them for life, but couldn't find much to choose from out there. I like fashion and high fashion . . . was also looking for something I'd want to wear . . . and not finding it.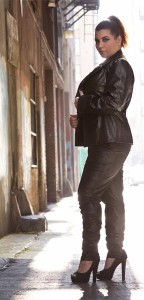 I looked at what Oprah and some of the bigger celebrities were wearing and tried to find it.  I saw them dressed so well, but could not find where they got their clothes.  Most of the time, the designers made custom pieces for them, so that didn't help me much in my quest.  A lot of the market is a low-priced market.  An actress looking for a red-carpet dress can never find anything in a size 14.  Girls have a limited choice of prom dresses in a size 14.  There may be a lot of stuff at the lower end of the market, some higher-end, but not much in-between.
What do we call plus size?
Plus size starts at 12-14, mostly at 14; pretty much any size that's not on the chart.  In mass-produced lines, it's as low as size 12.
"Plus size" is a negative term.  It pretty much means "you're fat."  I think the term "full-figured" is less negative, would tend to use that more.  A full-figured woman of size 14 or 16 is often proportionate, just larger.  There's the curvy woman; then there's the overweight.  The curvy woman gets clumped in with the "plus size."  In other words, she's considered fat.  You have full-figured women that don't have a stomach that sticks out, are shapely in the thighs, and have a bigger bust, a bigger butt . . . In fashion, they're considered "fat," but they're healthy and beautiful.  I mean, would you call Lady Gaga plus size because she gained a few pounds?
No, it's not a term I would necessarily associate with her . . .

That's what I mean.  We all go through stages in our lives, and we should be able to look as good as possible.  I was a much bigger size at some point . . . and people's weight does go up and down . . .
So what's out there for plus size?
Have been asked to do a wholesale line multiple times.  I think a lot of the retailers in the market are selling dresses at lower prices.
There are Forever 21 plus size stores, but they won't carry higher-priced items, and Forever 21's plus size is not always that great when it comes to fit. In the mass market, they often don't concentrate on fit; they just execute a standard block.  Torrid is doing something funky and semi-cool, but everyone shops at Torrid.  H & M is said to do plus size, but it only goes up to 16, and their 16 is more of a 14.   And a lot of the stuff you find in plus size is just trendy, but not hard-core fashion.
Are you going to make all your styles available to all sizes?  How high will you go?
We'll go up to size 24 with most styles.
Will all the styles be available in all sizes?
We'll try, but once you get past a size 10, the variations really affect how a garment fits.  Body variations will mean that some styles will need to be adapted for a different body at bigger sizes; and some styles, if we don't think it will be flattering, we will not offer them.
How would a size 16 be different than a size 20?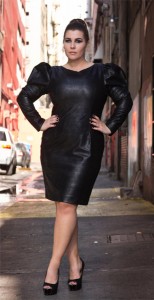 Weight and height proportions will make things different.  Once you go past size 18, you're not dealing with a shape anymore.  You're dealing with a round body.  There's less definition of shape.  So you have to create some structure; you have to create shape.
How do you feel about the size issue?  You were a bigger size; now you're a size 20.  You're part of this market, your own customer . . .
I know many people who are a size 16 and are healthy.  They eat well, they're exercising, they're just a bigger size.  It's their bone structure.  And I know there are stick-thin people that binge, over-eat, have unhealthy lifestyles, and no one says anything about that.  But there comes a point where overweight is not being healthy.  We know that there are many medical problems associated with obesity . . . I don't encourage obesity, and there's a point where, no matter what you call it, fat is fat.  You don't really get there unless you're eating unhealthy or have a health problem . . . and that's not healthy.  I was once a size 20 and have been there.  I understand what it means.  At the same time, it's important to look your best no matter what your size, and to feel you look your best.  Feeling good is looking good, and vice-versa.
O.K., so you get it, from a first-hand perspective.  How does Blacklisted fit into all this?
Blacklisted is about people understanding the plus size needs, as well as fashion.  When you look at plus size fashion and the plus-size community in general, as portrayed in the media, I think they often do fashion a disservice because they don't often wear the things they should to look their best, and because often there's more focus to being sexy and being trendy, rather than being in-style.  In some ways, the full-figure community, by not following many of the style rules that smaller sizes seem to follow, has taken themselves out of fashion.

If you look at the mass media, being "fat" and living a high-fashion lifestyle are pretty much at opposite ends.   In fashion, being plus size means you're "blacklisted" from a stylish existence.  There are a lot of designers that are good at what they do, but they won't touch it with a ten-foot pole; they don't want to go there.  Look at mainstream media.  Plus size and a high-fashion lifestyle are rarely portrayed together.  Blacklisted is about removing these size limits from fashion.  Blacklisted is about the full-figure women no longer being blacklisted from fashion.
What would you do for a size 20, to be fashion-forward?
Empire waists can provide definition, and you can use stiffer fabrics to create structure and architectural details.  I see the same formula, the same things done over and over again . . . and a lot of rules that I learned in my styling work are being broken time and time again.  You can't have a huge bold print on a large person.  Who said that was O.K.?  If it's not O.K. to do it on a size 8, why should it be O.K. on a size 16?  Also, I see so many women wearing these skin-tight dresses that stretch, and leave nothing to the imagination . . . Just like on a size 6 or 8 you have to dress for your body and can't—and shouldn't—be wearing everything, it's the same thing for a bigger size.  And then I see the same formula done over and over again, the same basic blocks used for anything over a size 20.  Everyone's doing a wrap dress . . . everyone does the same thing over and over.
So how's Blacklisted different than what's out there?
Most of what you see out there is more girly, ruffles, flounces, or overly vixen-y. . . Blacklisted is the only line that has a dark rock-and-roll vibe, a slight touch of urban, but still keeping it classy.  It's for a more fierce woman that's bold and strong, clean lines, for a woman who you don't want to mess with.
Will black be the only color for Blacklisted?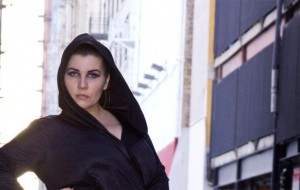 No, not at all.  We chose black because it's such a staple, because wearing black is stylish, because it's easy . . . I mean, look at what we're both wearing, mostly black.  It's not to hide in it.  It's more to thrive in it; it's a matter of style.  As the saying goes, "you can never be over-dressed or under-dressed in a little black dress."  But we will bring some color, not to worry.  At the same time, we will maintain more dark pieces than other full-figure lines out there, because that's who the Blacklisted woman is.
One of the dresses in this first collection is called the "Warrior Dress."  Although it's a growing market, and a huge potential, Blacklisted will need that Warrior Dress and more to champion the fight for style and high-fashion at larger sizes.  But the promise of looking good is worth it.
Check out the Blacklisted fashion editorial, photographed by Jeff Linett. (Not viewable on IE.)