Fashion Out of Africa
By
Eveline Morel
| January 25th, 2013 | Category:
Articles, Interviews and Reviews
,
Fashion
,
L.A. Art & Culture
|
Comments Off

on Fashion Out of Africa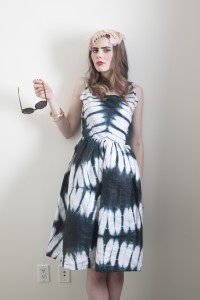 Over the last two years, we have witnessed what amounts to an explosion of African fashion around the globe:  Ghana Fashion Week, Mercedes Benz Africa Fashion in South Africa, and Lagos Fashion Week in Nigeria, all in October.  Across the ocean in New York, we had Adiree Fashion Week in July, Arise Fashion Week during September New York Fashion Week, and Africa Fashion Week LA in October.  And earlier in April 2012, The Hub of Africa Fashion Week in Addis Abba, Ethiopia showcased sustainable African Designers. And with more fashion weeks taking place in Angola, Zimbabwe, and Mozambique, 2012 has really been a 'fashion year' for African fashion….
2010 and 2011 saw a renewed interest in tribal and African influences and motifs, as major fashion labels including Vivienne Westwood and Burberry took their inspiration from the African continent. In 2012, Selfridges unveiled plans for creating an in-house pop-up shop in London to showcase African designers.  This tribal, ethnic trend going strong for a few seasons now doesn't seem to stop, as we recycle styles of decades past.  There's something quite timeless about African artifacts, and the animal prints and geometric art motifs are very much at home in the most ultra-modern urban settings.   These tribal accessories, natural fabrics, ethnic details are also part of this 'return to our roots' general trend happening around the globe, as we re-define our identities and explore our cultural origins.
The African continent is not just a fashion focus, but also the recent focus of massive foreign investment in the past few years.  The countries at the forefront of the African Fashion Movement are also the countries whose economies have been growing in recent years:  South Africa and Nigeria followed closely by Ghana, Kenya, Zimbabwe, and Angola.  As the African continent continues to develop economically, the fashion industry also evolves, as domestic consumption makes it possible for local designers to develop enough support at home to grow their fashion wings.
We've seen more and more designers coming out of Africa in recent years.  The African continent has been gradually becoming a hotbed of new talent and inspiration for the rest of the world, as designers combine their European fashion school training with their cultural textile heritage to reinterpret African fashion.  As we've seen at Arise Fashion Week and many of the recent fashion events, many of the African designers have moved beyond the traditional African ethnic prints and fabrics, or are using them in a less-obvious, literal manner.  Maki Oh, Bridget Awosika, Suno, are perfect examples of designers that are stepping outside the typical African fabric aesthetic, but still retaining some African influence.  And this list includes many South African designers whose designs are very continental, with very little of no African stylistic influences.
Then you have designers that are using African fabrics and incorporating them into new ways.   Eki Orleans, Adebayo Oke Lawal (Orange Culture), House of Marie (houseofmarie.com), Jewel by Lisa, Ituen Basi, and many other designers bring African Fabrics into their collections and create contemporary styles.  Some of them use the African fabrics as an accent, mixing them with other fabrics, while others mix and match multiple prints and fabrics.  The evolution of the styling, from the more traditional, to the fashion-forward, varies from designer to designer.  And you also have global designers based outside Africa, like Busayo Olupona and Oswald Boateng, going back to their African roots, to incorporate fabrics and traditional crafting methods into their designs.
New York-based Busayo takes it even further, using local tailors and home industries in Nigeria to manufacture her clothing.   Even if at times it may be easier to simply source the fabric in Nigeria and come back to the U.S. for the manufacturing, preserving the integrity of the product as locally made is important.  In a large-scale global economy, keeping things small and local has been another growing trend, as  we see many small and traditional artisans join with larger companies in marketing their products, in what's been called 'ethnical fashion.'
"It would have been so much easier for me to use sewing shops back in the U.S., I've had to do quite a bit of training to get things made to the production standards we've come to expect for fashion in the U.S.," says Busayo.  But it's also rewarding to know that I'm also contributing to the local economy in Nigeria, and helping preserve traditional textile crafts."   And so completes this full circle where a U.S. designer returns to her African roots for inspiration and production, to have it worn by people back in the U.S.  Global meets local, traditional crafts survive thanks to modern transportation and communication, and everyone is happy.