50 Issues – You've Come a Long Way AGENDA Magazine!
By
Kaylene Peoples
| March 12th, 2013 | Category:
Letter from the Editor
|
3 comments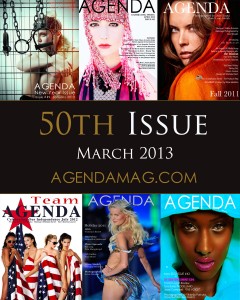 Putting together issue 49 was a lot of fun.  After all, we have the best talent online.  Oddly, it didn't even register that the next issue would be a milestone.  It never even occurred to me what that meant until a few weeks ago.  And that's when I sat up and took notice.  Hey this is our fiftieth issue!  So what does that mean exactly?  I've been busy for almost nine years straight bringing niche-specific, fashion-driven content to you.  I have witnessed growth in our journalists and photographers, as well as growth in our readership.  We went from one lonely reader, me, to hundreds of thousands, maybe millions, worldwide.  Having added a twitter account last year, we have loyal followers.  (We just recently started marketing our social networks.) But what do these numbers and years of experience amount to—focused, honed, requested, unrivaled, fresh, original, high quality work.
I could bore you with the history of Agenda magazine, but I've already done that in past letters from the editor.  So I will spare you.  Let me just say that I am so proud to be part of a team that cares about quality; a team that carries integrity in their work; a team that works together for the greater good; and most of all, a team that provides the best content around.  Maybe we don't launch an issue everyday since we are not a blog—Agenda is a magazine, which just happens to be online.  We put out every issue with a theme. And I can't emphasize this enough. We are all about quality.  I can attest to finding less than marginal efforts almost everywhere else I look online.
The number 50 is significant, and represents power and celebration. The number 50 is grace.  Let's delve into what makes Agenda powerful and worthy of celebrating its fiftieth issue. A strong foundation is the basis for all long-standing things. Solid writing is number one.  Our journalists are committed, have great resources.  Sacrifices have been made to get the job done; speed has never meant shoddy work; and accuracy defines our writers.  Our writers also have thick skin, as you have probably read in an occasional article that might have shocked you.  Subject matters about obesity, mental illness, even fashion disasters that happened on the runway are mere examples of what's really on our minds.  Not being afraid to tell it like it is, blowing the whistle on an injustice, or just speaking from the heart and affecting millions, is what a good journalist does.  But writing isn't the only thing that makes us strong.
Fashion photography comes in many forms.  It can be described as slick, polished, art directed, highly styled, and full of evocative imagery that makes our imaginations run wild.  The fashion photography in Agenda has evolved.  From a staged photo shoot to a live runway event, you readers had better be spoiled by now.  We work hard to make sure your visual appetite is satisfied.
Now let's be honest, when you read a review about a musical, or theatrical show, doesn't it help to read that review from somebody who really enjoyed herself at the event?  When you are thinking about traveling to a new place, isn't it important to get accurate details before you make that decision to book your flight and reserve your hotel room?  What if you want to bring your pet?  Where do you go?  What if you only travel to Bed and Breakfasts?  Don't you want information about the most romantic spots?  Gotta make sure that restaurant has been Zagat rated.  Or perhaps you're interested in a certain author, and are on the fence about downloading his or her book onto your tablet.  Maybe it's jazz or indie music you're into and can't decide which venue to visit, or which artist to go see live.  At the risk of sounding like an advertisement, if Agenda is going to review it, it's going to be accurate.  I guess my point is if it's worth writing about, if it's something we care about or think you care about, most likely you will find its origins on one of our pages online . . . exact and engaging.
We're not about shock or sensationalism.  We are not competing with other webzines, digital magazines, blogs, or even print-only magazines; Vogue, WWD, and other magazines like them have never been our competitors.  Who is our competition?  Only our previous issue—making the next one even better.  Topping ourselves, making it fresh each time around, and touching a nerve, or pulling your heartstrings occasionally is our quest.  Otherwise, we're not doing our job, and we're not doing right by you, our readers.
50 issues . . . thank goodness nobody told me how hard it would be.  But I guess when you love what you do, it's never work! So here's to the next 50 issues. Congratulations, Agenda magazine, and congratulations to you for reading.  After all, as the saying goes, "water seeks its own level!"  And Agenda readers have impeccable taste!
Kaylene Peoples, Founder and Editor in Chief