Growing Up with AGENDA
By
Elana Pruitt
| March 12th, 2013 | Category:
Talking Chic
|
Comments Off

on Growing Up with AGENDA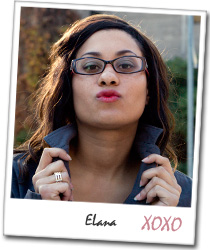 OMG—this is the 50th issue of Agenda! Having been with the mag since its second issue, in 2004, I can't say how wonderful it has been to have a space where I can spew out a multitude of thoughts on fashion. OK, so maybe I've divulged into a little more than just fashion. Remember when Britney shaved her head in 2007? I wrote about the hype.  Or, do you recall when I shared my innermost thoughts about going through a painful breakup? I gave you the rundown.
See, the thing is, when it comes to fashion, it is so universal and relevant to nearly everything. From culture and entertainment to music and health, one's image is connected to fashion in a very intimate way. This is why I've always felt comfortable (and encouraged by Kaylene Peoples, the amazing editor in chief and founder of Agenda) to write what I want. Currently, I am still letting it sink in that I've affected a number of readers who were disturbed with one of my recent articles, titled "Is It Healthy to Celebrate Plus-Size Fashion?" In an article that was intended to raise a question regarding our society as a whole . . . well, many took it as a bash on the plus-size industry and particularly, plus-size individuals! That wasn't the point. (Please read, by the way, if you haven't. I am open to your feedback.)
What I most love about Agenda is how it is not just an online magazine—this is a diverse publication that explores several facets of fashion. And if there is any one thing that I have gained from writing my "Talking Chic" column for more than eight years, it is this: Our personal styles should evolve with the evolution of fashion. When Kaylene first invited me on as a columnist, I was working at Nordstrom. My staple outfits were a pair of Citizens of Humanity Jeans, a Michael Stars tee, and (from what I remember) a pair of Franco Sarto black heels or silver sandals. I was 24 then, and more aware of pricey brands versus style. Now I'm 32 and writing about the designers I used to sell at that chic retail giant. Now, I also value the creative artistry of printed leggings, and enjoy how a denim jacket with an 80s rinse can add some funkiness to a drab outfit. I love classic pieces, but I also love edgy, new trends. These days, there seem to be little to no rules with fashion, especially when it comes to mixing patterns and color. (This trend could take you a little overboard, to be honest, but no doubt is fun!)
As you welcome spring and the breezy, warm weather upon us, please take some time to think about the fact that fashion is a very powerful tool and can strengthen your image and confidence. Who you are now is not who you were eight years ago—I attest to this. So much of my growth and evolution has been connected to the climate of fashion.
Being a part of Agenda and witnessing it evolve over time, from the topics and amazing contributors discussed to the aesthetics and multimedia beauty of the site, I continue to come into my own. As a columnist for Agenda, I have been able to combine my freedom of speech with the freedom of fashion into a package deal. Hope you've enjoyed my writings thus far, as I've always prided myself in remaining authentic. Foreseeing a lovely, continued relationship with this magazine, which includes a non-fiction Talking Chic book on the horizon, I am still growing up with Agenda!
I wouldn't have it any other way.