Malan Breton's Fall 2013 Fashion Show Recognizes the Iconic Style of Marilyn Monroe
By
Kaylene Peoples
| March 12th, 2013 | Category:
Articles, Interviews and Reviews
,
Fashion
,
Runway
|
Comments Off

on Malan Breton's Fall 2013 Fashion Show Recognizes the Iconic Style of Marilyn Monroe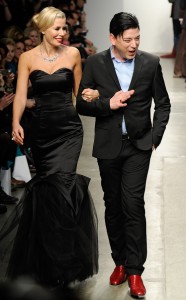 With a special appearance by Aviva Drescher of Real Housewives of New York, designer Malan Breton's show was one of the most tweeted during Fashion Week in New York; he really outdid himself with his latest collection.  The line was dedicated to Marilyn Monroe, and while watching it, I really felt as if I was witnessing an "old Hollywood" made-new tribute. The dresses were demure and sultry, just the way Marilyn Monroe wore them whenever she made a "dressy" formal appearance, or appeared on the red carpet.  And if you're a big classic movie fan, you will recognize the cool 1950s spectacles worn in the day, and a part of Marilyn Monroe's wardrobe in movies like How to Marry a Millionaire . . . there's nothing like a sexy woman in a couture gown, all gussied up, wearing a pair of Brooklyn Spectacles!  This look was especially effective on the male models who wore suits.
For the men,  tailored blazers, skinny ties and lapels; the trousers were taken right out of 1958.  Kudos to the styling team for doing such a great job recreating the look.  The clothes were very well sewn.  The women wore red lips and demure eyes with their hair in an "Oscar" up-do.  The pieces that made the biggest impression were the mermaid gown, and navy silk pleated gown with cathedral train . . .  and thank you, Malan Breton, for providing us the male eye candy on the runway . . . I hated seeing this show end!
If you're looking for red carpet attire, classy with an old Hollywood slant; or if you're looking for a high-end, stylish ensemble for him and her to wear out to an expensive restaurant, or a very special night on the town, you will find it in Malan Breton's Fall 2013 collection.
Check out the Malan Breton's Fall 2013 Fashion Show, photographed by Arun Nevader.
Check out the Backstage photos by Kaylene Peoples