An Interview with Photographer Allan Barnes
By
Ash Gupta 838 Media Group
| May 1st, 2013 | Category:
Interviews
,
The Mission
|
2 comments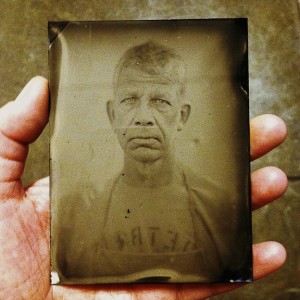 I recently had the pleasure of meeting a fellow photographer. While working on a current endeavor of mine, "Warriors of the Rising Sun," contributor Caley Johnson of Miss G Designs, a good friend of mine, suggested I meet with Allan. Caley told me of his obsession with photography but, more intriguing, his passion of tintype and ambrotype portraits. I had to meet this man. With the current trend of iPhone pictures, instagram, and digital photography, it was nice to hear there was someone who not only practiced but understood the necessity of embracing the old-fashioned ways of capturing and processing images. So, during a test day at the studio, I invited him over and told him to bring his gear. After converting our office into a full-on darkroom, seeing his 100-year-old nameless lenses and multiple solutions and plates of tin . . . I couldn't wait to see how the shoot would turn out. After 10 hours of shooting, he would walk into my office with a tintype that he had just finished, gloves dripping and reeking of fumes.  It was fantastic. I asked him if he could spare some time to talk a little about himself and his craft.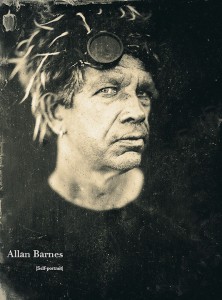 Questions by Ash Gupta
Responses by Allan Barnes
What is photography to you?
Photography is an adventure. I find that if it weren't for photography, I wouldn't have experienced or traveled to other places in the world. In my old life I was a photo-journalist.
Is photography to create?
The journey started with me attempting to document. It has completely changed, though. In the last 5-8 years it has evolved into a process of creation. I'm capturing reality . . . my reality. So in a way, I think you could say that I document my own reality through what I create.
I like both. I'm doing more monochromatic now. I've always been attracted to black and white images. I'd say today I work in monochromatic about 80% of the time. If anything though, I'd say that I was more into orthochromatic . . . If I take a photograph of a bowl of lemons, they come out black . . .
Models vs. real people?
Well, I started shooting landscapes because of shyness. I became a little more comfortable with people during my travels as a 21-year-old. And I found over time that I tended to shoot and enjoy shooting people who look anachronic . . . people who could be from a different time . . . a very vague look.
What I'm doing is very much a craft. The limitations of the process I chose make it exciting . . . but, there are times where I say, "Well, this is cool, but I think I need to shoot some of this digital." So, it depends . . . sometimes I am crafting, but sometimes I'll say to myself that this needs to be documented in a digital format.
So why wet plates? Is it to recreate history or be different?
I like the look. And also, I use lenses that are 150 years old. Sometimes, I wish there was a chip that would've captured every face that ever looked into that lens. I started doing wet plates when I moved to L.A. I started doing it for me while in an exploration to reinvent myself. It was and still to this day is very liberating.
Photography as an art form or commerce?
I tried to do both most of my life. Photography to me is self-expression. I wish it was commerce. In my youth I was a bit punk-rock and I remember thinking to myself, I wonder if I could make a living doing this. I've made it so far and I'm 50!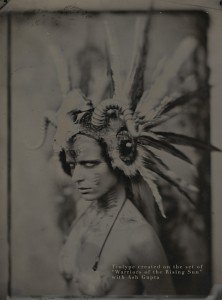 I heard you were teaching photography. Teaching or collaborating?
I am a collaborator. Nurturing is good for your soul. I started teaching right out of college. I went out and saw the world. I've taught college part-time and high school full-time. It was quite an experience, and I learned a lot about people. Students would come to me saying things like, "this is my favorite class," and I would witness them making beautiful art. I enjoyed seeing them grow. This is why we have kids. To pass on our craft . . . We were wired to nurture. And it is joyful to share my talent with people.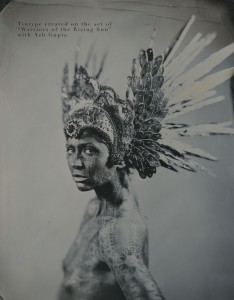 Erotic art vs. societal taboos?
Hooray for the taboos! What if society had a taboo against people eating together? I think I'd want to photograph people doing just that. If it was totally acceptable to make erotic art, nobody would be doing it . . . it's part of the whole "forgiven thing." When I was going to school in Spain, I went to the beach with my girlfriend. We soon found out that it was a topless beach. For a 20-year-old American, the first 20 minutes was really interesting . . . but after that, it just became uninteresting.
In the next five years, plans or free-flowing?
I did have concrete plans. I thought I had found a job that I would keep for the rest of my life, but due to certain circumstances, I had to explore other options. So, right now I am at a very uncertain place.  But I am enjoying every step of the journey.