Costume Designer Greg Lavoi Channels Irene Gibbons as He Resuscitates Vintage 40s Luxury Brand
By
Eveline Morel
| May 6th, 2013 | Category:
Articles, Interviews and Reviews
,
Fashion
|
Comments Off

on Costume Designer Greg Lavoi Channels Irene Gibbons as He Resuscitates Vintage 40s Luxury Brand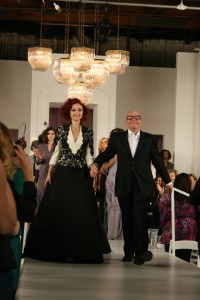 Hollywood and fashion, from present and bygone eras, all came together for one night at Raleigh Studios as costume designer Greg Lavoi debuted his Fall/Winter 2013 collection for the House of Irene. Looking across a crowd that spanned all ages and styles, from punk to pompadours, Chanel-chic and rock-and-roll bling, flowing gowns and studded jackets, all four decades of California style came together in the "real-life" parade that preceded the beautifully-executed runway show that took us back to the refined elegance of the 30s and 40s.
Leading costume designers from popular TV series, studio executives, celebrities, stylists, L.A. fashionistas, and even Mrs. Pink of Hollywood's landmark Pink's Hot Dogs were all there to celebrate Irene Gibbons's contribution to California style, and the revival of her couture fashion brand, the House of Irene.
During the 1930s and 40s, owning an Irene piece was equivalent to owning a Chanel—her couture pieces, synonymous with California elegance, were sought after by smartly-dressed women across the U.S. for their impeccable quality, mathematical pattern work, and timeless elegance.  They were treasured possessions, passed on from mother to daughter, almost never given away.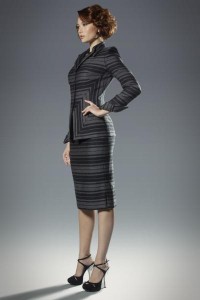 Having learned sewing as a child, IreneGibbons opened her own dress shop in 1932, following a brief career as silent-movie actress. Her designs caught the attention of Bullocks Wilshire luxury department store, as well as the wives of leading Hollywood production studios. Producers in the rapidly growing movie industry during Hollywood's golden age also came calling, and she started designing costumes for independent productions.  Her big break came in 1937 with the movie Shall We Dance, starring Ginger Rogers and Fred Astaire—she designed all of Ginger Rogers's costumes for that movie.   She later replaced Adrian as costume supervisor at MGM, and worked on over 150 films during the 1930s and 1940s.  She returned to Hollywood in 1960 to design costumes for Doris Day in Midnight Lace and A Gathering of Eagles.  Irene, Inc., and the House of Irene came to an abrupt end in 1962, just a few days short of turning 62.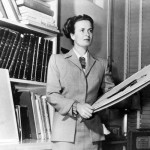 Like Irene, Greg Lavoi's fashion career started at age five, when he learned to sketch designs. Formally trained at FIDM, after a brief period spent working for Bob Mackie, he spent nearly a decade in Nashville, designing gowns for country music royalty, dressing the likes of Reba McEntire, Rosanne Cash, Naomi and Wynonna Judd.  Returning to Hollywood costume design, Greg Lavoi worked on over a hundred film and television projects.  With an impressive list of clients that includes Hollywood actresses Kristen Davis, Zoe Saldana, Felicity Huffman, Mary McDonnell, and Natalie Cole, he was nominated for two Emmy Awards.  And most recently, he designed the costumes for The Closer, the number-one rated cable show of all time, starring Kyra Sedgwick.  It was his work on The Closer that brought him into contact with Irene's vintage creations and inspired him to channel her style and resuscitate her brand, after nearly four decades.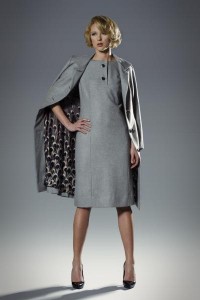 Irene Gibbons's signature suits, sculpted gowns, and intricate separates were known for their simple elegance and clean lines. "The suit, the dress, the gown . . . should intensify the charms of the woman, change with her moods, rather than in accordance with whim or whimsy of fashion," said Irene.  Her distinctive blend of understated elegance, exacting attention to detail and couture standards perfectly balanced femininity and glamour: daywear suits with slim tailoring, pinched waistlines, and turned-back cuffs; lavish evening gowns with lace, "soufflé" chiffon, and beautiful detailing and beadwork.
For the debut collection, Greg Lavoi selected top-quality imported woolens and silks, softly-draped lambskin,and sumptuous silk velvet, sticking to a palette of black, white, and grey, accented by a few aubergine and blue pieces.  Designed and produced in Los Angeles, the line attempts to bring back couture standards and techniques and hand-finishing for a perfect, flawless execution.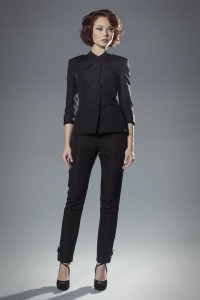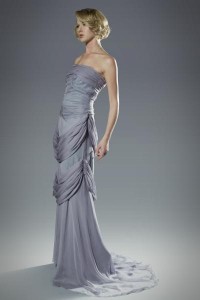 The final "piece de resistance," the Splendor Jacket and Gala Skirt were beautifully executed, with intricate, yet simple handwork. With this debut collection, Greg Lavoi clearly proves that he's the right man to bring back to life the House of Irene and channel her creative spirit into the twentieth century and beyond. The two dozen looks shown on the runway have the timeless vintage quality that transcends fashion trends and ensures "treasured possession" status in the contemporary woman's wardrobe.
In the Forever 21 world, where vintage is reinvented at significantly lower standards to fit fast-changing trends and disposable styles, it is refreshing to see a designer reinvent vintage at the original high-quality standards that favor quality over quantity.  Hopefully, the re-born House of Irene will lead to a new wave of "future vintage pieces" whose timeless quality and design will be appreciated by multiple generations and passed on from one generation to another.