Emma Holley – May 2013 Face of the Month
By
Agenda Magazine
| May 6th, 2013 | Category:
Face of the Month
,
The Mission
|
Comments Off

on Emma Holley – May 2013 Face of the Month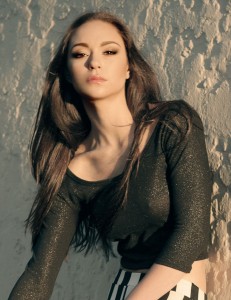 I met Emma Holley on a lovely spring day.  She came across as a pleasant young woman, a little wise for her age.  But her calm, self-assured demeanor is offset—more like punctuated, actually—by a pair of loud, graphic, striped pants she was wearing. "I'm kinda crazy and weird sometimes," she says with a smile, "with a vivid imagination."
Our Face of the Month Emma Holley heard from her agency, Pinkerton Model and Talent, about Ash Gupta and 838 Media Group, where her determination and exuberance soon became apparent.
Growing up in the famous town of Malibu, California, Emma would have preferred growing up in a big city.  "My personal style is East Coast and West Coast combined," she explains.  She has an appreciation of different places and cultures, and fond memories of a family trip to Sao Salvador, Brazil.  "The town, the ocean, and the food!" she exclaims.  Not surprising, since as a little girl, she wanted to one day make a career as a chef.
Besides cuisine, she has always enjoyed being in front of the camera, and even behind it. "When I take a photo, I become one with the camera. Everything shuts off.  I see things differently through the lens."
But in this moment, she is modeling.  "Modeling is like acting," she tells us, "You have to bring out a side of you that no one has seen before, and you have to be having fun."  One of Emma's most memorable modeling moments was a concept test shoot with Ash Gupta that involved a dress fashioned from $50,000 worth of materials created around her figure.  When she's doing her own styling, Emma's must-have items include "a good jacket I can throw on and wear with anything, and a great fitting pair of skinny jeans."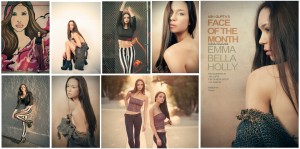 What would she suggest to others aspiring to model?  "Don't let others' opinions change how you feel about yourself," she advises. "People are going to criticize you, point out your flaws, tell you to lose weight, etc. You won't survive a day in the business if you can't learn how to brush those kinds of things off at the end of the day."
"Stop thinking about all the things you wish you could do," she continues, "and do them.  Five months ago I never thought I'd be where I am now. Life is extremely unpredictable and sometimes scary, but you're not really living until you start taking risks."
Emma at a Glance
5 Adjectives to describe yourself  –  Athletic, cheerful, creative, energetic, generous, and independent
Favorite Designer –  Chanel
Celebrity Crush – Teen-aged Johnny Depp
Weirdest pick-up line you've heard –  I put the STD in STUD, all I need is U.
Any phobias – Spiders
Check out Emma Holley's Fashion editorial, photographed by Ash Gupta 838 Media Group.