Go Red for Women – A Cause Célèbre
By
Kaylene Peoples
| May 6th, 2013 | Category:
Articles, Interviews and Reviews
,
Fashion
,
Runway
,
Uncategorized
|
Comments Off

on Go Red for Women – A Cause Célèbre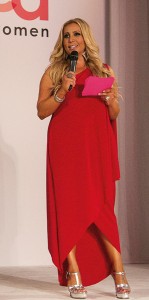 Held at Vibiana in Downtown Los Angeles during Style Fashion Week LA Fall 2013, Go Red for Women was an event to be remembered, and a genuine cause célèbre. With profound interest, Go Red was a heavily sponsored show. Hosting was celebrity stylist Anya Sarre.  And she was in good company with the countless celebrities who walked the runway that evening wearing clothes from philanthropic-minded designers, who donated their fashions just for the occasion. The purpose? To make aware of the rapidly increasing mortality rate for women each year as a result of heart disease. The Go Red Movement started back in 2004 to raise awareness and to build support for the American Heart Association by teaching women about heart disease. Go Red is helping women to live healthier lives. With celebrities involved every fashion season across the United States, there is the hope that more women will actually listen, begin to change their lifestyle, live longer, and pass onto others those acquired healthier lifestyle habits!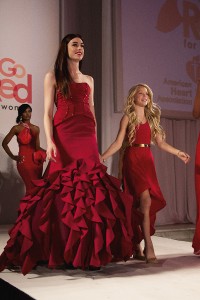 Celebrities Who Walked in the Show:
Shanna Moakler, Kiara Belen, Aubrey O'day, Maseila Lusha, Genevieve Jackson, Kate Mansi, Camilla Banus, Katherine Van Derham, Laura Leigh, Natalie Pack, Gretchen Rossi, Kaylyn Slevin, Tara Conner, Dakota Hood, Ziah Colon, Jeryl Prescott, Chelsea Caswell, Lianca Lyons, Indira Khah, Alyssa Campanella, Jocelyn Bouchen, Kandyse McClure, Lilly Galichi, Raina Hein, Lydia Hurst, Tara Conner, Alyssa Campanella, Kimberly Porter
Designers Who Participated in the Show: 
Sherri Hill, Masai Payan, Aidan Mattoxx, Miss Adory, Sachika, Dar Sara, Beso Moda, Single, Bishme Cromartie, Stop Staring, Un Deux Trois, Saline Marie, G-lish, Cuffe, Michael Castillo, Daniella Corte, Traver Rains, Alexis Monsanto, Vintage, Terani Couture, Mon Atelier, Garo HZOR, Walter Mendez, Quynh Paris, Rosie Couture, Cuffe, Masai Payan
Sponsors for Go Red for Women:
Fashion Hope for a Cause, Crocker Club, Bubble Fish Media (Los Angeles, Miami, New York), Peroni Italy, LUXE City Center Hotel, RUNWAY TV (RunwayTV.net), and VoCÉ Haircare.
Click to see the Go Red for Women Runway Show, photographed by Jeff Linett.