Michael Hayden Interview: From Painter to Paintings
By
Eveline Morel
| May 6th, 2013 | Category:
L.A. Art & Culture
|
Comments Off

on Michael Hayden Interview: From Painter to Paintings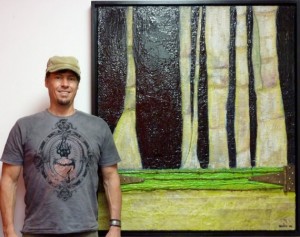 Michael Hayden's encaustic works, recently on display at the Art.Life show in Los Angeles, draw you in with their intricate play of texture and color. Michael's successful career as an artist is an inspiration for anyone to follow their passion. . . . Originally from Memphis Tennessee, he started an apartment painting business in New York, then went on to San Francisco to hone his decorative painting skills at The Day Studio with JoAnne Day.  Working on a mural in Oakland, California, he found his favorite medium—encaustic—which provided the perfect way to combine his obsession with burning things and painting. . . .  His mixed-media, sculptural works incorporating discarded objects, beeswax, and cheesecloth are present in collections world-wide, and will be featured on an HGTV series later this summer.
In a way, the Art.Life exhibit brings together interiors and art, two themes that have been such an integral part of Michael Hayden's life.  His passion is contagious as he talks about his work, his life, and his art.
Interviewed by Eveline Morel.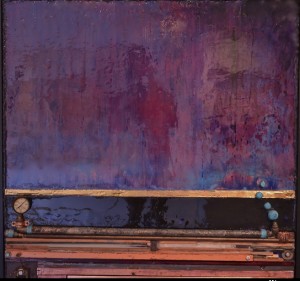 Your art career seems to have evolved from your work as a painter. Do you still paint interiors, or are you focused on art primarily?
I am laser-focused on my art career. But, that said, I love the instant gratification of changing the feel of a space in one or two days. I can't tell you how many times I've walked into a friend's home and envisioned how it could look if it was another color, and I'll offer to paint it for them. For me, painting a room seems effortless, while others may feel like it's a big hassle. Besides that, I only paint interiors for myself now. I'll change the colors or do special finishes in a room whenever the mood strikes. Friends have accused me of painting my own home so much that they swear I'm actually losing square footage!
Did you have any formal art training? How important do you think art training is to forming an artist?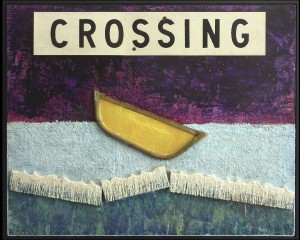 I do have a bit of formal training, but my transition to becoming a fine artist started back when I lived in NYC in the 1980s. I managed a law firm and was asked to hire someone to paint the bathrooms. When I heard how much they were paying, I thought, "I'll do that, I can use the money!" After I painted the bathrooms, a partner asked if I could wallpaper his office using really expensive grass paper his wife had purchased. I immediately agreed although I had absolutely no idea how to do it. I was sweating bullets as the weekend approached! That Thursday in the NY Times "Home" section there was a huge two-page spread, "How to Wallpaper."  I really do have a lucky star! My partner and I knocked it out like pros. Soon, we started a home renovation business painting apartments in NYC. We accepted a job doing a faux marble finish for a client's dining room, brought in a professional, and I trained with him on the job. That turned into a career doing decorative painting.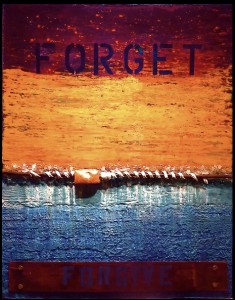 After moving to The Bay Area in the early 90s, I enrolled in a professional decorative painting school called The Day Studio. I took intensive courses there for two years, learning pretty much every method of decorative painting you can imagine. After that, I began doing faux finish work in multi-million dollar homes in The Bay Area. Having said all that, I believe the most important thing is to have passion for what you do. I sometimes struggle with not having had a formal art education, but my collectors don't seem to mind.
Are there any artists who particularly inspire you and have influenced your work?
Well, my all-time favorite artist is Van Gogh. There's an undeniable innocence to his art, and his brushwork has an energy that moves me. Then there's Jackson Pollock. He took something as simple as dripping paint onto a canvas and made it look like nothing we've ever seen before, and he made no apologies for it either. Try dripping paint onto a canvas and making it look good—it's not that easy. I think about him sometimes when I'm splashing wax across the surface of a painting. Those drips and splatters are like fingerprints. They have a life of their own and can't be duplicated. I also find inspiration in the paintings of Rothko and Diebenkorn. I've been called "A Modern-Day Rothko," and to be compared to him is truly an honor.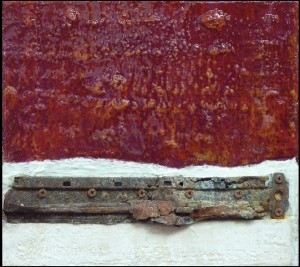 Last but not least, I'd have to say Jasper Johns. He revitalized the art of encaustic with his Flag and Target paintings in the 1950s. One painting of his in particular has had a huge influence on my work. I was reading a biography about Johns at a point in my life when I sought a way to make my artworks larger, without impacting the integrity of the painting—the larger the size of a wax painting, the greater the possibility that the surface could crack. Jasper Johns's Target with Plaster Casts is an encaustic painting of a target with boxes on top that have hinged doors. Inside each box is a plaster cast of a body part. When I saw that image, I thought, "Why not hinge two pieces together?" That was the birth of my "Hinged Series."  As a side note, I also learned that early in his career, Johns was supposed to be a part of a group show of emerging artists in NYC, including greats like Rauschenberg and De Kooning. Target with Plaster Casts was rejected because one of the boxes contained a cast of a penis. The curator said they would show it, but they would have to leave the boxes closed. Well, Johns refused, and he opted out of the show. Eventually, that painting ended up in the MOMA.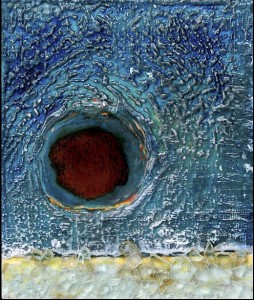 How did you start painting with encaustic? What attracted you to this medium?
I was hired to do the background finish for a mural in the lobby of a Live/Work Loft building in Downtown Oakland. The mural was covered up with brown paper while I did the finish.
When I was done, they removed the paper, and I saw the mural for the first time. It was this incredibly beautiful and luminous encaustic abstract by Pauletta Chanco. I had never seen a painting done with beeswax, and I was mesmerized. I went right home and started melting crayons and painting with them over leftover cheesecloth from my faux finishing projects to make my very first fine art pieces. Then someone told me how toxic melting crayons could be. Thirty paintings later, I decided to get a book and teach myself how to do encaustic painting the proper way, using melted beeswax mixed with resin and adding pigment for color. That was more than fifteen years ago. I feel like I've got the hang of it now!
    Do you have a favorite color? A least favorite color?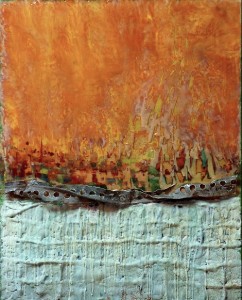 When I was painting for clients in the early 90s, everybody wanted neutral, neutral, neutral. I was starved for color! I think that's why my artwork is so colorful.
I love orange, but that isn't the color that shows up the most in my work. I'm so inspired by the California landscape and especially the ocean. My abstract mixed media horizon line paintings could be loosely interpreted as seascapes, so, naturally, blue seems to be a color that I use the most. It just feels right to me. Some of my collectors even say I have my own signature blue, but I don't see it that way. I don't want to get boxed in like that. I don't have a least favorite color.
Does having your work shown in a furniture showroom/gallery feel different than an "art" gallery? Does this bring the idea of "living with art" closer to home, so to speak?
EWI Collections at LA Mart is on a different floor than the space they used for the Art.Life show. That being said, being in a gallery space within the LA Mart does feel different.  There is much easier access for interior designers to see the art. Let's face it . . . for the most part people or their designers buy art to display in their favorite spaces in their homes; so it seems like a natural fit to bring the Art and the Design closer together.
Is there any difference between being an "artist" and a "painter"?
When I was doing decorative painting for a living, I felt like a tradesman. I had a passion for my work, but there was something missing. Once I made the transition to becoming a fine artist, it felt like what I was doing was more important. My collectors treat my work like they're masterpieces. It's one of the best feelings I've ever experienced. It just confirms that I'm doing what I was put on this earth to do.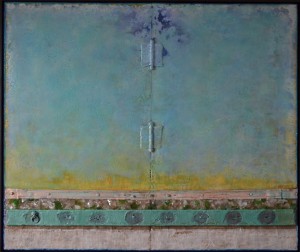 Tastes and styles change over time. Every room I've ever painted is going to get redone at some point.But I know that my paintings will remain the same, and will be passed down as family heirlooms.
How would you define a "great painting"?
You want me to define a great painting? You know the old saying, "Beauty is in the eye of the beholder." Well, I see "great paintings" all the time. I make it a point to visit as many galleries as I can because you can't really know what a piece of artwork looks like when you just see a picture of it online or in a book.
I remember seeing Van Gogh's Sunflowers in person for the first time at the Metropolitan Museum of Art in NYC. I was so hypnotized by seeing a hair from his brush stuck in the thick globs of paint. Something clicked inside of me in that moment and I fell in love with him. So I say, get off of the couch, turn off the TV and computer and go find the definition of a great painting for yourself. I promise that eventually you'll find that something that moves you, too. It's a very personal thing. Thank me later.
There is a certain "art establishment" in LA, and there's always been a debate between art for art's sake, and art for commercial/consumption purposes. What are your thoughts on this?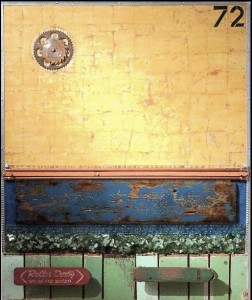 Look, we all have to make a living. For those of us who choose to do that by being creative, it might mean we have to be a little compromising sometimes. I'm not saying we shouldn't push the limits, but if you want to be successful, you have to make time for being what some would call commercial, then reserve some time for just making art for art's sake.
I remember early on in my career when I was still exploring my medium and how to use it. Some people didn't understand my work. I wasn't sure I could ever make a living doing this. Now my work is considered to have a recognizable signature style, and that's what collectors pay for. That doesn't mean I don't have more ideas to explore. Do what you love, and the money will follow.
My favorite quote is by Leonardo Da Vinci:  "Stop sometimes and look into the stains on walls, or ashes of a fire, or clouds or mud or like places. You may find marvelous ideas."
I've often heard from L.A. artists that it's hard to sell art in LA . . . people in LA don't buy art . . .  Do you think this is true? How do you feel about that?
I worked as an art installer for years to help pay for my art supplies. My associates still in the business stay busy all the time.
Collectors are definitely buying. The problem might be that those artists you've heard from are giving up too soon. I say stay focused!  It takes time to build a career, and being a successful artist is a full-time job.  Sure, there are overnight success stories, but for the rest of us it's a slow but steady climb.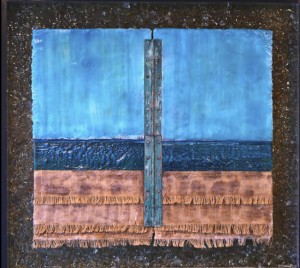 Exposure is so important. Do whatever you can to share your work. These days it feels like online marketing is gaining momentum, and listing your work on most art websites is free. Also, you have to get out there and build relationships with gallery owners, art reps, writers, and critics, and don't forget your fellow artists. Get on their radar. And so what if you don't get into your favorite gallery? It's not the end of the world.
Donate your work to your favorite causes. I get calls from people all the time asking me to donate my work. You get back what you give, you know?
There're also organizations like Create:Fixate. Their mission is to help emerging and mid-career artists get noticed. Their quarterly events attract thousands of people, but you have to help get this giant warehouse space ready for the event, and it's hard work. I've made so many friends through C:F, and I've seen lots of careers take off from there. That's where I got one of my first opportunities to show my work. Those are just a few ideas. Other than that, maybe those artists should consider that if the art isn't selling, there's a problem with the art, not a lack of buyers.
You've lived in New York, LA, San Francisco . . .  How do you feel the art scene & market is different in New York and LA? Do you prefer one over the other?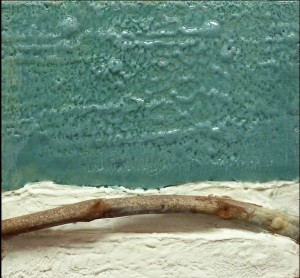 I think the art market was supported by Wall Street for many years. And then the economy went downhill. It seems obvious to me now that the art market has strengthened. Could that be due to the support of the entertainment industry? I don't know, but celebrities seem to have a lot of disposable income to invest. Some of my celebrity collectors include Jenny McCarthy and Jessica Stroup, and I just sold several paintings to Cesar Millan. Those will be featured this summer on HGTV      , so I can't complain.
As far as "the scene" goes . . . I only know what I know, and that is LA. I love it here! I moved from San Francisco to LA because I thought if I wanted to be a "known" artist, I needed to be here. So far, I've gotten some great exposure through TV, magazines, and some successful solo shows.
Do I think those opportunities would have been available to me in San Francisco? I don't know, maybe, but I doubt it. It seems like artists are more celebrated here than in The Bay Area, at least.
And as far as New York, I'm ready to explore opportunities there. Look out, New York, here I come!