Music Is My Makeup
By
Elana Pruitt
| May 6th, 2013 | Category:
Talking Chic
|
Comments Off

on Music Is My Makeup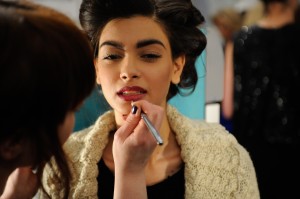 Just 'cause I can put together a ready-to-wear outfit in 3.5 seconds does not mean that I have the same ability with makeup. For many women, fashion and beauty are naturally linked elements of their DNA . . . like identical twins. For me, fashion and beauty are cousins. Really close cousins, mind you, but the kind that didn't grow up together. I really don't understand science much at all, to be honest. But you get what I'm saying: I have a natural love for fashion and playing dress-up, but not the innate ability to master make-up applications. The swift-swipe-of-the-lids with a liner takes practice for me, and I only buy makeup when I completely run out of something.
This may be due to my lack of patience with trying out beauty trends or the fact that hippie Elana is totally real. A little powder to cover shine and my "vanilla birthday cake" philosophy lip gloss are just fine with me. Sure, there are times when I wanna get a little va-va-voom for a date or a night out with the girls, calling for some dramatic eyes or a bold red lip. But in all honesty (especially 'cause I'm so busy working to do much of either!), I am proud to say that music is my makeup.
Seriously. A good song accomplishes so much without needing to clog my pores with anything foreign. Frank Sinatra's "The Way You Look Tonight" softens my frown lines, No Doubt's cover of "It's My Life" raises my brows in self-awareness, and Norah Jones's "Come Away with Me" puts me to sleep, giving me amazing beauty rest. A good song also targets my inner self, creating a spiritual moment. I know that makeup is powerful, but I have yet to feel a little closer to God as a result of a shimmery lid.
Just as I give credit to those who know how to cook really well, I am blown away by make-up artists who have chosen human faces as their canvas. I admit, I kinda fall in the "no can do" category for both of these areas. Although I haven't given up hope on myself completely, I also accept that we are all so different and that we are all blessed with unique talents, abilities, and passions. So don't get me wrong, admitting that make-up application is my weakness doesn't mean I don't like it. Just means I have to try a little harder, muster up a little more patience, and make sure to always keep some lovely music on as I paint my face . . . just in case I slip.