Relik: A Michael Millinati Exclusive
By
Elana Pruitt
| May 7th, 2013 | Category:
Articles, Interviews and Reviews
,
Fashion
|
Comments Off

on Relik: A Michael Millinati Exclusive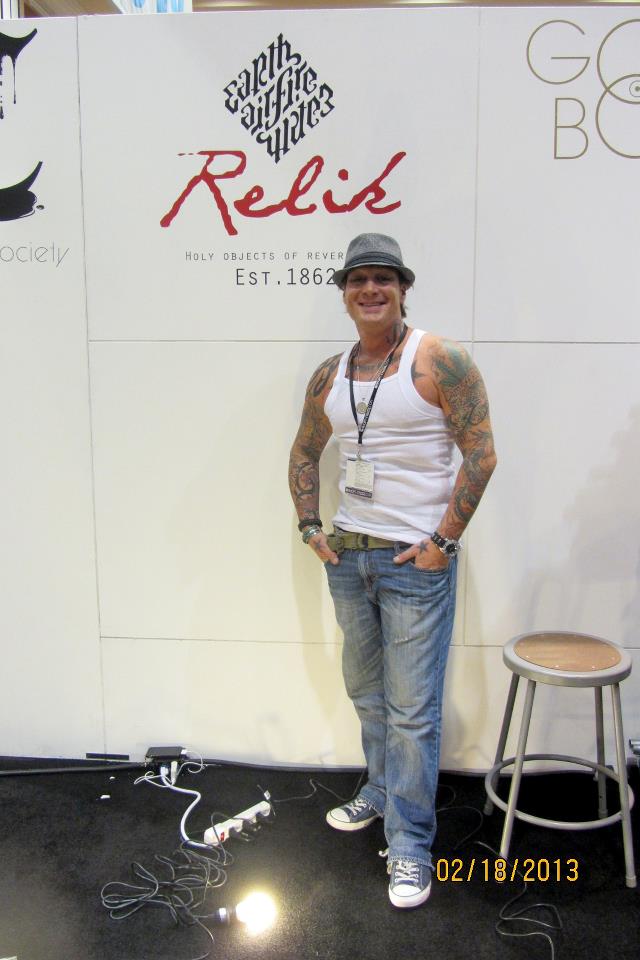 This is a story of fashion, faith, and the refusal to wear garbage. In other words, it's the exclusive tell-all of Relik—a new, luxury T-shirt line fueled by love and passion. "It's all about bringing some class and quality back into the game," says Relik owner and creator, Michael Millinati.
Goes like this: Dude was tired of seeing the same 'ol stuff for guys at some of the most popular department stores. The boring, burnt-out shopping experiences got old for this colorfully tattooed Los Angeles native. So much so that he decided to launch an innovative line of casual wear for men and women (knowing that women, of course, wanted variety, too). And it really happened that fast. From mind to matter, within just a couple of months, Relik became nothing less than his pride and joy.
Sparked by memories of a special conversation with a stranger in an Amsterdam coffee shop and the desire to go round two in creating a fashion line, Millinati was ready to bring some meaning and substance to the floor. "I would wear every single shirt in my collection," he says of Relik. "I am biased, of course, but really I would. All of the Relik cuts and designs are super cool."
Ancient Symbols, Ancient Cultures, and Secret Societies
"So what is Relik about?" That was my first question to Millinati, about two months ago, after he told me that something amazing was in development. Having been industry colleagues for a few years, I found it exciting to catch up and learn about what he had in the works. With a special intensity about him, he openly shared some details about Relik.
"I believe the symbolism that I have created and am using is going to connect with everyone on a subliminal level," says Millinati, acknowledging the "guidance, advice, suggestions, and lessons" that ancient cultures, such as the Mayans and Egyptians, have left behind. As Millinati digs into the past, he is incorporating some of the most significant ancient symbols into the Relik designs. "I feel it is my responsibility to analyze these symbols, and look back in history to try and identify my own self, and have a better understanding for life."
He continues, "These are all of our symbols. It is part of mankind's heritage—it is our birthright. And I believe my collection is not only going to change people's lives and add to their knowledge bank, but these symbols are cool! Every human being is going to relate on a very deep level."
According to Millinati, the foundation of Relik started more than 10 years ago. He was 26 years old, living in Amsterdam, and sitting in his favorite coffee shop on a cold and gloomy morning.  Upon beginning a conversation with an older German history professor, Millinati immediately began to expand his knowledge. "We talked all day into the night . . . about ancient cultures, secret societies, and ancient symbols," he says. "This professor opened my mind. He taught me about secret societies, like The Illuminati and Freemasons. He showed me their symbols, and we discussed their influence on today's society." Millinati says that he and the professor also got into a deep discussion about "the Mayans and how they created our calendar, and their relationship with space and time."
Recalling being utterly "mesmerized" with his learnings during that coffee shop moment, my colleague privately held on to this enlightened discussion for over a decade. Now, with love and passion driving Relik, Millinati can share the meanings and messages that he values, all the while creating styles that allow an individual to make a unique fashion statement.
From Wings and Crosses to Luxury and Quality
I initially met Millinati a few years ago, when he was just getting his feet wet in the fashion world, which was not too long after he received a phone call from a famous hotel heiress. "I had posted some garment designs online, and a week after I posted it on Facebook, I got a phone call from Paris Hilton. She wanted me to work with her friend Whitney Perry, [whom] I created an entire collection for."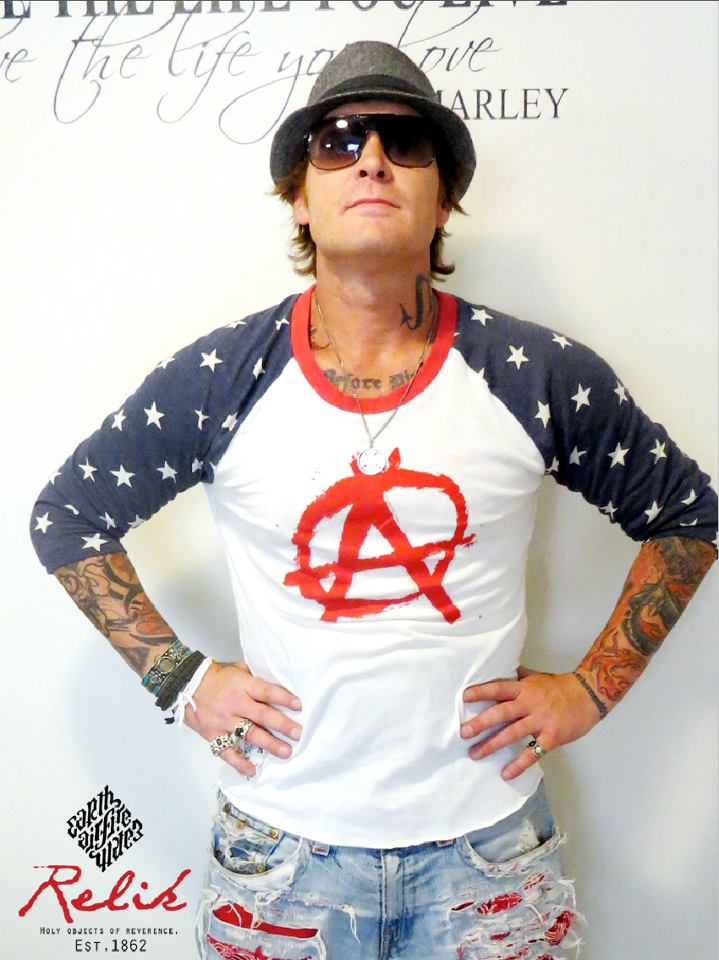 Upon receiving media attention for that particular collection, it was really the second phone call that impacted Millinati's career. Having been an art director in the entertainment industry nearly all of his professional life, he quickly became thrust into the world of mixed martial arts ("MMA") after being contacted by the manager of Frank Mir, the former heavyweight champion of the UFC.  "They saw my work online and wanted me to design a button-down for Frank Mir," he says, acknowledging that there are still only two of these "sizzling hot" garments in the world. "And I did, and had it done in a week." But according to Millinati, "Frank Mir lost almost all of his fights, and his vibe and demand in MMA diminished."
But a blessing in disguise it was for Millinati, as he now admits that the trendy shirts displaying images of wings, skulls, and crosses soon became "way too oversaturated and over-marketed." In addition, a "downed economy where men were not willing to pay a hundred bucks or more for a T-shirt" didn't necessarily add more appeal to the MMA-style shirts.
"I guess my experience and solution is still the most fundamental aspect of a successful start-up business," says Millinati. "I saw a dire need in the men's tops and tees market. My Relik Awakening Collection is made up of only high-end materials, Pima Cottons, and more. My designs are simple and meaningful." Striving to provide unique styles for consumers without sacrificing on quality, Millinati says, "Even if there was no artwork on my tops and tees, they are still so comfortable . . . they feel like butter."
Made to Buy, Fit to Wear
With excitement and drive to see Relik make its way into some of America's most coveted department stores and boutiques, Millinati is designing and pricing the collection for "mature, sophisticated, and classy men." Still, however, he is reaching a vast demographic of 14- to 45-year-olds. As for the female consumer, "Dollskill.com will be taking our girls pieces, and it will be available on that site within the month."
Listening to Millinati talk about Relik's success thus far is both interesting and inspirational, considering how quickly he turned his idea into a tangible product. "MAGIC was Relik's first showing," he says. "We had some major orders, and we are in talks now with a chain that has over 4,000 stores . . . And just recently we were named as a trendsetter for 2013!"
Currently, Millinati is shipping product overseas to international clients and looks forward to the upcoming launch of myrelik.com. His interactive website will be offering tons of goodies, including cutting-edge social media tools, weekly promotions, and giveaways. "I want Relik customers to be part of the brand so the entire site will not just be a storefront, rather a community," says Millinati.
With an undying passion to see his product shake things up, this Southern California fashion entrepreneur is making waves—but not without its own set of challenges. Currently seeking new representation, Millinati is keeping the faith and envisioning a beautifully successful climate for his fashion collection.
*For information on Relik, please contact relikinfo@gmail.com.