Even The Dark Knight Rises Starring Krayzie Bone
By
Abesi Manyando - The Statement
| July 18th, 2013 | Category:
Articles
,
Entertainment
|
2 comments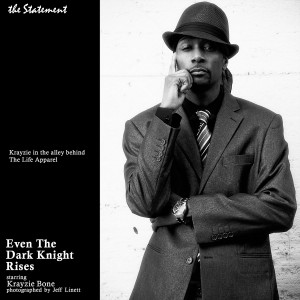 Anthony Henderson's laid back peaceful temperament is synonymous with his beautiful R&B infused melodic chopper styled flow. His flow is enticingly comforting, yet aggressively lethal with no apologies or necessary explanations—just a mere presentation of music at its highest form. Like a lead surgeon on call, the artist, producer, and actor has consistently supplied music lovers with addictive songs since the inception of Bone Thugs in the nineties.  Bone set social and global trends throughout the world, making braids popular, and R&B laced raps acceptable for hardcore thugs. Their influence contributed massively to the billion-dollar industry known as Hip Hop.
Deeply thoughtful and brilliantly creative, Krayzie has always created the album concepts and artistic direction of Bone, along with his group members; his mind operates like a mysterious chemist in a reclusive lab. The label executive and father devotes endless hours in his studio, conjuring up organic songs to sustain his craving fans.  No matter what he creates, it's never enough for them. Consumers are demanding a new album as if their life expectancy depended on a fresh supply of Krayzie Bone music. For one reason or another, Krayzie's relationship with his audience has always been cult-like, which he actually loves.  His music seems to produce high moments of euphoria and dramatic declines of depression when not available to his fans.  The Krayzie Bone experience is a musical addiction that no neurologist can explain and no pharmacist can help heal.  His new song "Monster" was so explosive that Artist Live placed it in Kevin Hart's new film, Let Me Explain, from Code Black/LionsGate Films.
"I'm really excited about "Monster."  It has been so well received.  I have new songs on this upcoming album that really capture my innermost thoughts. I can't wait to finish the Chasing the Devil album. I know I've been talking about it for a long time but it's going to be really special and worth the wait for those who believe in me.  I'm really exploring life, love, and spirituality on this one.  I'm so in tune with my fans, the world and people, that I want to capture the elements that encompass our existence on this album," he confides. "I've traveled around the world and I've realized that no matter who we are and where we come from, we all have similar struggles and share a commonality that makes us human.  We love, hope, and feel pain the same way. I read a quote from Mandela that said, 'Our greatest fear is not that we are inadequate; our greatest fear is that we are powerful beyond measure.'  It's amazing what can be accomplished if we only valued and believed in our own worth. I'm exploring everything on this album."
Krayzie's other song, "Lovely Love" is a contemplative approach of love lost that could become the hip hop version of Anita Baker's "I Apologize." Like in "I still Believe," featuring Mariah Carey, Krayzie doesn't want to make excuses; but it seems demons and the devil once again misled his decision-making process as it pertains to the fast life of fame and music, which becomes his downfall in a good relationship gone bad.  Krayzie sings, "I should've loved you . . . now it's over" in the radio-friendly relationship ode.  In the song "Feel Good," he schools his "biters" and takes control of the sound he created . . . the one other rappers ran with but couldn't quite master for a long-term career.  Krayzie takes his love interest on a lyrical ride of enticing melodies that penetrate deep inside the soul.
Krayzie is investing a lot of time in writing in both music and film.  The budding actor has been relentless to not capitulate to lyrical mediocrity, or succumb to short-term trends. On the film side, Krayzie was recently cast in rising director Craig Thomas's upcoming film, The First Pick. Krayzie is immersing himself in the role that is so vicious it will make Nino Brown look like a good guy and "The Dark Knight's" Bain look like an angel.
"I'm evolving, and my work is a reflection of my evolution," Krayzie explains. "I want to experiment with different aspects of entertainment as a writer and as an actor.  I want to be the best me that I can be, and I want to leave people feeling like they are the best them that they can be as well.  My mother raised us to be spiritually sound, and I know that life is more than what we experience here on earth. It seems like for everything good that happens, something bad follows, but King once said, 'Darkness cannot drive out darkness; only light can do that.  Hate cannot drive out hate, only love can do that.'  I just want to leave everyone I encounter with something positive to hold on to—something to make them feel valuable and worthy of God's creation . . . something to help them see the light at the end of the tunnel.  We all go through things.  No one is perfect.  No matter what we face, we can still achieve it if we still believe. Even the dark knight rises."
Check out the fashion editorial "Even The Dark Knight Rises" with Anthony Henderson as Krayzie Bone, and photographed by Jeff Linett for The Statement.