NEWSical the Musical – A NEWSworthy Off Broadway Show!
By
Agenda Magazine
| July 18th, 2013 | Category:
Entertainment
,
Theater Reviews
|
Comments Off

on NEWSical the Musical – A NEWSworthy Off Broadway Show!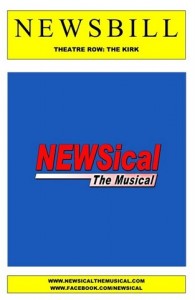 For theater lovers in NYC on a Sunday night—it's not easy finding a show.  During the day, there are plenty of matinees.  But if you get to NY too late for a 2 or 3 o'clock show, there aren't many theaters offering evening performances.
Luckily, we found a fun and witty show that we can recommend. NEWSical the Musical is a light and fun romp through the news of the day with four talented performers that you can't help but like.
They take various news items of the day—and turn them into songs and sketches that garner loads of laughs from the audience. There are zippy topical songs and clever, laugh-out-loud impressions.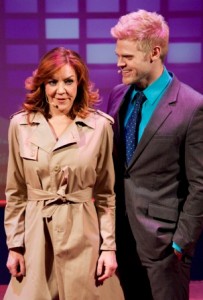 Christina Bianco is outstanding in everything she does. The emcee sets up a gag whereby has-been celebrities who are unemployed take jobs doing other things. When Christina impersonates Celine Dion singing "Do the Hokey Pokey" at a Bar Mitzvah, it's an absolute hoot. Not only is she hilarious, but Christina has a terrific singing voice with tremendous range. She also does a rocking impression of Barbara Walters, especially as she interviews Susie Mosher riotously playing psychic Theresa Caputo, who Barbara describes as a "large small medium!"
Male performers Tommy Walker and Michael West are also multi-talented. The energetic ensemble of four parodies numerous other celebs for fun and laughs, including Barak Obama, Rod Stewart, Manti Te'o, and Suze Orman.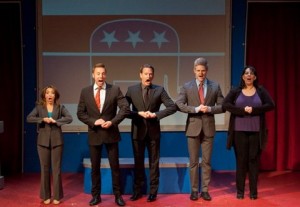 It's not news that the real Frank Sinatra had affairs with first ladies Jackie Kennedy and Nancy Reagan. However, in the NEWSical version, Frank confesses he had flings with all the first ladies, including Barbara Bush, Rosalynn Carter—even Martha Washington and Mary Todd Lincoln! Okay, we know it's not true, but the suggestion becomes extremely comical as they flash photos of the former first ladies on a large screen.  Just imagining Frank Sinatra in bed with some of them is enough to get the crowd howling with laughter. Think Old Blue Eyes hitting the sheets with the austere Eleanor Roosevelt!  You get the picture . . . and it's a bizarre, funny one.
In addition to spoofing VIPs, the cast lampoons dating sites like Match.com and ChristianMingle.com and several infomercial products that late-night buffs will recognize and all in the audience will share some hearty laughs over!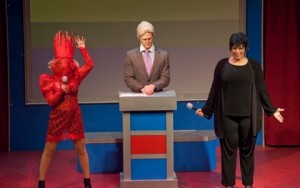 The gifted cast of performers is sometimes joined by other stars, which in the past has included appearances by Perez Hilton, Carson Kressley, Cheri Oteri, and Andrea McArdle.
Directed by Mark Waldrop with music & lyrics by Rick Crom, this Drama Desk nominated musical review has its songs and material updated on a regular basis.  It's an ever-changing, irreverent look at current events, pop culture, newsmakers, celebrities, and politicians—or as their website proclaims: all the news that's fit to spoof!
The show is 90 minutes long without an intermission and the time flies by. It all ends with an upbeat song with the theme of living each day as if it were your last—which is always good advice.  Enjoying the moment is definitely what you'll be doing as you watch NEWSical the Musical.  It might not be great art or deeply meaningful, but as fun goes, it hits the mark and makes for a delightful evening, especially if it's a Sunday night in Times Square and you're looking for a show.
NEWSical the Musical
Theater Row 410 West 42nd St (just west of 9th Ave)
Showtimes: Mon, Tues, Weds, Fri, Sat, Sun Evenings; Matinees on Weds & Sun; Dark Thursdays,
NY phone: (212) 239-6200
Toll Free:  (800) 432-7250
http://newsicalthemusical.net